Anglican Leaders "Feel Silenced" By Church On Same-Sex Marriage
Most ordinary Anglicans have no problem with marriage equality, says leading laywoman.
An Anglican laywoman who has served on the church's national decision-making body for 30 years says most ordinary Anglicans have no problem with same-sex marriage.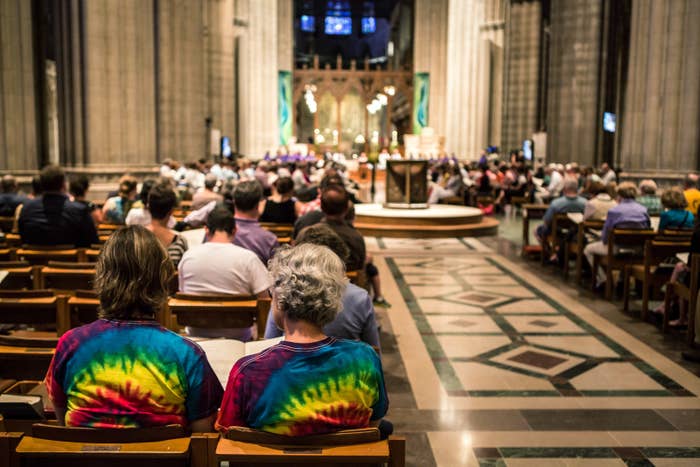 Dr Muriel Porter, a Melbourne journalist and author, also said that progressive Anglican leaders "feel silenced" on the divisive issue.
"It looks as if the whole Anglican church is unanimously opposed to same-sex marriage. I know for a fact that it isn't," she told BuzzFeed News.

"I think most ordinary Anglicans in the pews in church, most of them, in most places, have no problem with same-sex marriage. People who worship in the church, they've got gay sons and daughters, gay grandsons and granddaughters, they've got gay friends, gay neighbours."
In her submission to the current Senate inquiry into marriage equality, Porter, who has served on the Anglican Church's national General Synod for 30 years, said the government's proposal, should marriage equality be legalised, to allow civil celebrants and religious organisations to turn away same-sex couples goes too far.
"It seems to me that it's there simply to placate people who are very, very conservative. They've got all the exceptions they need," she said.

But her comments are in stark contrast to a submission from the Anglican Diocese of Sydney, written by Reverend Dr Michael Stead, which says the proposed exemptions do not go far enough and are "manifestly insufficient" to protect religious freedom.

"If the legal definition of marriage is changed to include same-sex couples, there will remain a very significant proportion of the Australian population who continue to believe that marriage is only between a man and woman," it reads.

"Without explicit protection for those who continue to hold and promote that marriage is between a man and a woman, it is likely that anti-discrimination legislation will be used to silence this point of view in the public sphere."

Stead's submission suggests that anyone who does not support same-sex marriage because of their religious beliefs – whether they work for a religious or secular business – should be allowed to refuse service to a same-sex wedding or related event.

This would include individual business owners such as bakers and florists, a proposal Porter labelled "terrible" and "shocking".
"If that gets up, that would be so offensive," she said. "[The Sydney Diocese] are vehemently opposed to same-sex marriage. I believe that they would be wanting to be as extreme as possible simply to underline the case, to underscore it. it's another way of saying 'We don't want this to happen at all'."
While the bulk of submissions from religious groups and figures oppose both same-sex marriage and the current exemptions proposed by the government, others – including the Australian Council of Hindu Clergy and the Australian Zen Studies Institute – agree with Porter that an exemption just for religious ministers is a sufficient protection for religious freedom.
Porter said that while many people in the Anglican church share her beliefs, few leaders are willing to stand up and say so.
"I'm an elderly grandmother, for heaven's sake. My husband and I have been married for 44 years this year. I come from the very traditional family set up, the nuclear family... But I feel very strongly about inclusivity in the church."