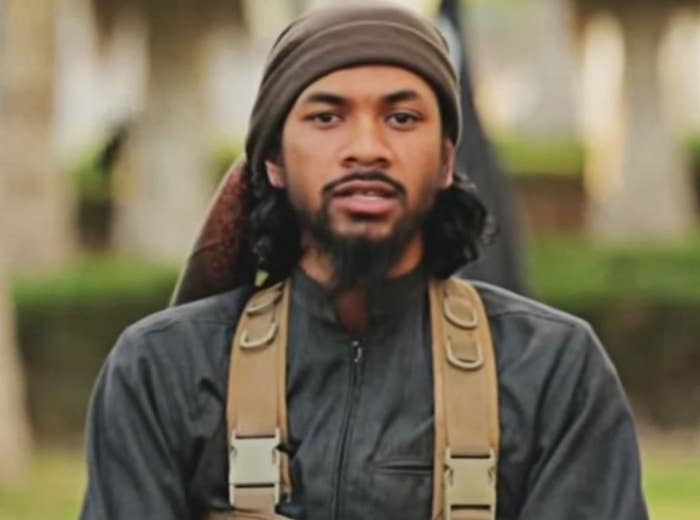 The Australian government is insisting that ISIS fighter Neil Prakash is a citizen of Fiji, despite the Fijian government saying it has no record of the Melbourne-born man.
The 27-year-old, who appeared in several IS videos and had his Australian passport cancelled in 2014, is currently being held in a Turkish prison as he awaits trial over terrorism offences.

Australia made a request to extradite Prakash over his alleged involvement in terror plots and travel to Syria to fight with IS, but it was rejected by a Turkish court in July.
Under the Citizenship Act, Australians who are dual citizens and are aged over 14 lose their citizenship if they fight for a declared terror organisation overseas.

But Australia cannot strip citizenship from people who are not dual citizens, as that would leave them stateless and violate international law obligations.
Prakash, who has a Fijian father and a Cambodian mother, was informed he had been stripped of his Australian citizenship on December 21. He is the 12th person to lose his citizenship over being involved in terror groups.
But after the news broke, the Fiji Sun reported comments on Tuesday from the director of the Fijian Immigration Department, Nemani Vuniwaqa, who said Prakash is not and has never been a Fijian citizen.
"For a child of a Fiji citizen born overseas, the parent has to apply for citizenship for the child to become a Fiji citizen," Vuniwaqa said, according to the newspaper.
"If the parent does not apply then the child does not become a Fiji citizen automatically. The department has searched the immigration system and confirms that he has not entered the country nor applied for citizenship since birth."
Home affairs minister Peter Dutton doubled down in a press conference on Wednesday afternoon, saying the Australian government's legal advice had left "no doubt" that Prakash was a dual citizen of Australia and Fiji.
Dutton said Prakash lost his citizenship automatically as a function of the law, rather than a decision made by him as the minister or by the Citizenship Loss Board, which oversees the operation of the law.
"I'm saying the advice to the government based on all the intricate detail and fact of this particular matter is that Mr Prakash is, by operation of law, a citizen of Fiji and as I say the Fijians were advised some time ago and we've been working with the Fijians and will continue that relationship," he said.
"We respect the Fijians, we understand them, you know, in a way that few other countries do, because of the history that we have together and we'll continue to work closely with the Fijians."
Dutton also noted that Prakash can appeal the decision.