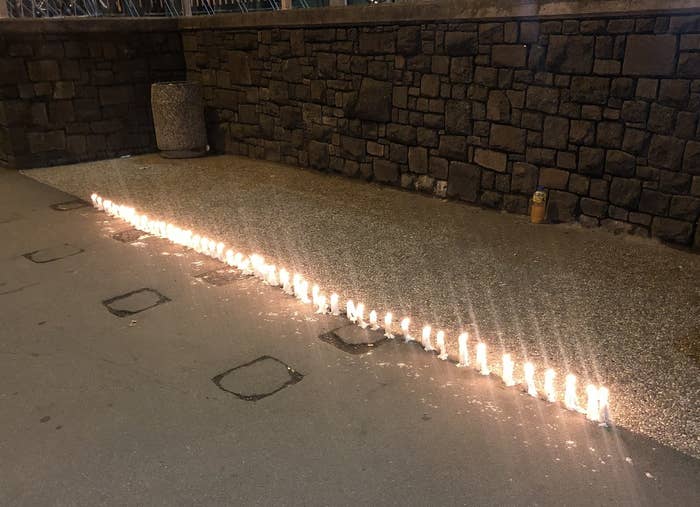 On Saturday night, Kiore, a homeless man who has lived on the streets of Christchurch since 2010, sat behind 49 candles outside the Christchurch Hospital, one for each person who was murdered as they prayed in city mosques on Friday afternoon.
He seemed in disbelief at what had happened.
"This is God's own. This shit don't happen. Not in God's own. This is a safe house. A safe place," he told BuzzFeed News. He gestured at the candles. "I'm going to be sitting here 'til they all go out."
As Kiore waited, the tiny flames lighting up a row on the pavement, several Muslim men congregated outside the hospital, along Riccarton Avenue.
One of them was Ahmed Parkar, who worships at the Mt Roskill mosque in Auckland. He told BuzzFeed News he had immediately put his hand up to come down to Christchurch, along with about 50 other men from his mosque, when his Imam asked for volunteers.
"I got a call this morning at 6 o'clock, just packed my bags and I was here at about 9 o'clock," he said.
He had been in meetings much of the day, focused on ensuring the deceased receive a proper Islamic burial. As of Saturday night, bodies are still being identified.
"Once that's down, we're going to start the burial process," he said. "That's pretty much what we came for, and we thought that was going to happen today. But the process is a lot longer than what we expected."
Muslim custom calls for the dead to be buried as soon as possible, but delays with removing bodies from the mosques and the identification problem have slowed that process down.

"Obviously the family members do want to spend some time with their deceased. It's a shock to everyone," Parkar said.

"There's been a lot of pressure and a lot of stress. They're quite upset and grieving so we're comforting them as much as we can."
A group of men walked past, heading up a ramp to the hospital. They greeted Parkar with "brother".
"Do you know them?" BuzzFeed News asked.
"They're all from my masjid [mosque]," he said. "And there's another 30 guys coming."
Ali Ahmadi, an 18-year-old who moved to Christchurch from Afghanistan 10 years ago, is grateful for the support from Muslims across New Zealand.
"The only reason I think this guy did the shooting was to make everyone fight each other, you know?" he said. "But it's made everyone united."
Like many in Christchurch's Afghan community, Ahmadi, who described himself as a "proud Muslim", prays at Al Noor mosque. He lives ten minutes away but doesn't attend every Friday, and wasn't there when the shooting unfolded.
He did watch the video that was shared widely on social media, and regrets it.
"Once you watch the video you just can't get it out of your head, you know?" he said. "How can someone have that much hate in them, to go and kill innocent people?"
"I will probably never be the same again after watching that video."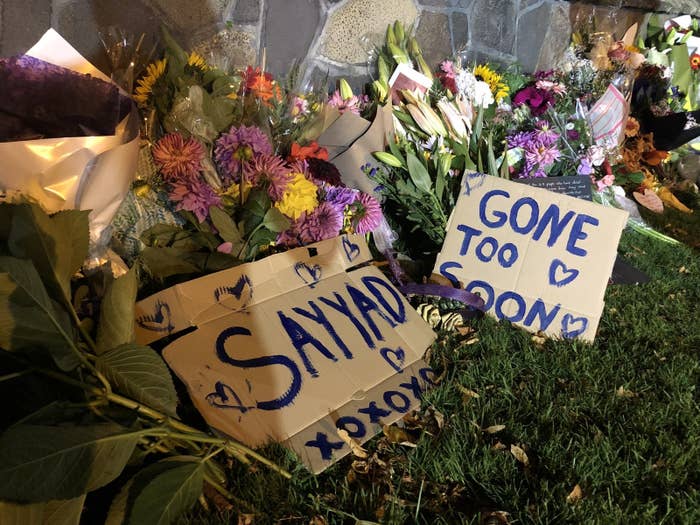 Right now, Ahmadi said, he feels unsafe. Neighbours came to his house this morning, a friendly visit to check up on him.
"When they knocked on the door, the first thing I do was to go upstairs, look through the window to see who's actually knocking on the door," he said. "Honestly, at this time and at this moment, I don't feel safe. Even in my own house."
Ahmadi's friend Shiragha Hidari, 20, told BuzzFeed News he is "not good", but not afraid. "I'm not scared of anything," he said.
Hidari is 20, and has lived in Christchurch since he was two, also moving from Afghanistan.
"I'm really respecting [New Zealanders] for their reactions to what happened here yesterday. It's all wonderful people here, everybody," he said.
He is determined to do everything he can to support his community over the coming days.
"I'll be out on the streets helping them out," he said. "It's what I can do at this time, there's nothing else I can do. I can't give life to people who lost their life."

Amid all the horror, the young men have found one small joy: the video of a far-right Australian politician, who released an appalling statement in the aftermath of the terror attack, being hit on the back of the head with an egg.
"Did you see that video of the Queensland senator being hit by an egg?" Ahmadi asked, as he stood outside the hospital. He pulled out his phone and played the video, nudging a friend to make sure he saw it. "That made my day."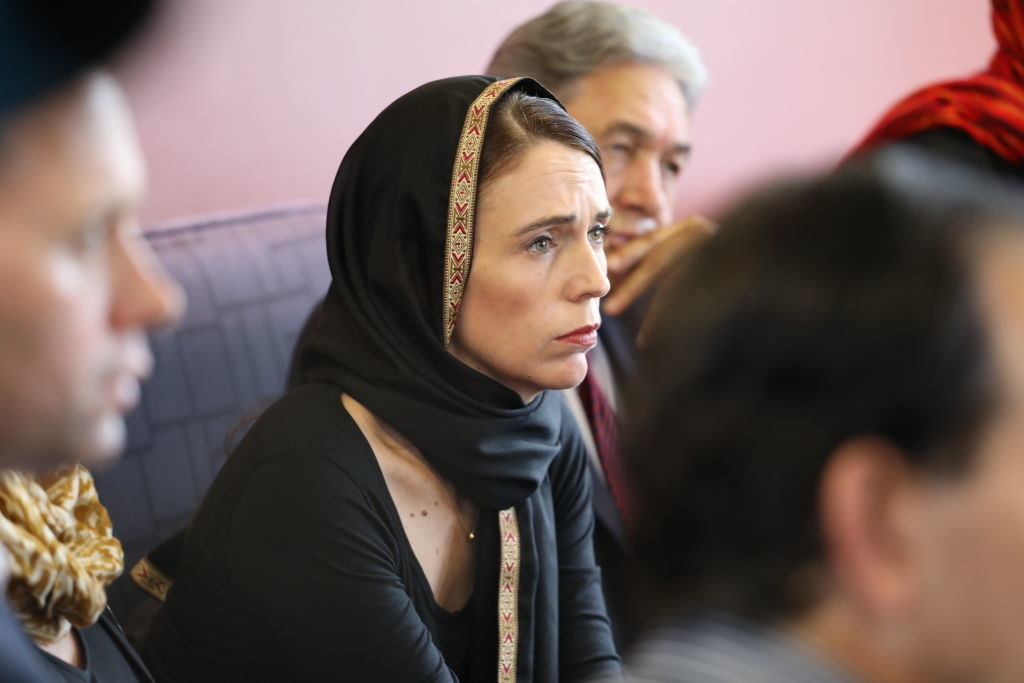 The Muslim community in Christchurch is congregating at an impromptu family assistance centre at Hagley College, a short walk from the front of the hospital, cutting across the park.
Earlier that day, the place had been packed to the brim to hear from prime minister Jacinda Ardern, who told them, among other things, that the concerns over proper burials were at the forefront of the government's mind.
Hidari and Ahmadi were full of praise for Ardern. "She is supporting everyone in the right way," Hidari said.
By late Saturday, the centre had quietened dramatically. A few tables were occupied by people chatting, and an open Tupperware container full of muffins sat by urns for tea.
Earlier, police had posted a tweet saying the centre had received so many food donations that they didn't need any more.
Many of the Muslims travelling from other parts of New Zealand, from Auckland and Dunedin, were touching base at the centre. People were still arriving at 10pm.
One man greeted Ahmadi and Hidari with "Salam", and a handshake. Like Parkar, he had come from Auckland to help.
The man said he believed a friend, a man he had known for 35 years, had been killed in the attack. "But it's not confirmed yet," he added.
The community is pulling together strongly, but it is still small. Everybody seems to know somebody who has died.
Parkar told BuzzFeed News his uncle was at the Al Noor mosque when the shooting unfolded, but was unharmed.
"He happened to escape, so thank god for that. He's OK and he's at home at the moment," he said.
He could not say the same for some friends who he met on a trip to Christchurch in September last year: "It's really sad to hear that some of the guys I spent time with are no longer here."