Melbourne Pride Ditches News Corp Australia Sponsorship After Community Outcry
"We are still facing heartbreaking pressure about the issue."
Melbourne pride festival Midsumma has ditched its partnership with News Corp Australia. The move follows a community outcry over several articles and cartoons about LGBTI issues published by the powerful media company in 2016.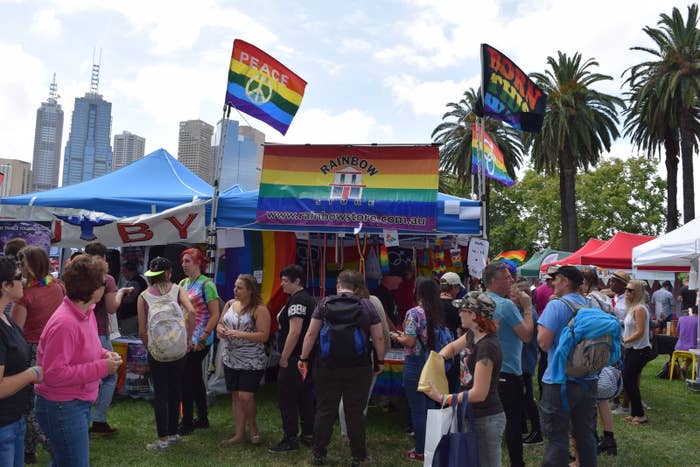 Backlash to the sponsorship agreement began in November when Jewish LGBTI group Aleph Melbourne announced it would not participate in the march if News Corp Australia remained a sponsor.
After speaking to stakeholders, Midsumma said in early December that the partnership would continue. Now, the organisation has changed its position, saying it, "cannot continue to allow this issue to detract from the positive focus".
"We are... now acutely aware that continued community concerns are threatening to fracture our communities in potentially destructive ways," a statement from Midsumma read. "We are still facing heartbreaking pressure about the issue, through a multitude of public and private channels."
The statement said that Midsumma would not take up any of the advertising benefits offered by the Herald Sun for the 2017 festival, and that the Herald Sun would not march in the parade, or hold a stall at the carnival.
"It is important to note that there is no money attached to the agreement," the statement read.
It also said a full review of Midsumma partnerships and "value alignment" would happen after the festival in March.
A spokesperson for News Corp Australia told BuzzFeed News the company was "delighted" to have previously supported the festival, but respected Midsumma's decision.
"News Corp constantly reviews its sponsorship arrangements and the decision by any event to cease, change or reframe its sponsorship priorities would not necessarily preclude us from seeking to partner with that event, or a similar event, in future," she said.

Asked for a response to community concerns over News Corp's LGBTI content, the spokesperson said the Herald Sun had a wide range of partnerships.
"Our partnerships, like our content, reflect the multitude of people and personalities, views and opinions on offer throughout our state. On any given day, readers will see a wide range of views in our newspapers and websites.​"
Many of the community concerns were in relation to News Corp Australia's attacks on the Safe Schools Coalition, a program designed to stop bullying against LGBTI students in schools.
Articles criticising the program and calling for it to be abolished have been a regular feature of the corporation's coverage since February this year.
One cartoon, by illustrator Bill Leak, likened the LGBTI community to Nazis.