Conservatives Say It's "Impossible" That Amendments To Same-Sex Marriage Bill Will Succeed
Conservatives are conceding defeat after a majority of MPs seems set to vote down amendments to the Dean Smith marriage bill.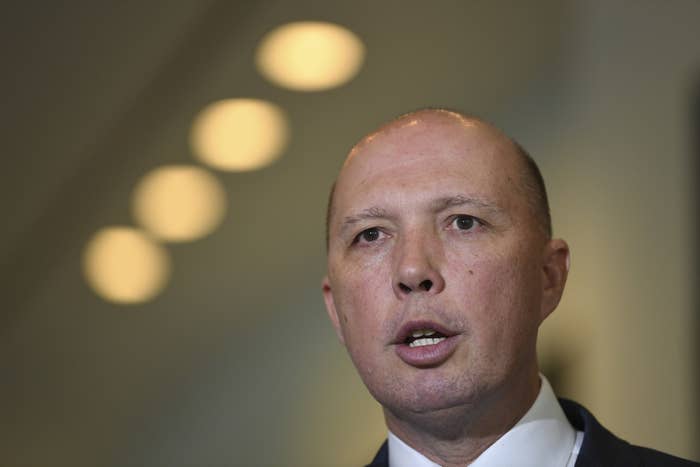 Immigration minister Peter Dutton has conceded defeat over proposed amendments to the same-sex marriage bill that would have introduced wide-ranging exemptions, saying it is "impossible" they will pass.

The House of Representatives is working its way through a lengthy list of speakers on the bill, which is expected to pass the parliament by the end of the week and pave the way for same-sex couples to marry in Australia.
A number of proposed amendments, conceived by a group of government MPs who are largely opponents of marriage equality, would introduce broad exemptions for those who disagree with same-sex marriage.
These would include extending a right to civil celebrants to refuse to marry gay couples; protecting under law beliefs against same-sex marriage, sex before marriage, and gay relationships; and legislating a right for parents to remove kids from classes that mention same-sex marriage.
But, as in the Senate last week, they are set to fail. A strong majority of around 80 MPs – consisting of Labor, four of the five cross benchers, and a handful of government members – is expected to vote down each amendment.
More government MPs will vote against some of the amendments, but not others.
Dutton said the parliament is "governed by arithmetic" and conceded "it will be impossible to get those amendments up".
Dutton has argued for religious protections to be addressed in a review led by former attorney-general Philip Ruddock next year. This is in contrast to some of his fellow conservatives, including treasurer Scott Morrison, who have insisted protections should be enshrined in the marriage bill itself.
"We need to get the balances right in terms of the protections for those people who have fundamental beliefs based on religion or otherwise," Dutton said.
"If we can do that outside of the shadow of same-sex marriage, there would be many people on the Labor side, and including frankly many gay couples, who would support proper protections in place that don't discriminate against individuals but nonetheless allow people to express their views."

The majority vote against the amendments became clear last night when defence industry minister Christopher Pyne signalled his intent to vote them down.
"I am satisfied that these changes [in the bill] protect religious freedom in this country," Pyne told the parliament. I do not support the insertion of unnecessary amendments.
"As a matter of principle, acts of parliament should not contain superfluous clauses,
especially superfluous clauses based on the opinion that Australia's laws don't adequately protect the religious freedoms that we have cherished since Federation. I firmly believe that they do."
With Pyne in tow, the numbers are there to vote down the amendments. Pyne joins Labor, Greens MP Adam Bandt, NXT MP Rebekha Sharkie, independent Andrew Wilkie and Liberal MP Warren Entsch in saying they will vote against the amendments.

Financial services minister Kelly O'Dwyer told ABC radio last week she was unconvinced of the need for amendments.
Bandt will also move amendments on behalf of the Australian Greens to decrease some of the religious exemptions in the bill, which will also fail. Bandt will vote in favour of the bill regardless.
Faced with the prospect of the bill passing unamended, some supporters of the amendments have started pleading with colleagues to vote for them.
Liberal National MP George Christensen, who recently made headlines for withdrawing yet another threat to quit the government, begged the parliament to consider the amendments on Tuesday, saying, "It is not a very big ask".
Dutton said there was "no doubt in my mind" that the bill would pass the parliament this week.
As of Wednesday morning there were almost 50 speakers still to go on the bill in the House of Representatives.
The House is scheduled to sit until 7.30pm on Wednesday night, and 4.30pm on Thursday, meaning the passage of the bill by the end of the week will likely come down to the wire.
Manager of opposition business in the House of Representatives, Tony Burke, has told the government Labor will support any motions to extend sitting hours or shorten speeches.
Labor also advised its MPs to keep their contributions to 10 minutes or less on Wednesday morning so everybody had a chance to speak.