In a move sure to disappoint millions of Australians, leading airlines have rejected the suggestion they play Johnny Depp and Amber Heard's infamous apology video on flights into the country.
The video apology was suggested by Heard as a way of publicly stating her contrition for illegally bringing dogs Pistol and Boo into Australia last year. It quickly went viral on Monday following Heard being handed down a $1000 one-month good behaviour bond in a Queensland court.
In the bizarre statement, which has been labelled "a lo-fi hostage video", a "triumph of minimalist cinema" and "excruciatingly awkward", Depp and Heard explain Australia's strong biosecurity laws and apologise for failing to declare Pistol and Boo.
"When you disrespect Australian law they will tell you firmly," Depp says in the video.

"Declare everything when you enter Australia."

Asked earlier this week if the video should be played on flights to teach visitors to Australia about the biosecurity laws, Joyce said he would "enjoy that".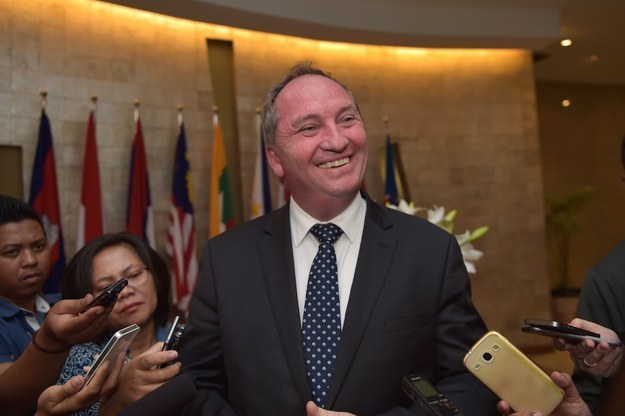 "That would be something for QANTAS and other airlines," he said. "If we can use it to try and reinforce this message, that's good."

But Australian airlines aren't so keen.
A spokesperson for Qantas Group – including Qantas and Jetstar – told BuzzFeed News they wouldn't play the video... but they did rate the performance.
"We're comfortable with the onboard announcements our crew make regarding Australia's biosecurity provisions," they said.
"However, we have a dedicated channel of Oscar winning classics that we are always looking to expand."
Virgin Australia didn't think the video was so Oscar-worthy – but like Qantas, offered a thanks but no thanks to Joyce's suggestion.

"While we won't be holding our breath for Johnny Depp and Amber Heard to be awarded an Oscar for this performance, Australia's biosecurity laws are no laughing matter," they said.
"For now, we will continue to let the experts inform our passengers of what they can and can't bring into the country."
Sorry Qantas, Jetstar and Virgin passengers – you won't get to view this incredible performance at the end of a long haul flight.
But it's OK, just remember: