The Australian Greens are selling a "nifty highlighter" so people can ~highlight racism~ whenever they see it.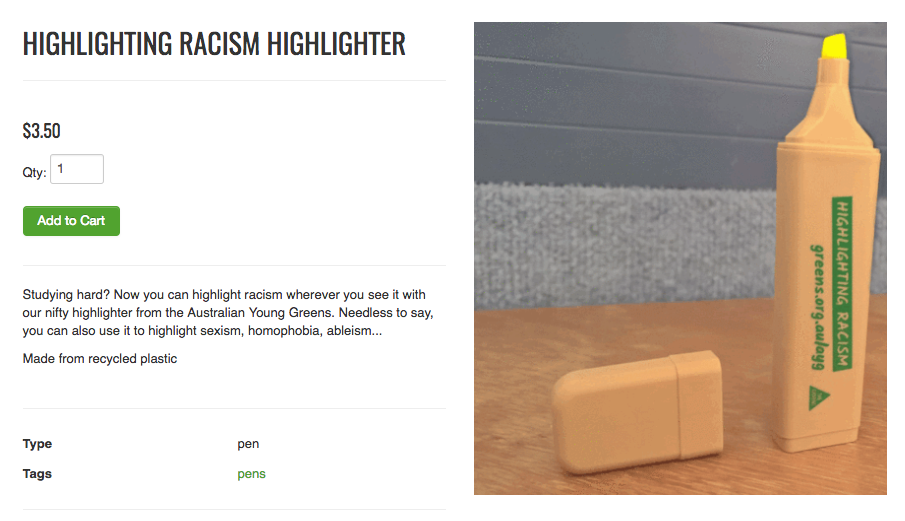 The stationery based approach to social change is listed on the Greens' shop for $3.50, alongside the "Standing Up For What Matters" pen ($3).
The Highlighting Racism highlighter is multi-purpose and can also be used to highlight sexism, homophobia and ableism. It's unclear if the highlighter works on otherwise inoffensive study notes.
A Greens source told BuzzFeed News the highlighter was developed by the Young Greens as part of a university giveaway.
"Last year's Highlighting Sexism [highlighter] proved very popular on campus," they said.
"As protecting 18C is a core campaign for the Greens this year during the return to university period of March, we think it is fitting to change it to 'Highlighting Racism'."
Needless to say, the highlighter is made from recycled plastic.

"Of course we would have loved to see the highlighters in green instead of yellow, but recycled highlighters only came in yellow this year," the source said.
"We would always choose to protect the environment just that little bit more over the brand impact we might have had with a green highlighter."
The Australian Greens does not make any money from selling the highlighters as most are given away on university campuses during O-Week, and money from online sales goes towards production costs.