Civil Celebrants Shouldn't Be Allowed To Reject Same-Sex Weddings, Says LGBTI Community
Exclusive: The largest-ever survey of LGBTI Australians has found significant opposition to same-sex couple exemptions for marriage celebrants and wedding service providers.
A survey has found over 90% of LGBTI Australians oppose targeted exemptions that would allow civil marriage celebrants to refuse wedding services to same-sex couples, while 60% oppose similar exemptions for religious celebrants.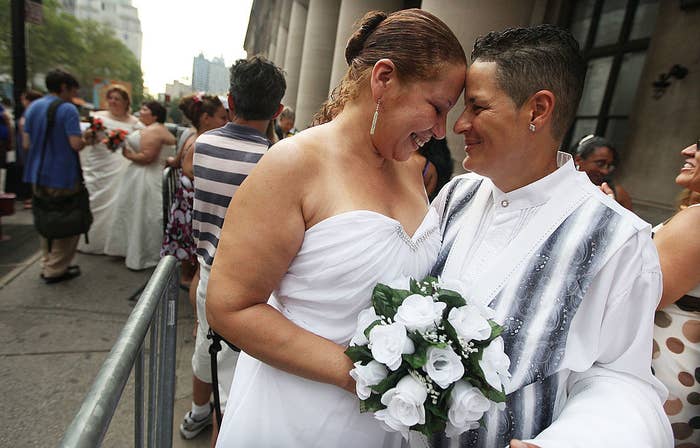 The survey, funded by Parents and Friends of Lesbians and Gays in partnership with just.equal, showed sky-high opposition among LGBTI Australians to refusal-of-service exemptions targeted exclusively at same-sex couples, whether applied to civil celebrants, private businesses, or employees at a government marriage registry.
Targeted same-sex couple exemptions for religious celebrants – which would be on top of an existing provision stating religious ministers do not have to marry any couple – were opposed by 60% of respondents.
The results come as a Senate committee considers religious and conscientious exemptions to same-sex marriage as part of an inquiry into the government's draft Marriage Amendment bill, released in October last year.
The draft bill proposes exemptions specifically for same-sex weddings for religious ministers, civil celebrants, and religious organisations that might provide wedding services – for example, a Catholic school hall that is available to rent.
The online survey, which ran from January 6 to January 15, collected 6342 responses from LGBTI Australian citizens and residents aged 18 and over.
Each respondent was asked to rate their level of agreement with six potential exemptions: civil celebrants; military chaplains; employees of the registry of birth, deaths and marriages; private businesses; faith-based agencies; and religious organisations.

Respondents were then asked the same questions again, but with the caveat of whether they would accept the exemption in order to see same-sex marriage pass in this term of government.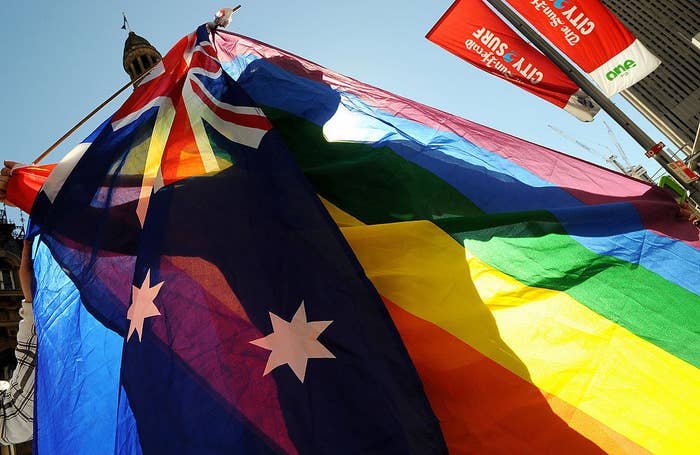 92.6% of respondents opposed exemptions for civil celebrants to wed same-sex couples based on conscientious or religious belief. This dropped slightly to 91.2% when asked if they would accept a civil celebrant exemption in order to achieve same-sex marriage.

Currently, section 47 of the Marriage Act specifies that ministers of religion have no obligation to wed any couple. The section does not apply to civil celebrants.
Under the government's proposal, both religious and civil celebrants would have a specific right to turn away same-sex couples, based on religious or personal belief.
Six in 10 LGBTI people (59.4%) disagreed with this targeted exemption for religious celebrants, 27.8% agreed, and 12.8% were undecided.

Representatives from both PFLAG and just.equal stressed that they supported the current provisions in the Marriage Act allowing religious ministers to refuse to solemnise any marriage.
"We completely support the existing provision of the Marriage Act that allows religious freedom for clergy, but we draw the line at proposed provisions that target same-sex couples and treat us differently to other couples," said long-time marriage equality campaigner Rodney Croome.
The draft bill would allow "religious bodies and organisations" to refuse to provide facilities or goods and services to same-sex couples for their weddings, or a purpose connected to their weddings.
Asked about an exemption for religious organisations providing a non-religious service that could pertain to marriage – for instance, hall rental – 94.3% of respondents said they disagreed.
This dropped to 90.6% when it was considered in exchange for same-sex marriage.

The survey also addressed exemptions that were not proposed in the draft bill, but have attracted a significant amount of attention in Australia's marriage debate, largely due to international examples.

Legal refusal of service by government employees at the registry of Births, Deaths and Marriages – an issue recently highlighted by a Kentucky county clerk's refusal to issue marriage licences to same-sex couples – attracted emphatic opposition (98%).
Approximately nine in 10 respondents disagreed with exemptions for florists, bakers, photographers and other private businesses that service weddings. Exemptions of this kind have been suggested by Australian conservative politicians and anti-marriage equality groups.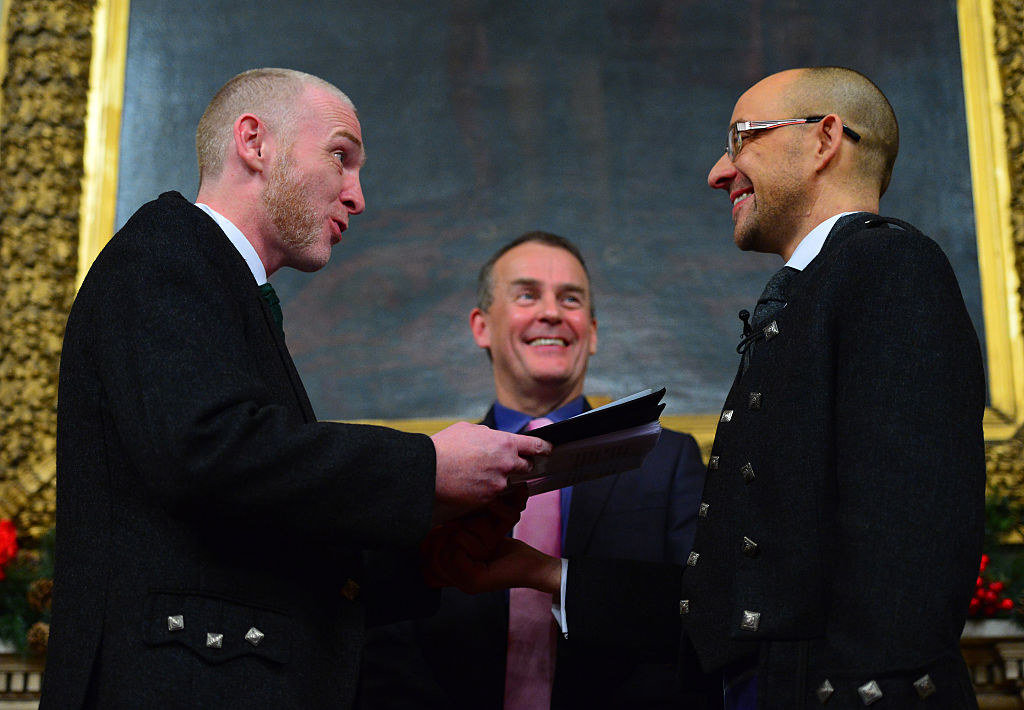 The responses also indicated that the more personally important marriage equality was to a respondent, the more strongly that respondent opposed refusal-of-service exemptions.

"This suggests LGBTI people are more interested in true equality than access to marriage for marriage's sake," reads the survey's executive summary.
Many of the comments left at the end of the study focused on the proposed "singling out" of same-sex couples for exemptions in the Marriage Act, as opposed to more generalised protections for religious freedom that would allow religious celebrants to refuse same-sex couples, divorced people, people of different faiths, and so on.

"As important as marriage equality is to me, I would rather wait than face a conditional system like this. A system that allows people to discriminate on us based on our sexuality is compromised and flawed," wrote one respondent.
"Discrimination goes against Australian values. In Australia people are treated fairly and decently. Allowing such broad discrimination will produce a lot of ugliness and division in our society. We do not need this," said another.
The survey also found 98% of respondents supported marriage equality.
An interim report on the results was submitted to the Senate inquiry on the draft bill, which closed Friday. A full report will be presented to the committee in the next month.
The inquiry is due to report on February 13.