One Nation Candidate Says LGBT People Are Using Nazi-Style Mind Control Tactics
It's to convince people to support same-sex marriage.
A Western Australian One Nation candidate has accused the LGBT community of using a Nazi-style mind control program to convince people to accept same-sex marriage and parenting.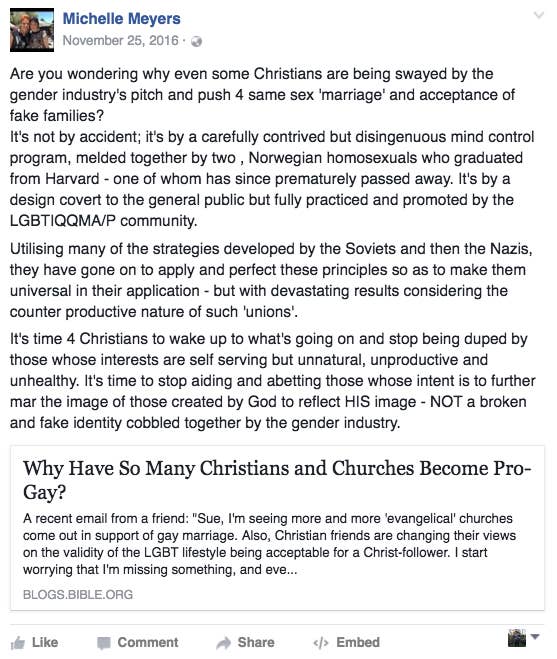 Michelle Meyers, the One Nation candidate for Bateman in Western Australia, posted the comments on Facebook in November last year, Out In Perth reported on Tuesday.
"Are you wondering why even some Christians are being swayed by the gender industry's pitch and push 4 same sex 'marriage' and acceptance of fake families?" she wrote.
"It's not by accident; it's by a carefully contrived but disingenuous mind control program, melded together by two Norwegian homosexuals who graduated from Harvard - one whom has since prematurely passed away.
"It's by a design covert to the general public but fully practiced and promoted by the LGBTIQQMA/P community."
Meyers is the latest One Nation candidate to be embroiled in controversy following outrageous social media posts.

In January candidate Peter Rogers resigned after BuzzFeed News revealed he had posted on his website a blog post claiming the drowning death of Syrian toddler Alan Kurdi was "fabricated", and that the three-year-old was "alive and well".
Earlier this month BuzzFeed News also revealed that Queensland candidate John Cox had posted 9/11 conspiracy theories on his Facebook page.

A spokesperson for One Nation leader Pauline Hanson did not respond to a request for comment.