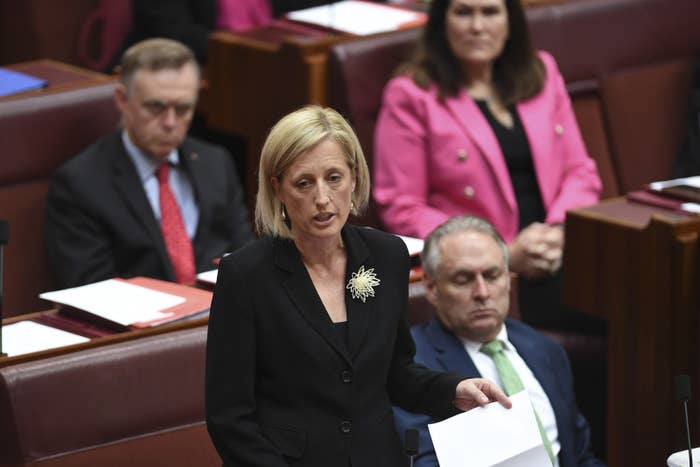 The High Court has ruled Labor senator Katy Gallagher is ineligible to sit in parliament, reigniting the dual citizenship crisis plaguing Australia's politicians, and potentially opening the door for a new round of by-elections.
The decision is a nightmare for the Labor party, which has only lost one MP to the dual citizenship scandal thus far, but now has lost Gallagher as well and potentially three more.
In a decision handed down on Wednesday morning in Canberra, the High Court unanimously found that Gallagher was ineligible to sit in parliament. The court ruled that the Senate vacancy should be filled by a special recount of the ballot papers.
Gallagher referred herself to the High Court (sitting as the Court of Disputed Returns) in December after it was revealed she was still a British citizen at the time she nominated to stand at the 2016 election.
Politicians must have renounced dual citizenship by the nomination date (which was June 9 for the 2016 election) in order to be eligible to stand for, and sit in, parliament under Section 44 of the Australian Constitution.

But while Gallagher sent in an application to renounce on April 20, 2016, it was not registered until August 16 — more than two months after the nomination date.
Gallagher's lawyers argued that she had taken all reasonable steps to renounce her citizenship before the nomination date, and the subsequent processing delay at the British Home Office was out of her control.

The government disagreed, telling the court that Gallagher was clearly ineligible and that the "reasonable steps" exception to the rule is only for situations where foreign governments make it impossible to renounce — which is not the case in Britain, and therefore not applicable to Gallagher.
The court agreed with the government, finding that the foreign country must present "something of an insurmountable obstacle" to renouncing citizenship before the exception can apply.
Justices Kiefel, Bell, Keane, Nettle, Gordon wrote that Gallagher had not identified any aspect of British law that completely prevented her from nominating for the parliament, and that the British renunciation process could not be described as "onerous".
"The procedure is simple. There was never any doubt that a decision to register would be made. The issue for Senator Gallagher was only ever to be the timing of the registration."
In a statement released after the ruling was handed down, Gallagher said she was "very disappointed" but respected the court's decision. She apologised to her ACT electorate for the "disruption", and said she has "more to contribute to public life."
"I will take the time to talk with Labor Party members on how I can do this over the months ahead," she said.
The decision likely has ramifications for at least four other MPs: Justine Keay, Susan Lamb and Josh Wilson from Labor, and Rebekha Sharkie from Centre Alliance (formerly known as the Nick Xenophon Team).

Keay, Wilson and Sharkie all applied to renounce their dual citizenship prior to the nomination date, but did not confirm the renunciation until after.

Sharkie released a statement following the court's judgement saying she will "take urgent legal advice".
"It is my belief that the particulars of my circumstances are materially different to senator's Gallagher's case," Sharkie said.
Lamb is still a dual citizen as her application for renunciation was rejected because she hadn't provided her parents' marriage certificate. She told the parliament in February that she was unable to obtain the certificate because she is estranged from her mother.
Labor leader Bill Shorten said the Labor party was considering further implications of Tuesday's High Court decision.
He lamented Gallagher's exit from the Senate and said "Katy has always acted on the best available legal advice, which indicated that she had satisfied the eligibility requirements under the Constitution."
He also said the High Court had set a new legal precedent – a claim slammed by attorney-general Christian Porter.
Porter said the decision was "not a reinterpretation or a change of the law".
"It is a crisp and crystal clear clarification of the law as it was stated in the [Matt] Canavan decision last year and anyone...who says this is a reinterpretation or a change is talking absolute rubbish," Porter told reporters on Wednesday morning.
Porter said Shorten must force his MPs – Josh Wilson, Susan Lamb and Justine Keay – to resign from Federal Parliament today after the High Court decision if the Labor party care at all about the "legitimacy of parliament".
Liberal Christopher Pyne said Shorten had failed a character test and "behaved like a trade union leader".

Prior to today's decision, 10 politicians had been found ineligible to sit in the parliament due to their citizenship.
In the House of Representatives, deputy prime minister Barnaby Joyce was unseated after a High Court decision and Liberal MP John Alexander resigned. Both won back their seats – New England and Bennelong respectively – in by-elections.
Labor MP David Feeney also stepped down from the parliament after being unable to locate proof that he had renounced his British citizenship. He did not run again, but Labor held onto the seat with Ged Kearney who won the Batman by-election in March.
Seven senators also resigned or were ejected from the parliament over their dual citizenship: Scott Ludlam (Greens), Larissa Waters (Greens), Fiona Nash (National), Malcolm Roberts (One Nation), Stephen Parry (Liberal), Jacqui Lambie (Jacqui Lambie Network) and Skye Kakoschke-Moore (then Nick Xenophon Team).
Labor's Tony Burke told ABC Radio National on Tuesday morning that Labor – with at least four MPs on the "reasonable steps" chopping block – would have to take action if the High Court did not rule in Gallagher's favour.
"So if there is a change from what has been the reasonable steps test for more than 20 years, then we'll obviously have to deal with that across the board," he said. "But we'll wait 'til we see the decision."