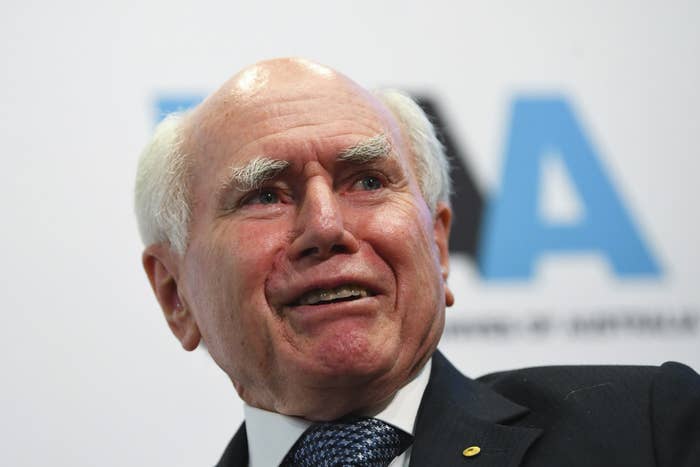 Former Australian prime minister John Howard has provided a judge with a highly complimentary character reference for cardinal George Pell, the most senior Catholic to be convicted of child sex abuse.
The reference, which describes the cardinal as a "lively conversationalist" and person of "exemplary character", was tendered at Pell's sentencing hearing on Wednesday.
Pell was found guilty by a jury in December 2018 of one count of sexual penetration and four counts of indecent acts on two 13-year-old choirboys, carried out at St Patrick's Cathedral in 1996 and 1997.
Howard was prime minister of Australia from 1996 to 2007, leading a conservative Liberal National coalition government.

Howard wrote to Judge Peter Kidd that he had known Pell for 30 years and was aware of the conviction as well as the fact Pell is appealing and that he maintains his innocence.
"None of these matters alter my opinion of the Cardinal," Howard wrote.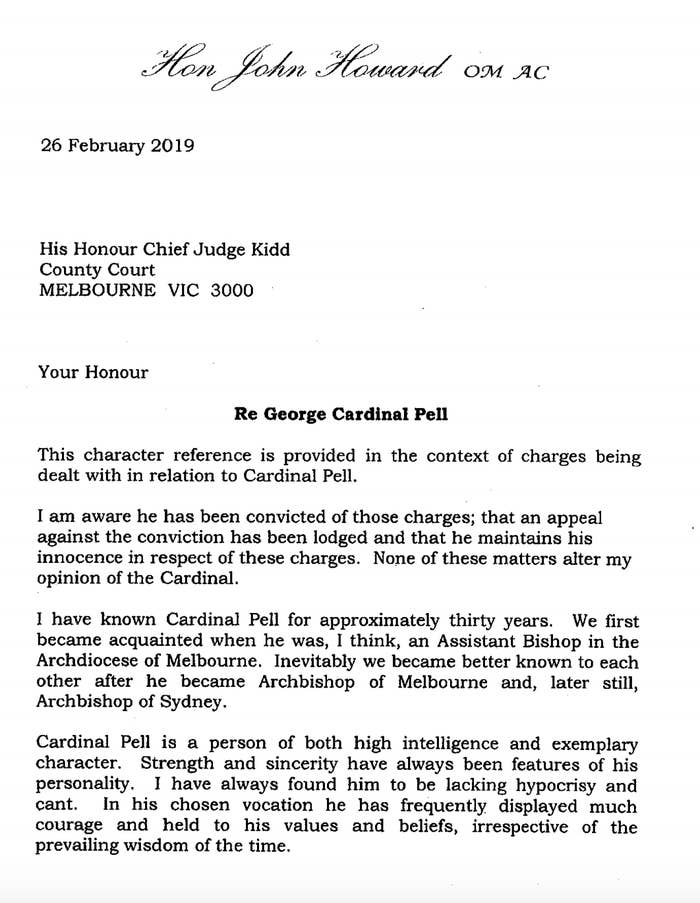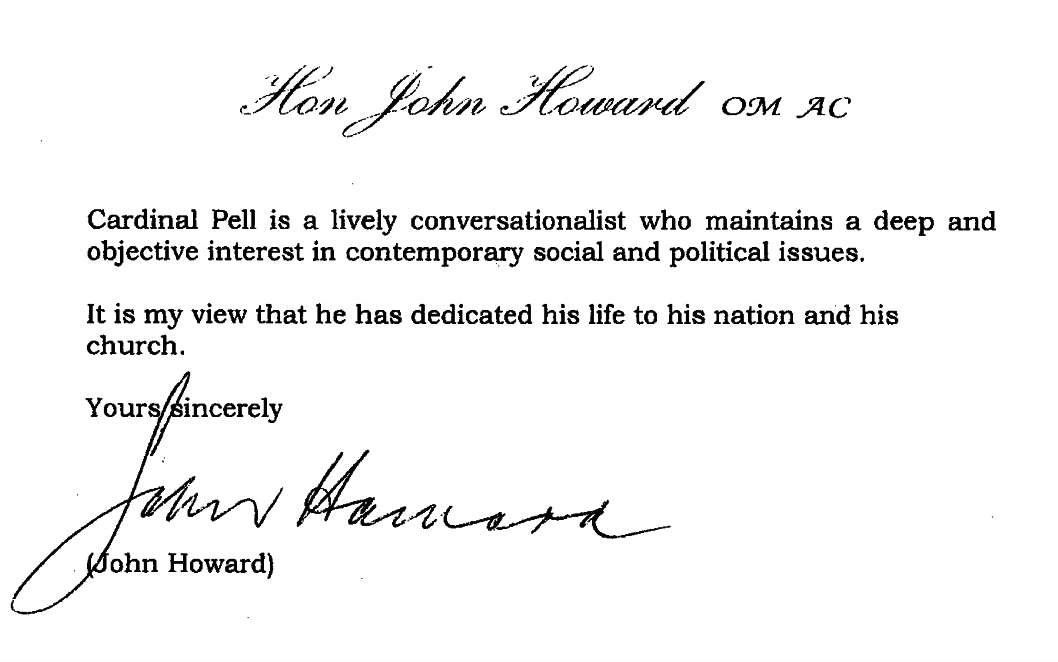 Howard went on to describe Pell as "a person of both high intelligence and exemplary character".
"Strength and sincerity have always been features of his personality. I have always found him to be lacking hypocrisy and cant. In his chosen vocation he has frequently displayed much courage and held to his values and beliefs, irrespective of the prevailing wisdom of the time.

"Cardinal Pell is a lively conversationalist who maintains a deep and objective interest in contemporary social and political issues."
Howard is not the only political figure to come out in support of Pell since his conviction was revealed on Tuesday following the lifting of a suppression order.
Another former Australian prime minister, Tony Abbott, told 2GB radio he had called Pell after the news broke.
Abbott described the verdict as "shocking" and "devastating" and noted it was subject to an appeal.
Asked for whom it was shocking and devastating, Abbott replied: "Certainly for the friends of cardinal Pell, and as you say I am one, devastating for all who believe in the Catholic church, and I'm also one of those."
Abbott declined to answer several times if he would continue to support Pell if his appeal is unsuccessful.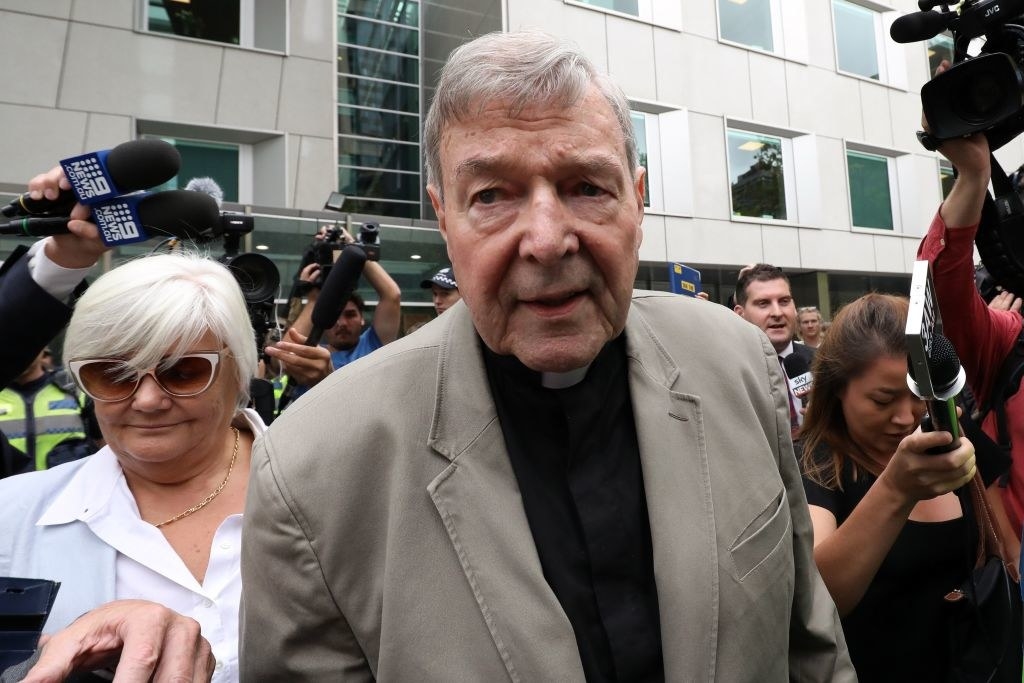 Howard's was among 10 character references submitted to the court on Pell's behalf. Pell's barrister Robert Richter told Kidd there could have been "hundreds, had the net been cast wider".

Professor Greg Craven, the vice chancellor of the Australian Catholic University, wrote that Pell's public face does not match his private persona.

"Publicly, he is business-like and can appear gruff and intensely determined ... privately, he is a deeply sensitive person: thoughtful; considerate; and notably charitable in respect of the failings of both friends and enemies, though not himself."
Katrina Potter, a Catholic church representative who accompanied Pell on each day of both trials, said she struggled to square the man she knew with the figure who has "drawn so much ill feeling".
"Cardinal Pell once told me he doesn't wear his heart on his sleeve," she wrote. "Perhaps his stoicism has contributed to a perception held by some."

Along with the character statements, Kidd will take into account a victim impact statement from one of the boys abused by Pell – now aged in his 30s – who testified at trial, and the father of the other victim, who died in 2014. These statements were not released publicly.
On Wednesday, prosecutor Mark Gibson called for Pell to be put in jail immediately for his "serious" crimes, saying there were several aggravating factors, including the boys' youth and vulnerability and the fact Pell had abused his power to commit the offences.
Richter argued there were no aggravating factors and described Pell forcing oral sex on the boys as "no more than a plain vanilla sexual penetration case where the child is not volunteering or not actively participating".
Pell will be sentenced on March 13.