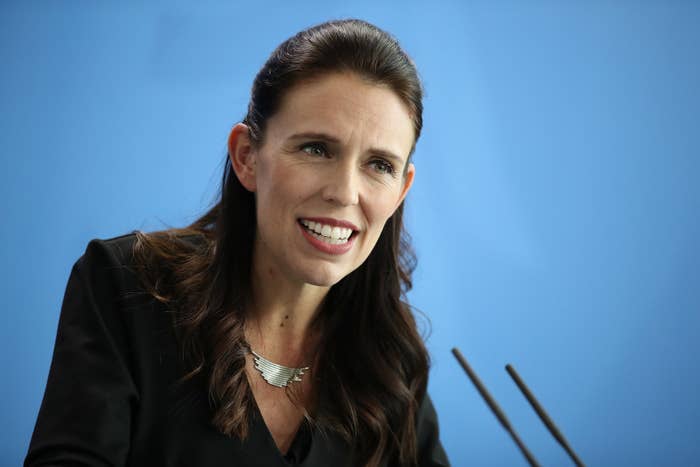 New Zealand prime minister Jacinda Ardern has insisted there's nothing to see here regarding her maternity leave arrangements, batting away questions over her "unprecedented" pregnancy and saying she'll still be consulted over big government decisions.

In a press conference ahead of her government's first budget on Thursday, Ardern released a letter explaining the arrangements for her maternity leave, during which deputy prime minister Winston Peters will step up to acting prime minister.
Peters will manage the day-to-day business of government, including chairing cabinet meetings, answering questions in the parliament and attending events.

Ardern, who has a due date of June 17, said the terms had been set out in a letter due to heightened media interest, but insisted – repeatedly – there's no difference to any other time Peters is the acting PM, except for the length of time.
"As you know I intend to take a leave of absence for six weeks," she said. "Deputy prime minister Winston Peters has agreed to be the acting prime minister during this time — though I don't recall much choice being involved in the matter!
"As I say though, we see these arrangements as no different to the kind of consultation and dialogue we have already as prime minister and deputy prime minister."
She faced a barrage of questions about the unusual move of releasing a public letter detailing the arrangements.
"Is this unprecedented? Why did you need this 'behave yourself' contract?" one journalist asked.

"That is absolutely not what this is," Ardern replied. "This is a response to the interest the media has shown in what is otherwise a usual routine practice of a deputy prime minister taking the lead when a prime minister might, for instance, be offshore. It's just simply this a slightly longer period than otherwise might be as per usual."
"But this is unprecedented, isn't it?" a journalist asked.
"The media interest in something that's quite common is a little more unprecedented," the PM said. "Of course, also the fact I'm having a baby while in office is. The actual activity of the deputy prime minister taking on the acting role is not unprecedented."
"This is fairly unprecedented, no prime minister-" began another journalist.

"Childbirth is not. But, yes?" said Ardern.
"No prime minister has ever taken maternity leave while in office. How does it feel to be doing something no-one else has done before?"
"Ask me after I give birth," she said.
Peters also took umbrage at the characterisation of the "behave yourself" contract, saying the press conference was edging on "trite". He also said he felt prepared having taken on the role 22 years ago.

Meanwhile, the questions to Ardern kept coming – all with the same answer.
Journalist: "Will Mr Peters be running a post cabinet press conference like this?"


Ardern: "We expect that we'll keep on the usual practices that we have in the past."

Journalist: "Will he move to the ninth floor?"

Ardern: "That seems like an unnecessary inconvenience! And no. And just as he wouldn't if I were overseas for an extended period of time undertaking government business ... By and large everything will continue to function as we currently do."

Journalist: "Will he be sworn in as prime minister?"


Ardern: "No. No. Because of course that's not what happens when the deputy prime minister is acting prime minister. That is not required, and as I say, it is as per the usual circumstance where I would be offshore or unable to perform duties at the time."

Journalist: "So constitutionally, you effectively remain the prime minister while this process takes place?"

Ardern: "Yes, and he is the acting prime minister. And there is already, as set out in the cabinet manual, guidelines for how this operates and it does not require any formal swearing in for him to act as acting prime minister."
Ardern also said she was not pre-empting an early delivery by explaining how it would all work now.

"If I had a crystal ball about what I was to expect I would welcome that, but no," she said.
"This is something we wanted to demonstrate, [that] all plans are in place. I have no expectation of any of this being required until later in June."