Same-Sex Marriage Was Just Legalised In Australia
"God bless bloody Australia!"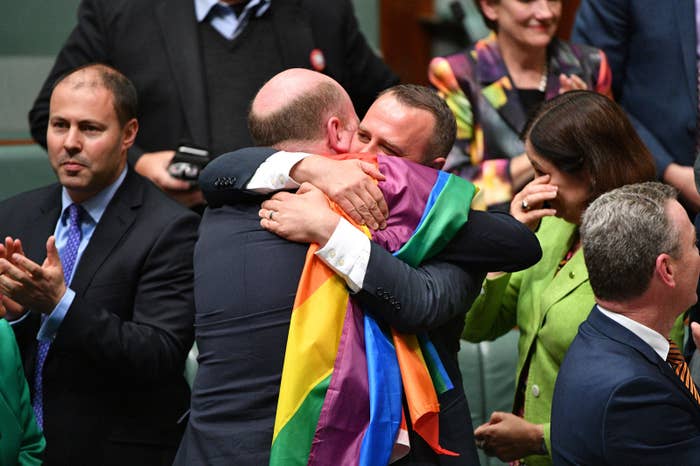 After years of hard-fought advocacy, over 20 failed bills, and an extraordinary, unprecedented national postal survey, same-sex marriage has finally become the law of the land in Australia.

Hundreds of LGBTI advocates and couples who have been waiting years for this moment watched on from the public gallery, sometimes raucously, as the House of Representatives passed a historic vote in favour of change on Thursday evening.
Just four MPs voted against the reform, with so many MPs on the side of the chamber voting in favour that some had to stand. The four MPs who voted against the bill were government MPs Russell Broadbent, Keith Pitt and David Littleproud, and independent Bob Katter.

Following the vote, the gallery rose and people cheered, waved rainbow flags, and broke into song: "I Am Australian".

Same-sex couples can marry as early as January.
From Saturday, they will be able to lodge a Notice of Intended Marriage to commence the once month minimum notice period before the "solemnisation of marriages under the Marriage Act", a statement released on Thursday night by attorney-general George Brandis said.
The passage of the bill brings Australia's marriage laws in line with most other Western democracies, including New Zealand, England, Canada and the United States. It is the result of a campaign running in earnest since 2004.
The bill, penned by senator Dean Smith, passed the House of Representatives with no substantive amendments, three weeks after it was revealed 62% of Australians had voted "yes" in the national survey.
A series of attempts to amend the bill were voted down over the course of Thursday, including five put by conservatives who largely oppose same-sex marriage, one put by the Australian Greens, and one put by Liberal MP Sarah Henderson.

The Greens amendment was defeated on the voices, and then each conservative amendment by a large margin. Several government MPs opposed the various conservative amendments and the one moved by Henderson, including ministers Christopher Pyne and Kelly O'Dwyer.
The packed public gallery became increasingly rowdy as the afternoon went on, starting with polite applause for some contributions and moving to outright laughter at others.

Liberal MP Trent Zimmerman noted he was the first openly gay member of the lower house, but suggested he was "probably not the only 'gay in the village' over the past 116 years".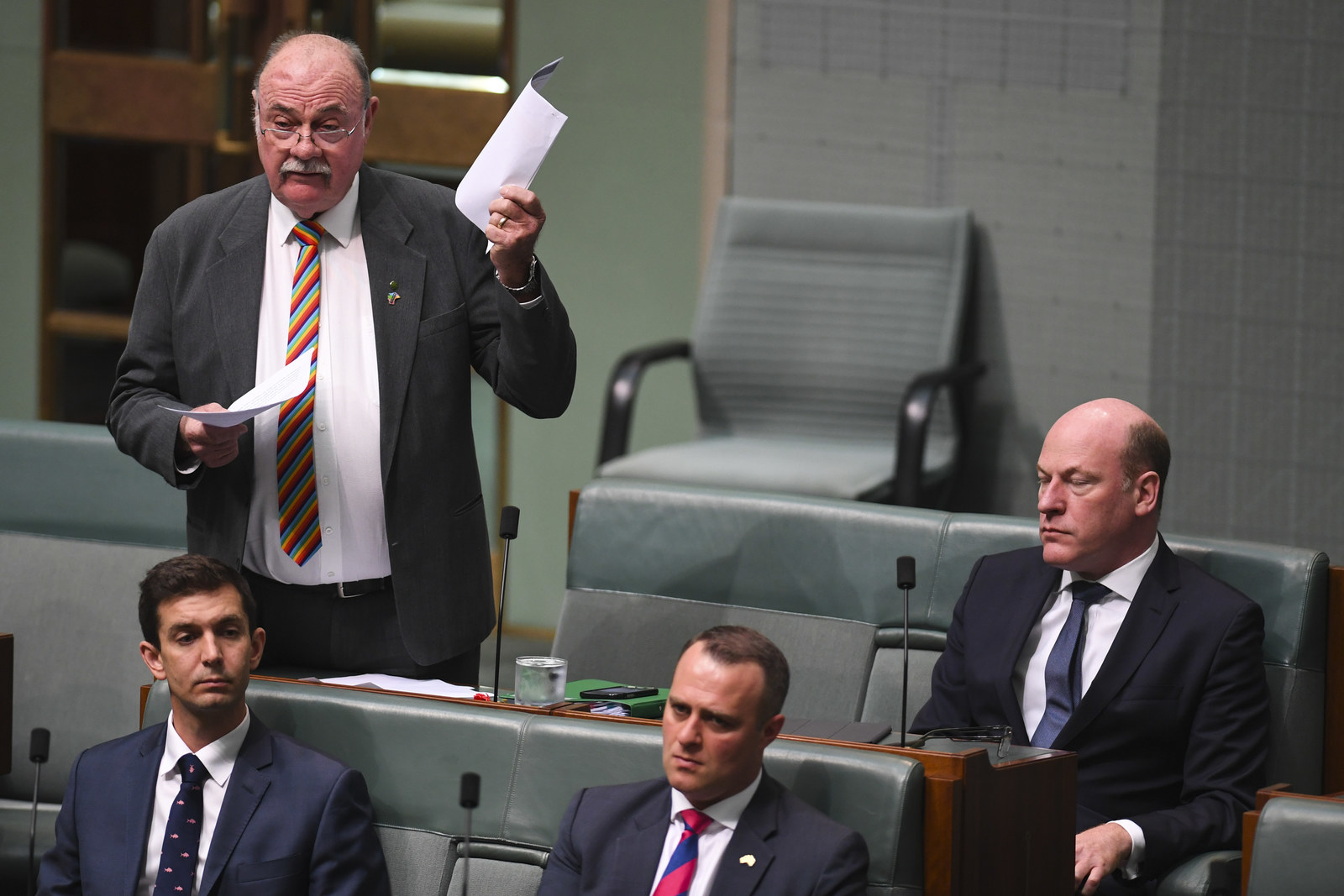 He told the chamber that he and all Australians had been touched by a three-word slogan. "Love is love, Mr Speaker – and I am sure that's something we can all agree on."
Labor deputy leader Tanya Plibersek told the chamber "By the end of today, Australia will be a better, kinder, fairer place for all of us."

"Love will prevail. It will be your victory, and I hope you enjoy it," she told the public gallery, to applause.
Earlier, a bizarre contribution from Queensland MP Bob Katter had left the chamber in hysterics, prompting a firm reminder to the public gallery to not interject.
During his rant, Katter berated the gay community for taking the word "gay" and now asking for the word "marriage", saying: "I think you've got a damn hide to be honest with you! A damn hide and an inflated opinion of yourself as well!"
Earlier on Thursday, people including comedian Magda Szubanski and Olympic swimmer Ian Thorpe had gathered outside parliament house, waving signs and celebrating the anticipated victory after years of campaigning.
Szubanski, who sat in the public gallery to witness the vote, told BuzzFeed News it was an extraordinary moment for older gay Australians.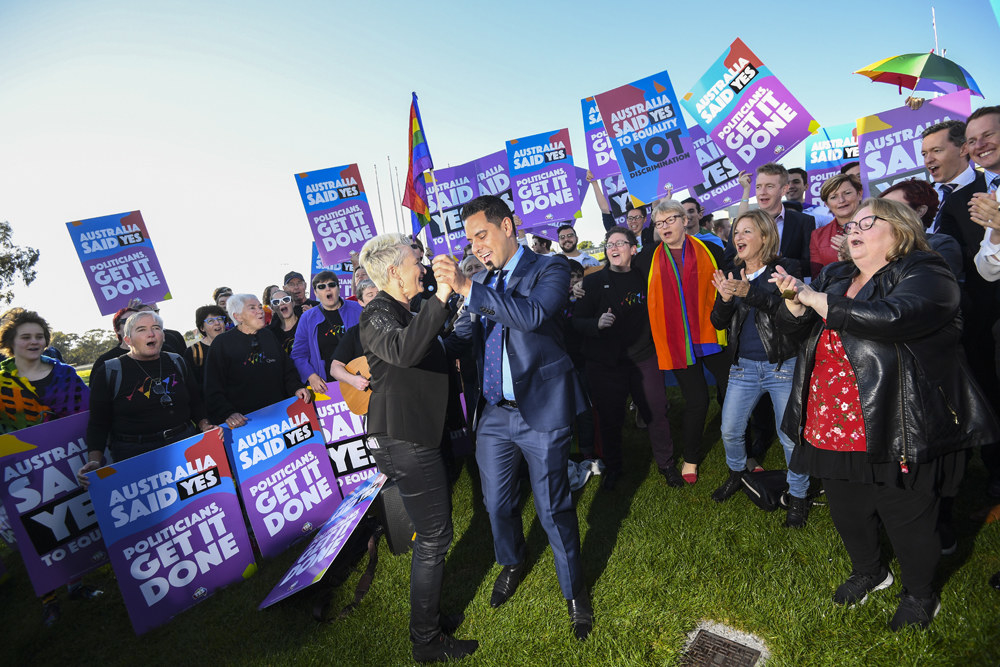 "We were so ashamed," she said. "When I was young, being gay meant a life of torment and torture and shame.
"The idea you would ever find happiness and love, and that that love would be celebrated by the entire nation, it was inconceivable. And we made the inconceivable real.
"With everything being against us, we had the strength to continue to be who we are. And people in various degrees of outness — everyone does it in their own way, in their own time — but we've all got us here to this point. And God bless bloody Australia!"
The bill now has to receive "royal assent" from governor-general Sir Peter Cosgrove.
A month's notice of intent to marry must be given in Australia, meaning that if the bill passes, the earliest a legal same-sex marriage will be able to take place is January 2018.