Indonesian Court Rejects Call To Criminalise Gay Sex And Sex Outside Of Marriage
Four of the court's nine judges dissented.
by
,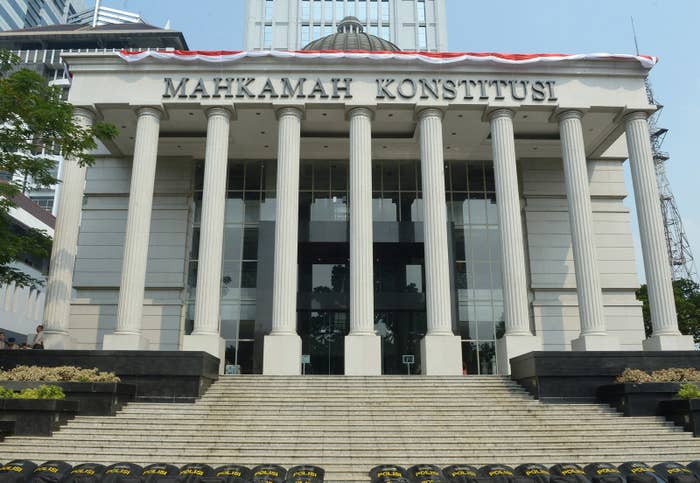 A slim majority of judges on Indonesia's Constitutional Court have ruled against a push to make gay sex and sex outside of marriage a crime in the country's criminal code.

In the suit, brought in 2016, a group of academics and activists known as the Family Love Alliance petitioned the court to alter the criminal code in order to criminalise acts of casual sex or sex between people of the same sex.
But the decision on Thursday morning, handed down by five of the court's nine judges, rejected the push, saying the authority to introduce such a law does not lie with the court but with the Indonesian parliament.

The judges suggested the activists who brought the suit instead take their views to the parliament, which is currently working to revise the criminal code.
Four judges dissented from the majority ruling, arguing rejecting the petition suggests the legal system does not "offer room for religious norms to be inserted in the constitution".
The decision is a considerable victory – and source of relief – for LGBT Indonesians, who have faced increased scrutiny over recent years.
Tama, a transgender activist from Yogyakarta, told BuzzFeed News he and other LGBT people were "celebrating here, right now" in the wake of the decision.
"We didn't expect this at all," he said. "We were so gloomy this morning.
"Thanks to the rainbow for remaining in the the hearts of all brave Indonesians who resist oppression on the basis of sexual orientation, gender identity, expression, and sex characteristics."
Meanwhile, petitioners expressed their disappointment after the ruling was handed down, with some people exiting the court crying.
Rita Hendrawati Soebagyo, cofounder of the Family Love Alliance, and now at the forefront of Indonesia's conservative movement, contended she wanted to make the country more "civilised" by "strengthening family values".
"We lost, but it is not a moral defeat," she said, arguing that the court had rejected the proposal on technical, not substantive, grounds.
Professor Euis Sunarti, lecturer at the Bogor Agricultura Institute, said she was saddened by the decision, which she had not expected.
"As a grandmother of two kids and mother of four, I am intimidated by the fact that currently the magnitude of adultery, pornification, and obscene cases in our society is so big," she said. "To fight against it, we need law certainty."

Sunarti said she "appreciated" the four judges with a dissenting opinion and reiterated that the decision had been technical.
"The judges who rejected our request said we submitted the request to the wrong institution, as the Constitutional Court is only acting as a negative legislator [striking down laws as opposed to making them]. But they do not disagree with the substance of our proposal."
During hearings for the case in 2016, witnesses for the Family Love Alliance argued that homosexuality must be criminalised to protect Indonesia's values.

At one hearing in August 2016, chairman of the National Child Protection Commission Asrorun Ni'am Sholeh said the court needed to take urgent action to curtail a crisis of sexual morality that put the nation's children at risk.
He called for a five-year prison sentence to be imposed for homosexual acts, which he warned "tend to be repeated because there is a factor of addiction in it", and raised concerns that same-sex marriage could come to Indonesia.
Hamid Chalid, a constitutional law expert at the University of Indonesia south of Jakarta, said the court needed to step in to protect local religious and moral values. These are being eroded, he argued, by international human rights norms pushed by Western governments that have purged religion from public policy.

"Our country has legalised fornication, male rape, and homosexual acts," he said. "We've allowed our constitution to become too liberal – is that what we want?"
LGBT activists feared a court decision in favour would lend legitimacy to anti-LGBT sentiment, and in some cases, violence, among Islamic fundamentalists.

There has been increased attention on Indonesia's attitude to LGBT rights in the past two years, following a wave of anti-LGBT sentiment at the beginning of 2016.
A mid-2016 report from Human Rights Watch told of how vitriolic comments from public officials had triggered an unprecedented wave of assaults, violence, and public denigration that had startled Indonesia's LGBT community.
In March, activists told BuzzFeed News the outbreak of violence had left many LGBT people living in "constant fear".
In May, two men were caned for having consensual sex with one another in the Indonesian province of Aceh, which has a special legal status allowing it to insert Sharia bylaws into the criminal code.
In Aceh, ordinances criminalising drinking alcohol, sex outside of marriage, and gay sex can be enforced against Muslims and non-Muslims.

Police raids and mass arrests have also taken place at gay venues in Jakarta in 2017.