Here's The Sneaky Way Marriage Equality Could Pass Without Government Support
The PM says same-sex marriage will stay off the table. Is this a decree, or a hope?
Prime minister Malcolm Turnbull has been clear in his response to reported backbench moves to introduce a private member's bill on marriage equality: it's not happening.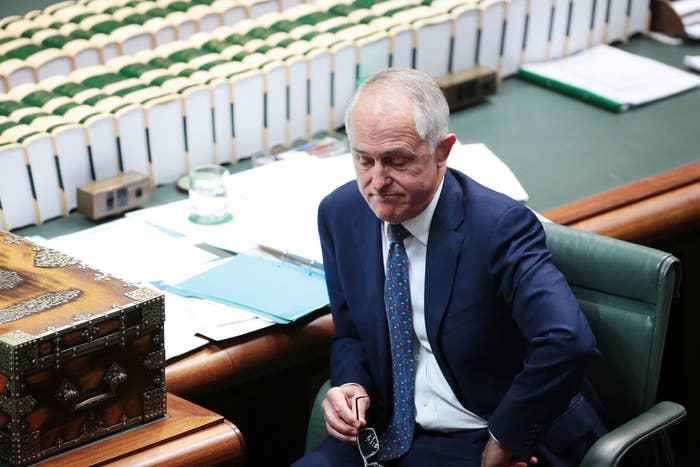 In the current flare-up of government bickering and speculation on marriage equality – this time sparked by comments from defence industry minister Christopher Pyne – Turnbull has been at pains to stress that the government is sticking to its policy of a national plebiscite on same-sex marriage.

On Tuesday, Fairfax Media reported that two Liberal backbenchers, senator Dean Smith and MP Trent Zimmerman, had been drafting a private member's bill on the issue.

But speaking to 3AW radio on Tuesday morning, Turnbull said he simply would not allow a private member's bill on marriage equality to come forward before a plebiscite was held.
Turnbull: Our position is we do not support a bill relating to gay marriage being brought on, until there has been a vote of the Australian people. That's our policy.


(Host) Neil Mitchell: So you wouldn't allow a private member's bill to be presented?

Turnbull: Correct.

A private member's bill on same-sex marriage would likely pass the Senate, and could conceivably pass in the lower house if enough government backbenchers crossed the floor.
In fact, backbencher George Christensen tweeted on Tuesday that a Liberal same-sex marriage advocate told him MPs would cross the floor if the plebiscite remained.
But to reach a vote at all in the lower house, the bill would have to pass a number of logistical hurdles. Does Turnbull have the power to comprehensively block it at every turn?
We asked the office of the clerk of the House of Representatives about the process.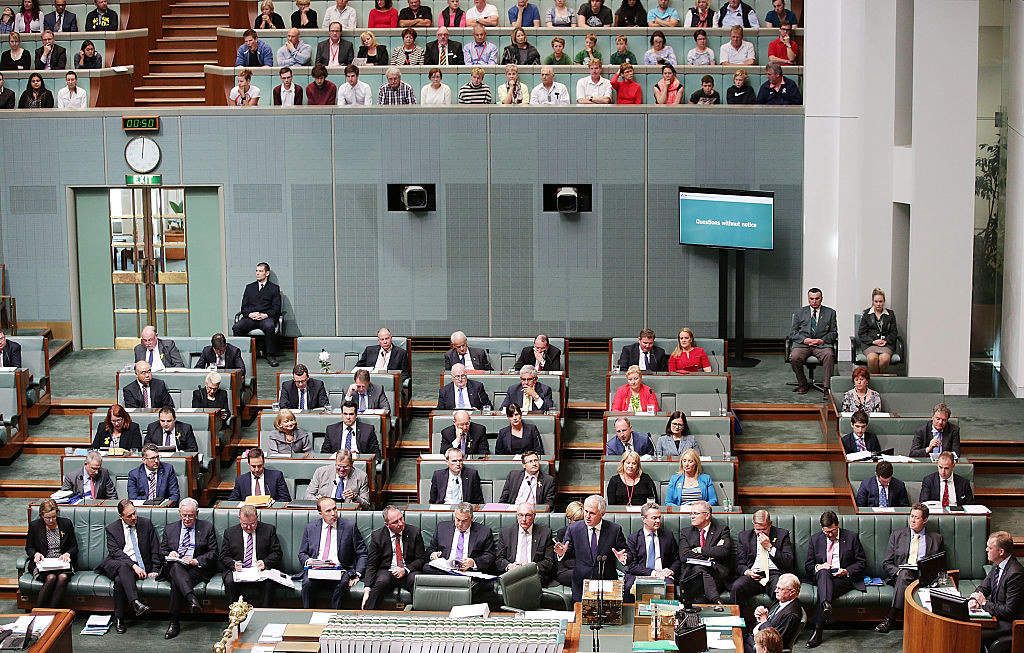 First off, the basics: a "private member" is an MP who is not the speaker, in the Cabinet, or a parliamentary secretary. And a private member's bill just means a bill that isn't presented by the government.
On the Monday of every sitting week, there is time set aside for private member's business. Any MP who wants to introduce a bill during this time tells the clerk a week earlier, the clerk puts it on the notice paper, and voila! It gets on the schedule for private member's business.
Come Monday, the bill can be read a first time. This means the MP presents the bill to the House and the clerk reads out its title. Then, the MP can move what's known as the second reading, and deliver a speech that explains what the bill is all about.
When the MP finishes speaking, the debate is adjourned, and the bill is distributed for everyone to read, consider, get mad about, and – maybe – come back to debate another time.
It's also at this point that the bill hits the Selection Committee, a government-controlled committee that decides which legislation the House of Reps debates and considers on any given day. (A bill that passed the Senate and came down to the lower house would also go to the Selection Committee.)
For the purposes of this explanation, let's take Turnbull at his word and assume the Selection Committee would follow his instructions and block any private member's same-sex marriage bill from future debate.

According to the normal rules, the bill would lie fallow on the notice paper for eight weeks and then be kicked off into the ether with the 20-plus other marriage equality bills that briefly graced the parliament and then failed or were ignored.
Unless... Labor, crossbenchers and government backbenchers team up to suspend the standing orders and override the Selection Committee's decided schedule. However – and here's the rub – in order to do so, this motley crew would need an absolute majority of 76 votes, not just a simple majority of whoever is present at the time of the vote.
This magic 76 is really tough to get when you're not in government. Any MPs in "pairs" – where two MPs on either side of a vote agree not to vote to accommodate absences because of life events, illness, etc – would bring down the number of people voting in the House overall, but you'd still need to get 76 votes.
Labor would have to have all 69 of its MPs there, plus the four same-sex marriage supporters on the cross bench (Adam Bandt, Cathy McGowan, Andrew Wilkie, and Rebekha Sharkie), plus a minimum of three Liberals crossing the floor. If any Labor or cross bench MPs don't show, more Liberals would have to be coaxed across the floor or it's a bust. (Queensland Independent MP Bob Katter has indicated he wouldn't support any vote on same-sex marriage.)
But if the suspension is successful, the combination of Labor, crossbench & backbench government MPs could continue to vote as a bloc and eventually pass the bill into law.
So, that's what has to happen. Perhaps needless to say, the successful passage of private member's bills is rare. Since 1901, just 28 have passed into law.
Meanwhile, LGBTI rights groups are concerned with the shape a draft marriage bill might take in terms of religious exemptions and discrimination in goods and services provision.
In a joint statement, just.equal, PFLAG and Rainbow Families called for public consultation on any draft marriage equality bill that is put forward.

"The equality in 'marriage equality' is very important to our rainbow families and we are against anything which compromises that equality," said Felicity Marlowe from Rainbow Families Victoria.
"Parliament's winter break provides an excellent opportunity for extensive community consultation on the draft bill."

In February, a cross-party Senate committee put forward a proposal for religious exemptions that would see religious ministers and a new category of "religious civil celebrants" granted the right to refuse to solemnise any marriage they like.
Liberal WA senator Dean Smith told BuzzFeed News last week that he imagines any legislation legalising same-sex marriage would have similar provisions to those outlined in the exposure draft.

Parliament will resume sitting in August.