Here's Everything That Happened At The Christian Lobby's Conference
Protesters, pollies, piety.
Protesters, politicians, and piety took centre stage at the Australian Christian Lobby's national conference in Sydney on Saturday.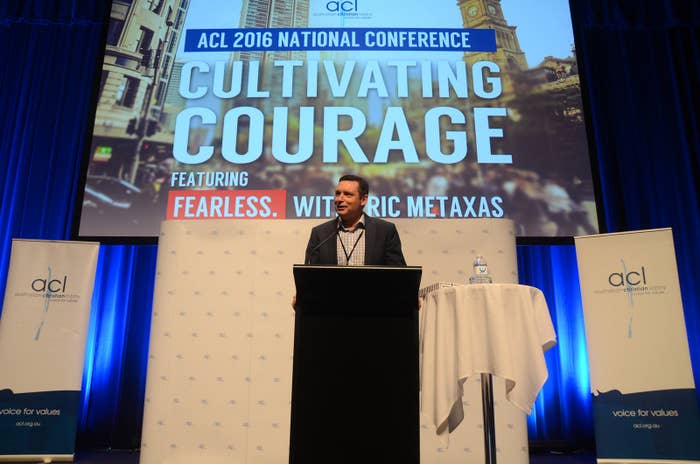 The influential ACL will be one of the leading groups in the "No" campaign for Australia's upcoming plebiscite on same-sex marriage. The organisation also spearheaded the recent campaign against the Safe Schools Coalition, a government funded anti-bullying program aimed at helping LGBTI kids.
And on Saturday, the ACL and around 600 supporters gathered at the Wesley Conference Centre in Sydney for its national conference. Here's what happened:
Managing Director Lyle Shelton gave the first address, borrowing Australian prime minister Malcolm Turnbull's favourite phrase to say "there has never been a more exciting time to be a completely devoted follower of Jesus Christ".
Shelton cited the "human rights of the unborn" as the most pressing social justice issue of our time and spoke about various issues the ACL regularly campaigns on, including same-sex marriage, the Safe Schools Coalition, and gender fluidity in general.
He also referenced German pastor Dietrich Bonhoeffer, saying he found inspiration in Bonhoeffer's courage in standing up to Hitler in Nazi Germany.
Treasurer Scott Morrison used his speech to attack Labor's economic policies and frame the upcoming federal budget as one geared towards families.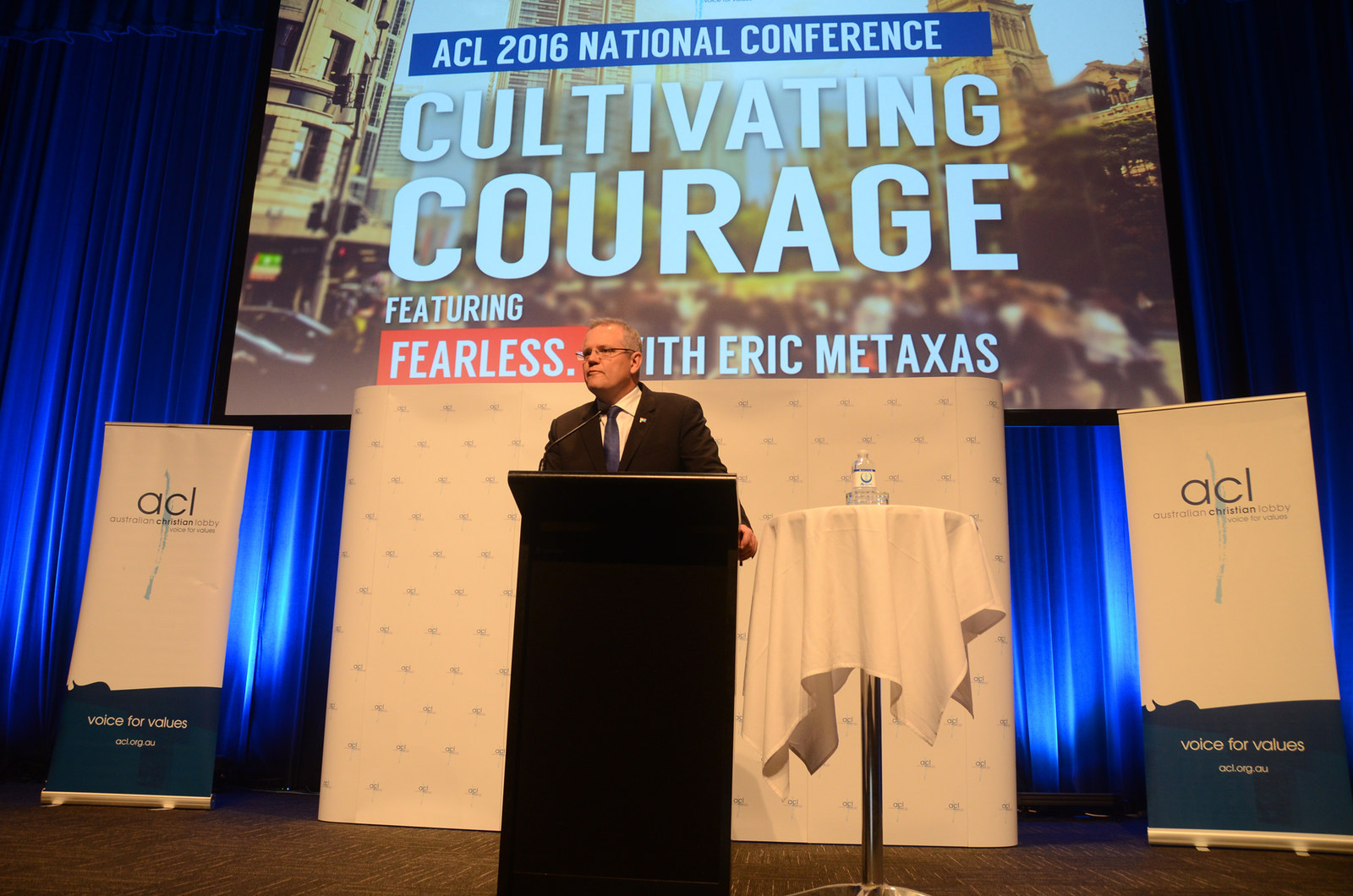 "The best form of welfare is a job," Morrison said. "Having a job underpins so many of the other aspects of social and economic wellbeing."
Morrison's appearance at the conference has been a subject of controversy in recent weeks. A petition circulated calling for Morrison to decline the invitation to speak alongside commentator Eric Metaxas and lawyer Jeff Ventrella, citing controversial comments the American guests had made in the past.
"I respect everybody's opinions. I just hope and wish others would do the same," Morrison said following his address.

"I have a strong view about Australian families and I wanted to address the issues that would be raised in the budget yet to support Australian families."
Morning tea brought friands (very good), quiches (less good) and lots of cups of tea.
Next up was Jeff Ventrella, from the US legal advocacy organisation Alliance Defending Freedom.
Earlier this year, former prime minister Tony Abbott came under fire for travelling to the US to address the controversial group, which provides lawyers in religious freedom disputes over social issues such as abortion and LGBTI rights.
But Ventrella's speech was interrupted by UNSW lecturer Simon Hunt, dressed in pyjamas with a pink triangle on them to represent the people persecuted for their sexuality in Nazi Germany.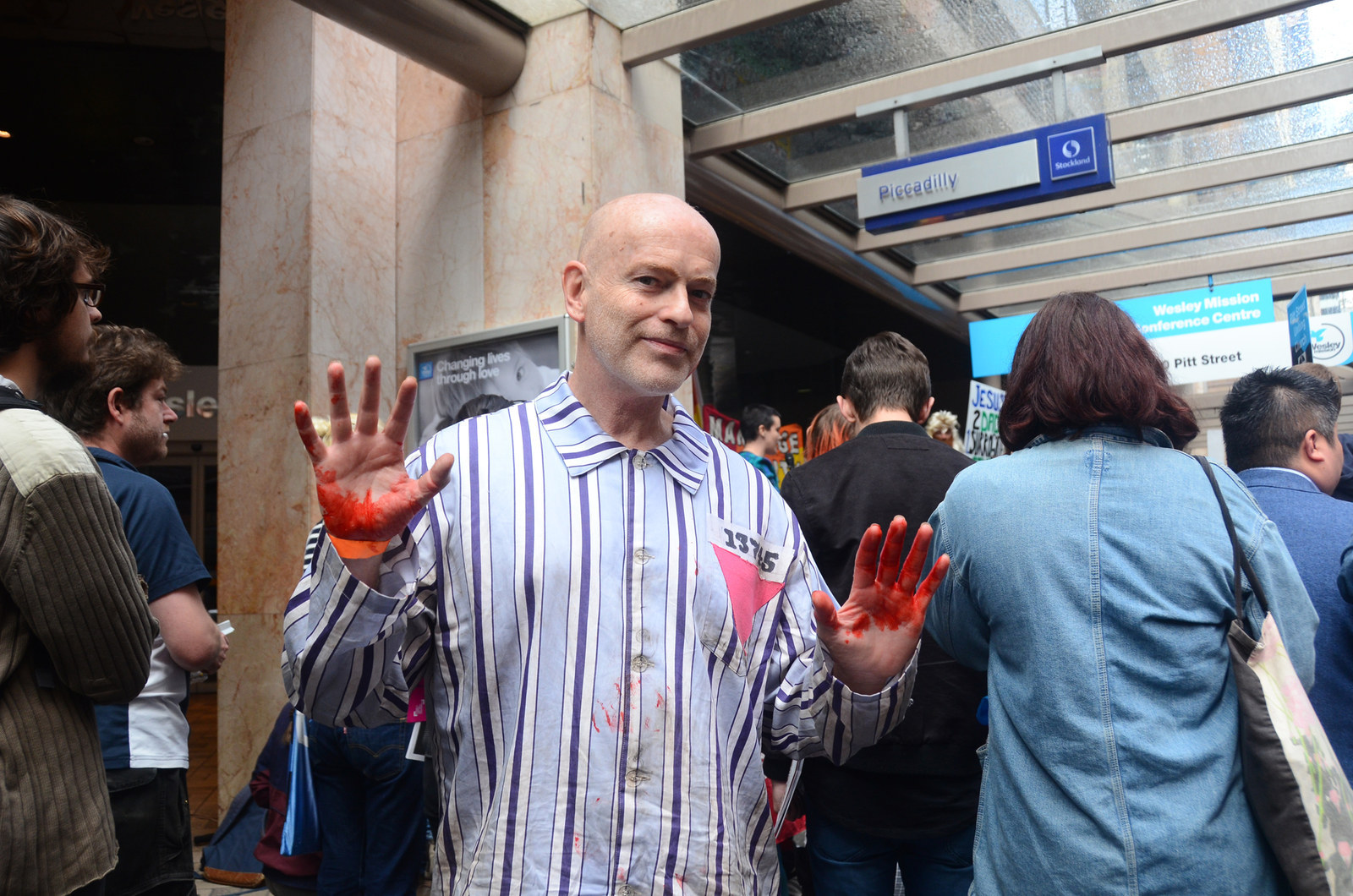 As Ventrella spoke, Hunt got up and approached towards the stage, saying the Alliance Defending Freedom had worked to maintain laws that criminalise homosexuality and roll back anti-discrimination protections across the globe.

As he was escorted out by a security guard, gesturing at the fake blood on his hands and saying "This is the blood of the children you have attacked", the conference attendees drowned him out by singing Amazing Grace.
Hunt told BuzzFeed News he protested the conference because the ACL and their speakers present a "constant threat" to LGBTI children and people.
"They mask themselves as victims while attacking who they determine is most vulnerable – transgender people and children," Hunt said.
Around 12.30, a group of approximately 100 protesters gathered outside and railed against the ACL's opposition to the Safe Schools Coalition program and same-sex marriage.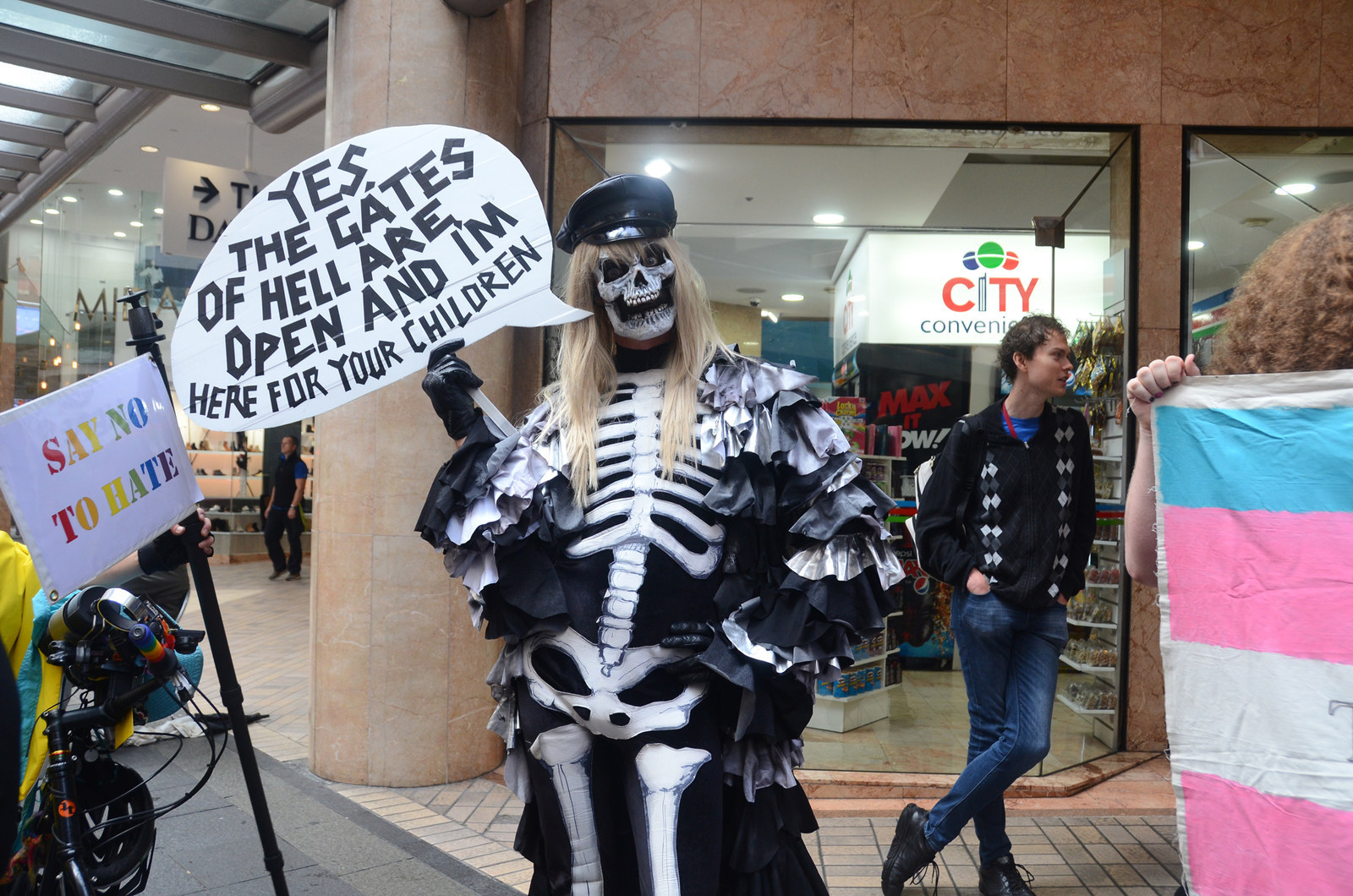 Draped in rainbow flags and chanting "Hey hey, ho ho, homophobia's got to go", the crowd was a mixture of secular and religious people who wished to show their support for LGBTI rights.

Margaret Mayman, a Uniting Church minister at the protest, told BuzzFeed News the ACL did not speak for Christians.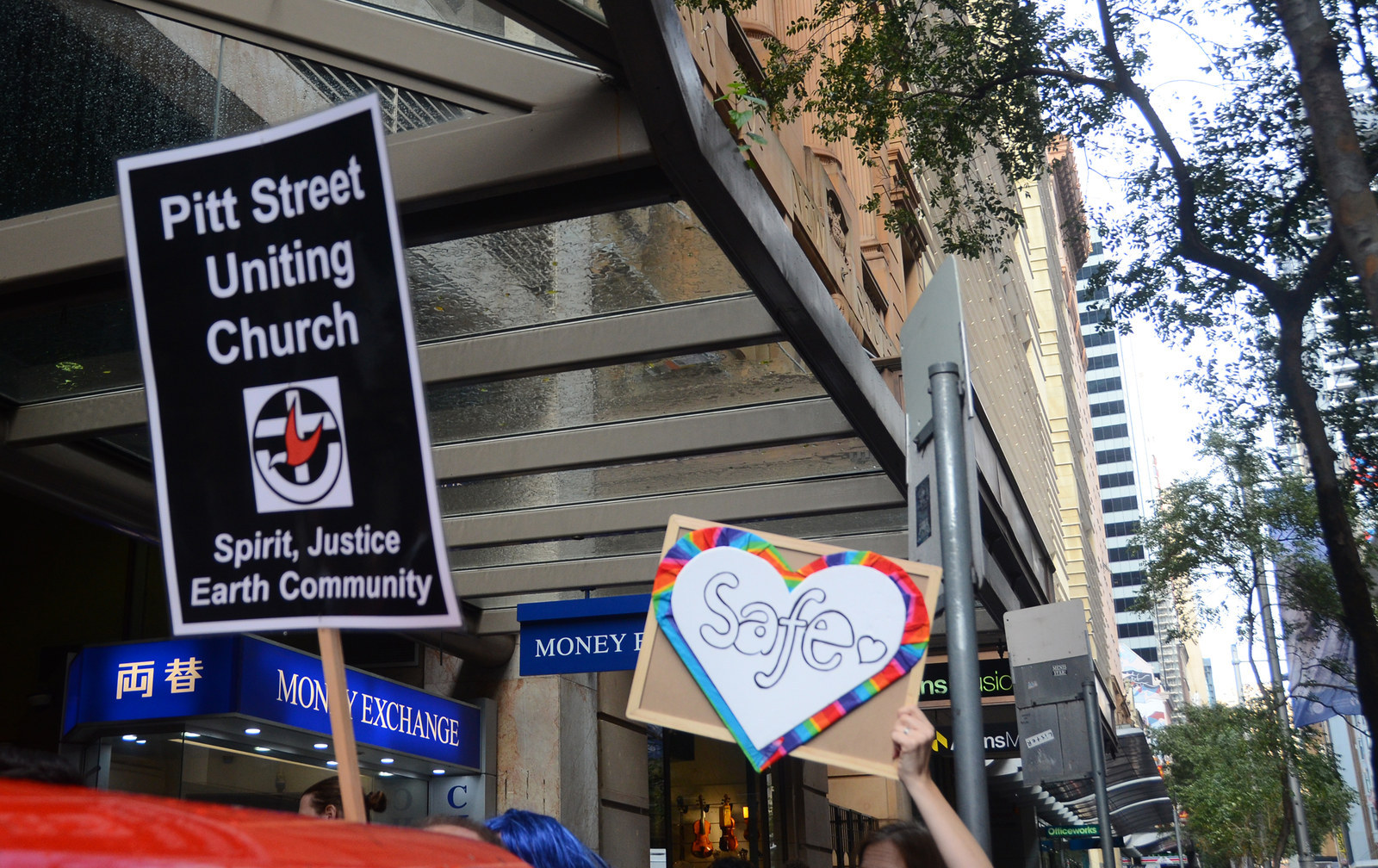 "If you look at marriage equality, two thirds of Australians support marriage equality. So [the ACL] are really a minority view," she said.

"We're really concerned that the Australian Christian Lobby, by bringing the speakers that they've brought from the US, are creating a toxic environment for the public conversation in Australia."
Lunch saw more tea, and a bunch of sandwiches.
While lunch wasn't initially going to be provided, the MC announced at the beginning of the day that due to the planned protest, they had organised catering so guests didn't have to leave the conference centre.
Following everyone chowing down on salmon, chicken and vegetarian sandwiches, ACL spokesperson Wendy Francis spoke on the sexualisation of children, focusing on the Safe Schools Coalition and Respectful Relationships programs.
Other speakers throughout the day included Shireen Morris on constitutional recognition of Indigenous people, Gary Millar on following Jesus, Dr Megan Best on surrogacy and Stephen Chavura on the secular Australian state.

Then came conference headliner Eric Metaxas, a prominent American author.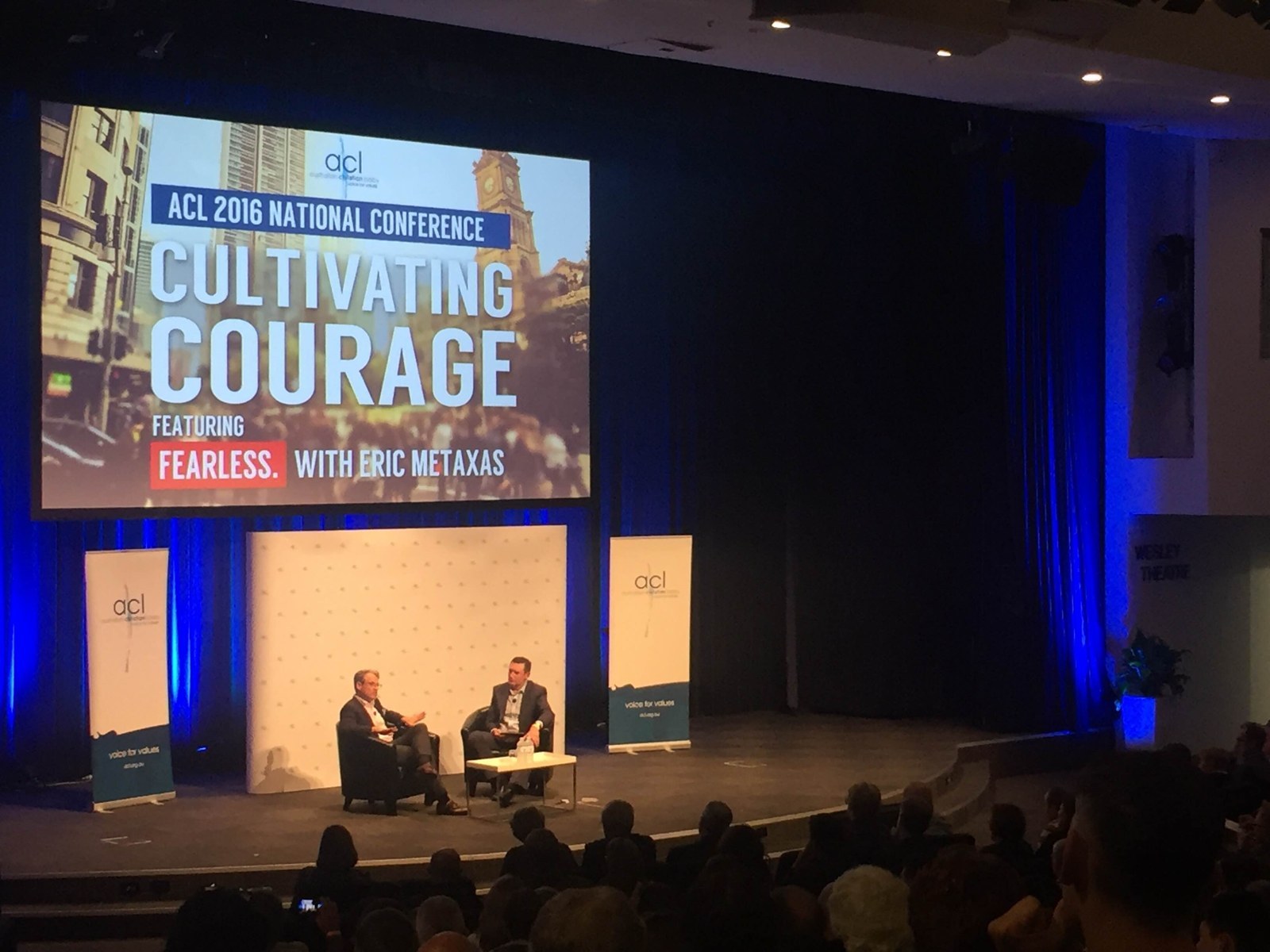 Metaxas has been under scrutiny in the Australian media over the past week for previously comparing churches that accept gay and lesbian people to the failure of churches to denounce Nazi Germany in the 1930s.
He condemned the "sick, horrific" actions of "elite governments", saying programs like the Safe Schools Coalition and Respectful Relationships amounted to tyranny.

Metaxas told attendees that the true way to love your enemy is to "stop them from doing horrific things" and that there should be "riots in the streets" over the programs.
"You're not crazy. They are crazy. And it is love to stop them from doing that," he said.
Metaxas also condemned Christians who separate themselves from groups like the Australian Christian Lobby, calling them "cowards and hypocrites".

Then everyone watched the trailer for God's Not Dead, a film about religious freedom (and a sponsor of the event).
A Q&A between Shelton and Metaxas followed, and then it all wrapped up. There's never been a more exciting time.