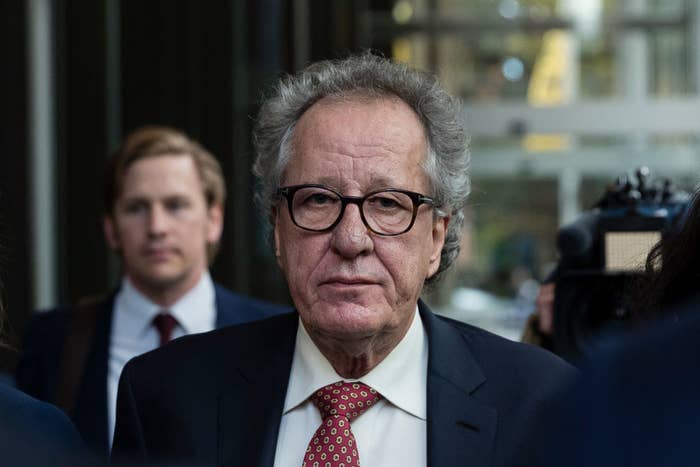 Actor Geoffrey Rush has lost his bid to permanently restrain the Daily Telegraph from repeating the substance of what he has argued are the defamatory allegations the Sydney-based newspaper made against him.

The judgement is a rare win for the News Corp paper in the long-running defamation case, and likely the final decision made by the trial judge before an appeal hearing later this year.
Rush won his defamation case against Telegraph publisher Nationwide News earlier this year and was awarded $2.9 million in damages.
Justice Michael Wigney found the Sydney newspaper had unfairly painted the actor as a "pervert" and a "sexual predator" in articles published in the height of the #MeToo movement alleging he had sexually harassed an unnamed female cast member during a run of the play King Lear.
Following the judgement, Rush sought a permanent injunction that would prevent Nationwide News publications from repeating the imputations the articles had contained about him, including that he was a sexual predator and had committed sexual assault in the theatre.
The Telegraph argued the injunction was far too broad and would have a "chilling" effect on its journalism.
On Wednesday afternoon, Wigney ruled in favour of the newspaper, finding Rush had failed to prove there was a real risk the Telegraph would repeat the defamatory imputations.
Rush had filed a number of Telegraph articles to the court as evidence, arguing they showed "defiance and disrespect" towards the judgement and effectively republished the imputations, Wigney wrote.
The articles included a report quoting the Telegraph's editor and an opinion piece criticising the judgement.

"Given the Telegraph's strenuous defence of the proceedings, it is hardly surprising that the editor would express disappointment and disagreement with the findings," Wigney wrote. "Similarly, the statement in an opinion piece that the author thinks that I somehow missed the point that a person does not have to be a pervert to engage in inappropriate behaviour is not the same as simply restating the defamatory imputation that Mr Rush had engaged in inappropriate behaviour."
Wigney added that some of the Telegraph's arguments against the injunction were "somewhat alarmist, if not mildly hysterical" and said the "extravagant claims" were not supported by the evidence.
However, he did find there was a risk the injunction sought might impinge on free speech.

Wigney noted in the judgement that it was the "ninth and possibly last" decision he would hand down in the case, which has been afoot since December 2017.

At the short hearing on Wednesday, Rush's barrister Sue Chrysanthou asked about a possible costs argument, adding that she did not wish to "trouble" Wigney.
"I would encourage you not to trouble me," he replied.
The Telegraph's appeal is likely to be heard later this year.