Geoffrey Rush Wins $2.9 Million In Defamation Damages
The record-breaking sum comes as Rush's barrister revealed he offered to settle the case for $50,000 and a front-page apology.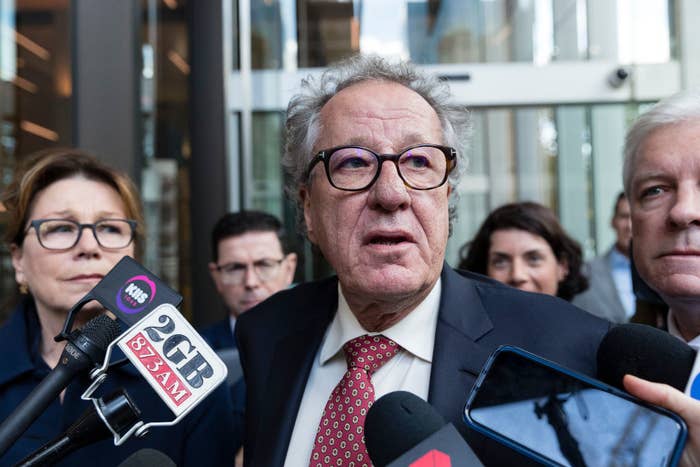 Geoffrey Rush has been awarded just under $2 million in special damages for economic loss over defamatory news stories that painted the film star as a "pervert" and a "sexual predator".

The sum is in addition to $850,000 that Rush was awarded in general damages last month — and comes as his barrister revealed that Rush offered to settle the case for $50,000 and a front-page apology in January 2018.
Rush spectacularly won his defamation case against publisher Nationwide News and journalist Jonathon Moran last month, over articles alleging an unnamed female cast member had complained of his inappropriate behaviour during the 2015-16 Sydney Theatre Company (STC) run of King Lear.

Wigney threw out the newspaper's truth defence and found that star witness Eryn Jean Norvill, whose complaint was aired by the Telegraph against her wishes, was not credible. The Telegraph has filed an appeal.
During a Federal Court hearing on Thursday, Wigney ordered the Telegraph to pay Rush $1.98 million in compensation for past and future work he had lost as a result of the publications.
This is in addition to the $850,000 in general damages that Rush was awarded last month, plus $42,000 in interest.
The parties agreed on the sum, which is now Australia's highest ever defamation payout to a single person.
Rush's barrister Sue Chrysanthou told the court that Rush had offered in January 2018 to settle the case for a front-page apology, $50,000, taking down the articles and undertaking to not republish the imputations.

At the time, she said, Nationwide News had "nothing" to defend the case.
"At that time, Miss Norvill was absolutely refusing to cooperate ... despite the fact they could have gotten out of this in January last year for an apology and $50,000, they ignored that offer."
"Sorry, when you say they ignored it?" asked Wigney
"No response to that offer," Chrysanthou replied.

Telegraph barrister Tom Blackburn SC said the demanded apology would have taken up "two thirds of the front page" in large font. "The refusal to accept the apology should be seen in that context," he said.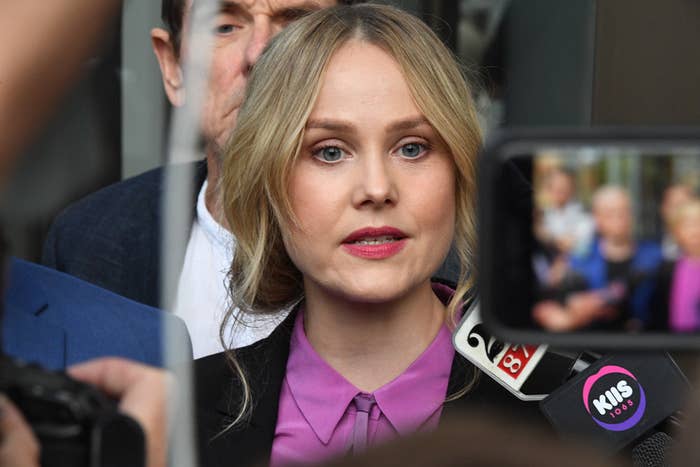 Wigney also heard arguments on whether to hand down permanent injunctions that would prevent Nationwide News from repeating the allegations against Rush.
He will hand down his decision on the injunctions at a later date.
Blackburn described the proposed injunctions as a "blunt instrument" that would have a "chilling effect" on future reporting of the #MeToo movement.

He also argued they would in effect criminalise any articles in the Telegraph that sought to criticise or even comment on Wigney's judgement, because they could potentially suggest that the judgement was wrong and that Rush had in fact engaged in the alleged conduct.
"If my clients overstep the mark and defame Mr Rush again, he can sue again," he said.
"That really can't be a serious submission," said Rush's barrister Sue Chrysanthou.
"That having gone through this process for the last year-and-a-half and having won, my client should have to sue again. It's actually unthinkable that that's Nationwide's answer to avoid these injunctions."
"There's lots of ways to skin a cat and this newspaper can fairly report on these proceedings and express opinions about the #MeToo movement without breaching injunctions," she said. "And the fact they think they can't shows there's a real risk that they're going to repeat the allegations."
She added that Blackburn's words about a "chilling effect" on the #MeToo movement were "hysterical, not in the sense of funny but in the sense of hysteria".
"The sky is falling," she said, sarcastically. "How dare anyone come to a court and seek to stop the Murdoch empire from saying whatever it wants?"
Earlier on Thursday, Wigney declined to stand down after Blackburn argued he should recuse himself from ruling on the injunctions due to an apprehension of bias.
The argument was an insight into what might unfold at the upcoming appeal, which is set to be argued on the same grounds.
The barrister argued there were several moments in which a reasonable observer would think the judge had been partial to Rush, adding "it gives those at the bar table no pleasure to make these submissions".
Wigney's finding that Norvill didn't have to say positive things about Rush at a promotional interview for King Lear was "almost fanciful", Blackburn said.
"The job was obviously to sell tickets. What on earth could Miss Norvill have said?" he told the court. "The finding in our submission is so improbable that it would, we say, give rise to an apprehension of impartiality."
He also argued the judge had treated witnesses for each party differently and there was "no evidence whatsoever" for Wigney's "unnecessary" finding that two King Lear actors who testified for Rush, Robyn Nevin and Helen Buday, were of "impeccable character and integrity".
Rush's barrister Kieran Smark SC said Wigney's findings on witnesses had been "either necessary or at the very least appropriate" for him to properly determine the case.
The appeal is due for a first mention in court on May 27.