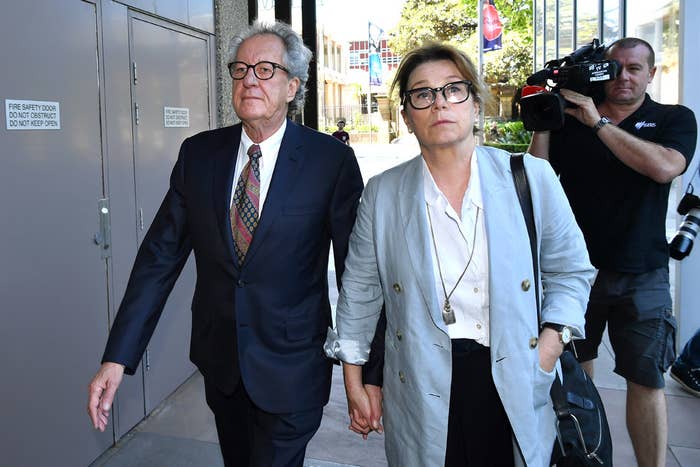 The judge who awarded Geoffrey Rush $2.9 million in defamation damages over a front page #MeToo story was wrong to say the film star's accuser, Eryn Jean Norvill, was not a credible witness, a court has heard.

On Monday morning, a two-day appeal hearing into Rush's record-breaking defamation win began in Sydney before a panel of three judges: Justice Richard White, Justice Jacqueline Gleeson and Justice Michael Wheelahan.

Rush was awarded the sum earlier this year, after he sued the Daily Telegraph for publishing articles accusing him of inappropriate behaviour towards an unnamed younger female co-star in a 2015-16 production of King Lear.

Norvill did not participate in the story, but was later revealed as Rush's accuser in court proceedings. She was excoriated in Wigney's judgement as an unreliable witness who was prone to exaggeration. All of her allegations were rejected.
The Telegraph is appealing the decision on a number of grounds, including that Wigney was mistaken to dismiss Norvill's evidence, wrong on a number of factual conclusions, and should not have allowed in two expert reports.
The newspaper had also intended to argue that there had been an apprehension of bias — that Wigney had appeared to prefer Rush's side throughout the trial — but dropped the argument on Monday at 3.40pm.
It was an eleventh-hour change, with the Telegraph's lawyer Tom Blackburn SC flagging earlier in the day that he intended to play tapes of Wigney to demonstrate that his "tone" would have appeared biased.
Bret Walker SC, who is representing Rush on appeal, described the allegation of apprehended bias as a "slur" against Wigney and against Rush's vindication in court, and pointed out the argument had been "heard as recently as this morning".
Blackburn ran through a number of the arguments Wigney used to say Norvill was not credible, including that she had said nice things to journalists about Rush while doing promotional interviews for the play, and that an email sent by the person to whom she first confided in about Rush's alleged harassment was inconsistent with her evidence.
A November 2015 article in the Sydney Morning Herald quotes Norvill as saying she appreciated Rush's "playfulness" and felt she, Rush and director Neil Armfield were "all on the same journey together". She told the journalist: "I love Geoffrey's ebullience."
Blackburn said Wigney's conclusion — that it was "difficult to imagine" Norvill would have said those things if the alleged harassment had occurred — was "very unrealistic and very unfair".
"This is not a Harry Potter movie. If not niche entertainment, it's certainly not mainstream entertainment," Blackburn told the court. "The Sydney Theatre Company or the Melbourne Theatre Company … they're not a bottomless pit of money. They need to get people to come to these performances."
He asked the appeal bench the same question Norvill had offered as she gave evidence in late 2018: "What was Miss Norvill supposed to do?"
Rush's trial barrister Bruce McClintock had asked Norvill at trial: "Why did you tell these untruths to the Herald?"
"Yes, [what she said] wasn't true," Blackburn said on Monday. "But she wasn't in a court of law. She wasn't under oath. She was an emerging actor, acting with Geoffrey Rush, a famous actor, in a Sydney Theatre Company production."
At one point, Justice Gleeson asked Blackburn if any part of the judgement talked about "the imbalance of power" in the relationship between Rush and Norvill.
"No, His Honour doesn't address that at all, your honour," he replied. He later told the court that it had been mentioned, but not in relation to Norvill's credit as a witness.
Blackburn also accused Wigney of making a "very unfair" finding based on the email sent by STC manager Annelies Crowe.
"It's really, except perhaps on one point, not inconsistent with what Miss Norvill said at all," he said, adding that the meeting had happened at a bar where Norvill and Crowe had been drinking, that it went for three hours, and that Crowe did not take notes.
If the finding against Norvill is set aside, Blackburn said, the matter would have to go to a retrial.
The sum awarded to Rush comprises just under $2 million in special damages for lost work opportunities, as well as $850,000 in general damages to compensate for loss of reputation and hurt feelings and $42,000 interest.
Blackburn told the court there was an "astonishing omission" in the evidence when it came to trial judge Justice Michael Wigney's finding that the articles had rendered Rush incapable of working.
"Although Mr Rush delivered his lines in the witness box over a period of about three days-" Blackburn began.
"You mean he gave evidence?" interrupted Justice White.
"Yes," Blackburn said, continuing: "There's one thing he didn't say. That's 'I'm unable to work because of these articles'. He just didn't say it."
Rush didn't say that he was so emotionally affected by the article he was unable to work, nor did he testify to a reduced number of offers, Blackburn said. He urged the appeal judges to find that a specific question about Rush's ability to work, or find work, hadn't been asked because the answer would not have helped Rush's case.
The hearing continues on Tuesday.