A counsellor who offers psychotherapy for confused sexual identity and relationship breakdown has implied children of same-sex parents are at a higher risk of abuse.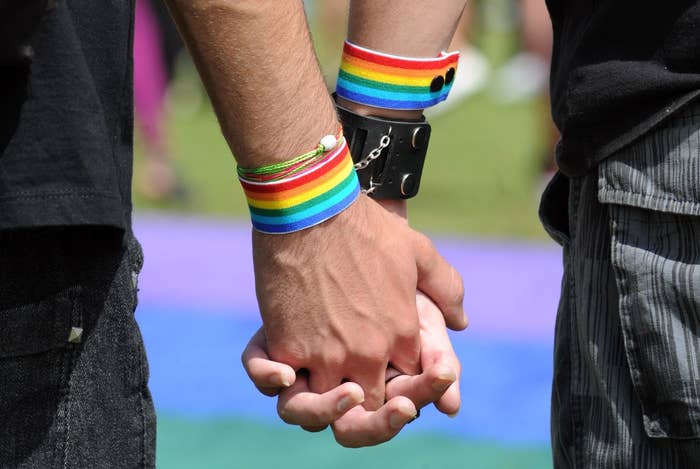 Cheryl Parrott, a counsellor at Rich Relationships Counselling in Sydney, Australia, implied same-sex relationships could be unsafe for children, in comments made public on Tuesday.

"Research has shown that children are safest in their biological families. That the highest rate of child abuse is usually perpetrated by an adult not the biological parent of a child," she wrote.
"In a same sex relationship one (if not both) of the adults will not be the biological parent of that child."
Parrot made the comments in a public submission to the current senate inquiry into the government's proposed draft marriage equality bill.
She also argued that marriage is, by definition, exclusive, and should remain so.
"It excludes multiple partners (which is illegal in Australia), it excludes children (also illegal in Australia), it excludes animals," she wrote.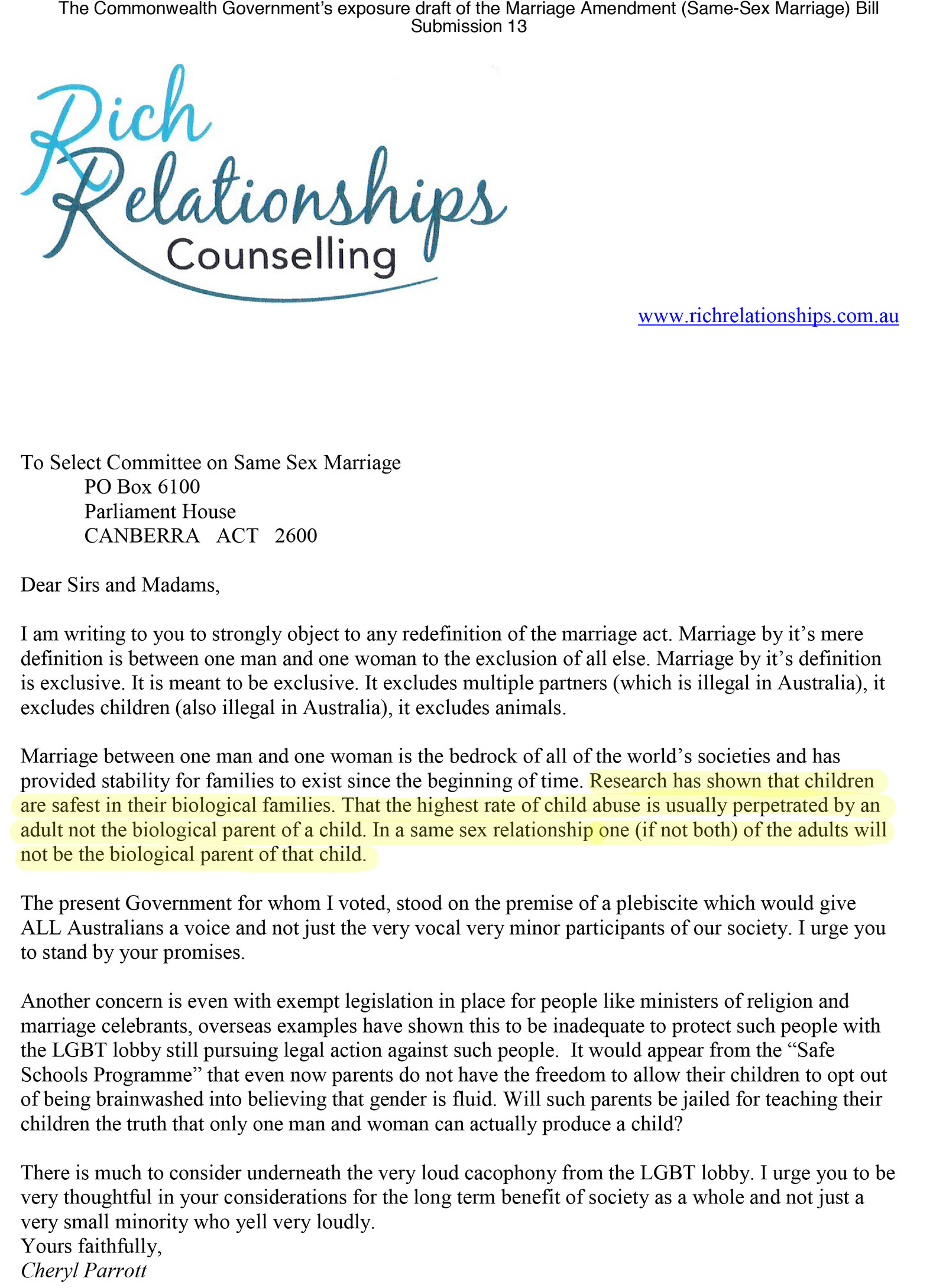 Rich Relationships Counselling, where she works with her husband, Ken, advertises its services as individual and couples therapy for challenges such as break-ups, bereavement and losing your job. It also runs several programs, some on marriage.

Rich Relationships also advertises psychotherapy services, listing confused sexual identity, relationship strain and addiction among various difficulties the therapy can help with.
In her bio on the website, Parrott said she is an accredited member of the Australian Counselling Association (ACA), but the ACA said this is not accurate and that Parrott is not a current financial member.
The bio also says Parrott is a graduate member of the Christian Counselling Association of Australia.

Parrott's public submission was uploaded to the inquiry website on Tuesday morning, and will be considered by a cross-party committee of senators.
When called by BuzzFeed News, Parrott declined to comment, saying she was "not going to expose myself without [BuzzFeed providing] some form of identification" and that she had been "set up once before" by a gay group.

Subsequent emails to Parrott requesting comment did not elicit a response. She later sent a text saying: "The submission is my personal view and so your questions are irrelevant."
But in the hours after the submission was uploaded and she was contacted by BuzzFeed News, Parrott called the committee secretariat and asked for her name and business to be removed from the submission.

It now appears as "Name Withheld" in the online list of submissions, but the PDF file is still named "Submission 13 – Rich Relationships Counselling".
Committee secretariat Gerry McInally confirmed to BuzzFeed News that Parrott had not initially requested her name be withheld.
He said she did not give a reason for asking to have her name removed.
UPDATE
The Australian Counselling Association (ACA) says Cheryl Parrott is not an accredited member of the organisation.
Philip Armstrong, ACA CEO, told BuzzFeed News Parrott is not a current financial member and her statement that she is an accredited counsellor with the ACA is inaccurate.
He also said he has written to Parrott and her husband Ken to ask them to remove all references to the ACA and ACA membership on their website.