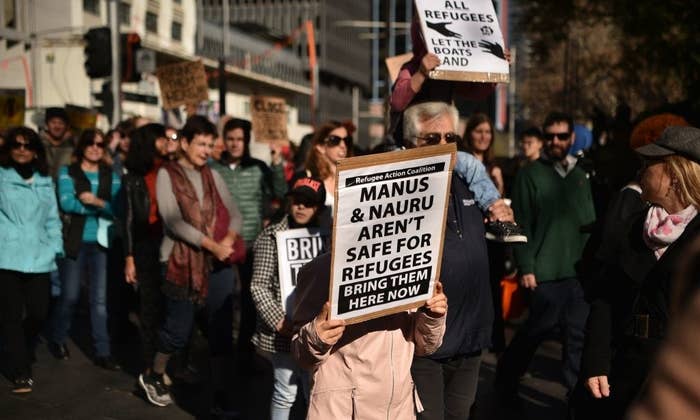 On Wednesday, the Australian parliament collectively dunked on Katter's Australian Party senator Fraser Anning after he delivered a racist speech in parliament and used the phrase "final solution" – widely associated with the Nazis – to call for a plebiscite on immigration.

A series of politicians got up to condemn Anning's words, and many saw the swift and bipartisan reaction as a rare example of the two major parties coming together and drawing a line.
But Greens senator Nick McKim said he felt queasy watching the "backslapping and self-congratulations" from government and Labor politicians over their strident responses to Anning, given both major parties support Australia's harsh offshore detention regime.
"I can't help but feel pretty sick when I see the bipartisan condemnation – quite rightly – of senator Anning's speech by the Labor and Liberal parties when I think about what is happening to children now on Nauru under a bipartisan policy of cruelty," McKim said in a speech to the Senate on Wednesday evening.
McKim referred to a BuzzFeed News report from earlier this week revealing that at least six children who were sent to offshore detention on the Pacific island Nauru by the Australian government are suffering from resignation syndrome.
The syndrome is a rare psychological illness caused by trauma that doctors say is like "going into hibernation".
"[These kids on Nauru] are basically withdrawn from the world," McKim told the Senate. "They're in a catatonic state. They're not eating, they're not drinking, they're not even going to the toilet. They're just simply lying in their beds."
Children at a severe stage of resignation syndrome are generally completely unresponsive and fed via a nose tube.

Late last month a young girl suffering from the syndrome was urgently airlifted to Australia for treatment after a legal battle in which home affairs minister Peter Dutton attempted to block the medical transfer.
The case was one of several efforts in the past six months to bring extremely sick children to Australia for treatment. The Australian Federal Court has ruled a number of times that the facilities on Nauru are inadequate for treatment of serious medical and mental health problems.
There are well documented and long running mental health problems among the refugees and asylum seekers sent to offshore detention on Nauru and Papua New Guinea's Manus Island. But advocates say in recent months it has reached a crisis point, particularly among children.
The sheer length of time people have been held on the islands, up to five years, is one contributing factor. Another is the sense of hopelessness around the chance of resettling in a third country. A number of refugees, mostly from Iran, have been knocked back from a resettlement deal with the United States, and an ongoing offer from New Zealand to take 150 refugees has been rebuffed by the Australian government.
Earlier this week Labor spokesperson Shayne Neumann urged Dutton to take up the New Zealand offer, but reiterated his party's support for offshore detention.

Ged Kearney, the Labor member for the Melbourne seat of Batman, tweeted that the kids had to get off Nauru "as a priority".
The Greens will move next week to set up an inquiry into allegations of avoidable deaths, health problems, suicide, abuse and neglect among refugees and asylum seekers on Nauru and Manus Island.

The proposed inquiry would probe contributing factors, support services and third country resettlement efforts. It would also look at the process for medical transfers from Nauru and Australia and why the government delays or attempts to block those transfers.
The Greens will seek the support of the Labor party to establish the inquiry.
There have been 12 reported deaths of people detained offshore on Nauru and Manus Island.

Last month a coroner found that 24-year-old Iranian asylum seeker Hamid Khazaei, who died from a leg infection in 2014, could have lived if he had received appropriate medical care in the Manus Island centre when he first began to deteriorate.