Five women have now come forward with reports of sexual assault at a music festival held over the last three days of 2016 in Tasmania, Australia.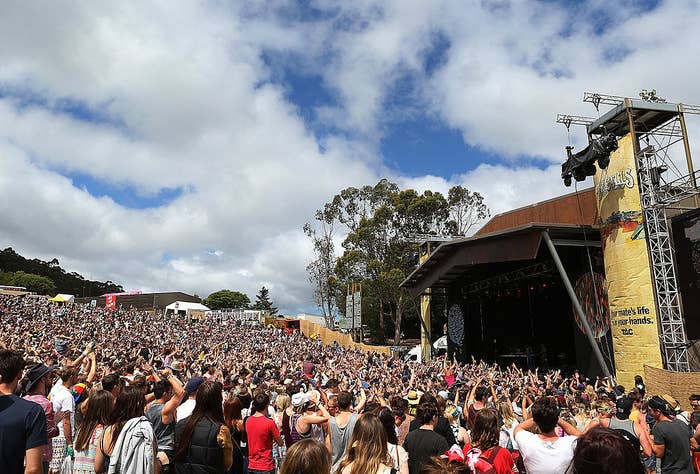 The Falls Festival was on from December 29 to 31 in Marion Bay, about an hour from Hobart.
Three assaults were reported on the first two days of the festival, prompting police to issue a warning to festival-goers to be wary of their safety and look out for each other.

Now, two more women have come forward to police.

Detective Inspector Steve Burk told BuzzFeed News the number of assault reports had increased from zero at the 2015/16 festival.

"Last year there were no complaints at all from Falls," he said. "We don't know whether we're dealing with one person or a number of people. It seems to be a cultural issue among young men and young women about what is an appropriate standard... if you wouldn't do it at the mall, don't do in a mosh pit."
Burk said it was time to start challenging cultural ideas about what is appropriate behaviour.
"If your mother or grandma was standing beside you, would you feel comfortable acting in that way? Would you feel comfortable with your mother or grandmother being treated in that way?" he asked.

No charges have yet been laid.
Two of the three incidents reported during the festival happened in the mosh pit.

Between 10:45pm and 11:45pm on December 30, a young woman was assaulted in the front, right-hand section of the mosh pit as DJ Hot Dub Time Machine played.
Another young woman was allegedly assaulted just after 2pm on December 30, while Australian rapper Illy was performing.
The third incident occurred in the camping grounds on December 29 between 9.30pm and 11.30pm.
The assault reports at the Marion Bay festival cap off a nightmarish season for the Falls Festival, after 80 people were injured, about 20 of them seriously, in a stampede and crowd crush at the event in Lorne on December 30.
There are four Falls Festivals in Australia: Marion Bay, Tasmania; Lorne, Victoria; Byron Bay, NSW; and Fremantle, Western Australia.

Any person who was inappropriately touched at the festival, or has relevant information or footage, is asked to contact Bellerive CIB on 03 61732899 or email stephen.burk@police.tas.gov.au.