This Same-Sex Couple Is Getting Legally Married Next Week
Megan and Stephanie planned their wedding months ago – and can legally marry next week, after they were granted a shortened notice period.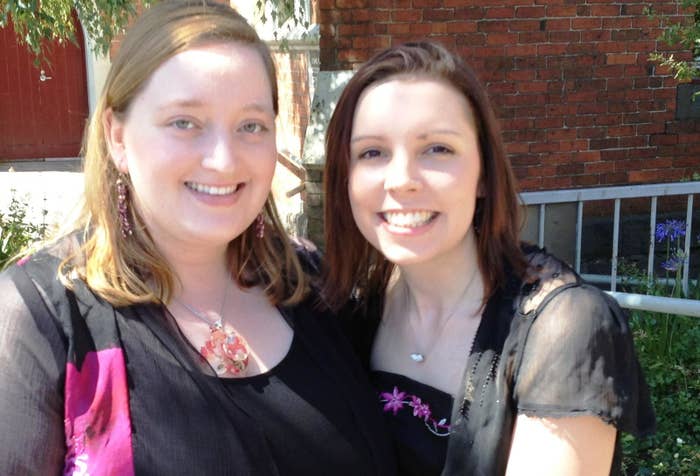 A Melbourne couple could become the first to marry under Australia's new same-sex marriage law after they were granted a shortened period of notice by the Victorian government.
Megan Stapleton, 32, and Stephanie Dyball, 30, have been together since 2011 and are tying the knot on 21 December – a date they settled on over a year ago.
But back then, accustomed to the slow pace of change when it came to marriage equality in Australia, the couple didn't imagine their ceremony would be a legally binding one.
"We locked in the venue and the date and everything last year and we really didn't think they were ever going to pass the law to be honest," Stapleton told BuzzFeed News. "When they started having the [postal survey] this year, we thought, Oh, maybe maybe!

"We weren't too worried, because we knew the day would be special to us regardless. But it's been a nice surprise to have it done in time."
Any couple who wants to marry in Australia, straight or gay, has to give one month's notice – meaning the first day most same-sex couples can marry will be 9 January.
But Stapleton and Dyball were granted a shortening of the notice period on Tuesday, after they submitted an application explaining they had been preparing for the wedding for months and had relatives flying in from overseas.
Under the Marriage Regulations 1963 there are a number of circumstances under which the one-month period can be shortened, including work or travel commitments, a serious medical condition, legal issues, or religious considerations.
Unless another same-sex couple in a similar situation has also been granted a shortened notice period and will wed before next Thursday, Stapleton and Dyball will be the first to marry in Australia.
No same-sex couples in Queensland, Western Australia, the Northern Territory, or the Australian Capital Territory have applied for a waiver. Two have been issued in Victoria, one of them to Stapleton and Dyball, but the registry declined to provide dates. One has also been issued in NSW.
When the good news came through on Tuesday afternoon, in a short but pleasant email from Births, Deaths and Marriages Victoria, Stapleton and Dyball were elated.
"I was trying not to get my hopes up, because I didn't want to be disappointed if it didn't happen, I didn't want it to lessen the day for us," Stapleton said. "But I was so excited – we've been to so many of our friend's weddings and it's such a special day, so we're really excited that ours can be legal."

Meanwhile, Dyball was with visiting relatives on a tour of the Sydney Opera House – which was quickly interrupted by a series of excited texts and calls from her fiancé.
"I'm meant to be silent and I'm in this theatre, so I'm trying to listen to this lady telling me about the architecture, while frantically looking at my phone!" Dyball said.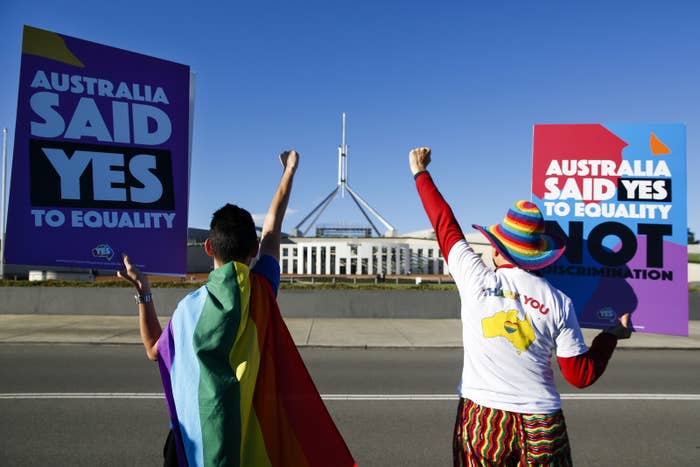 The couple met in Beijing in 2009, and the tour they had both embarked on was so outside of their usual routines that they often joke "it must have been fate" that drew them together.

"Steph's not a big fan of flying and I'm not very spontaneous," Stapleton said. "But she'd booked this really long flight, and I was one day walking through the city and randomly booked this trip to China without thinking about it."

And as fate would have it, things worked out. Following the Beijing trip, Dyball, who is from London, travelled to Australia to visit, and then Stapleton went over to the UK. In 2011, Dyball moved to Melbourne, they struck up a relationship, and got engaged in mid-2012.
The fact same-sex marriage wasn't legal yet was one reason for the long engagement – but the thornier logistical issue of wrangling overseas family into a good date, time, and place proved even tricker.
In the end, Stapleton and Dyball had set the date for 21 December because of another great meeting of Australia and England: the Ashes test cricket series.
"For the past few years we've been planning it based on the fact it's the Ashes now, and my uncle's really big into the cricket," Dyball told BuzzFeed News.
"So we sort of thought if we had the family over for Christmas and the cricket, we could have a wedding at the same time."

But like many Australian couples during the summer, opinions are divided on the sport itself. "I'm a huge cricket fan – and Stephanie is reluctantly being converted into one," said Stapleton, laughing.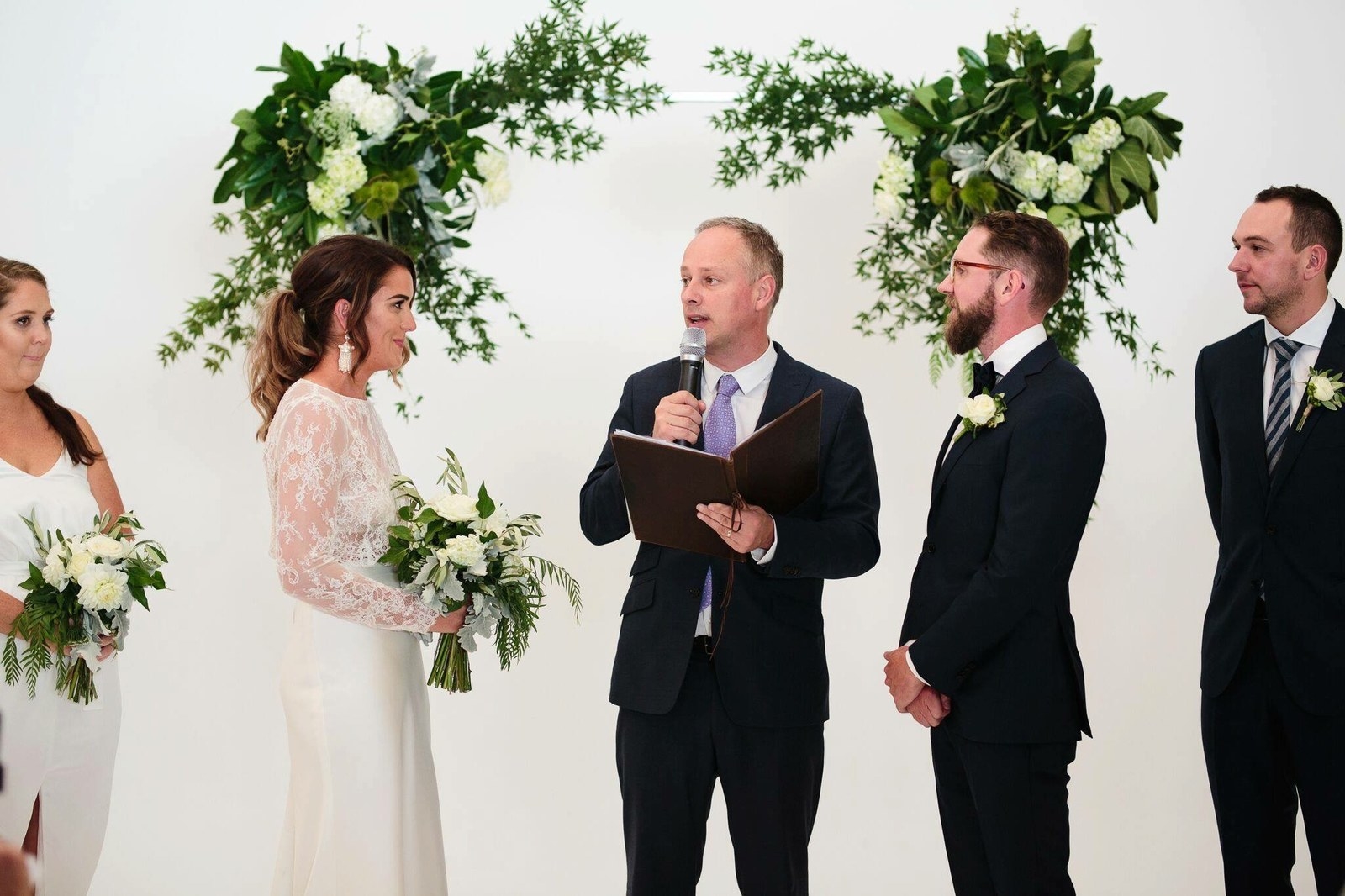 In another twist of fate, their celebrant, Jason Tuazon-McCheyne, has had his own historical contribution to Australia's same-sex marriage debate.

He and his husband Adrian, along with fellow Melburnians Jacqui Tomlins and Sarah Nichols, were the two couples that prompted the change to the Marriage Act way back in 2004, when they attempted to have their Canadian marriages recognised in the Family Court.
Tuazon-McCheyne thought of Stapleton and Dyball shortly after he sat in the public gallery of the House of Representatives on Thursday evening and watched the parliament vote overwhelmingly in favour of same-sex marriage.
"I rang them on Friday morning and said, 'I think you have a strong case to have your wedding on December 21 be a legal marriage, and have a shortening of time'," he told BuzzFeed News.

"I gave them all the information they needed, they went in on Monday morning and applied, and on Tuesday they got approved."
Tuazon-McCheyne, who is an experienced celebrant with over 1,000 weddings under his belt, said the approved application was an indication of a gay couple being treated the same as any other straight couple with exceptional circumstances.
"They're not doing a stunt, they're not trying to be the first people to get married, they're not abusing anything," he said. "They're legitimate, they've got relatives from England here, all the expenses have been done, they should be treated the same as a straight couple.
"And Births, Deaths [and] Marriages, bless them – because it was the very first day they would have opened with the new laws – they've gone, 'Actually yes, that's appropriate.'"
Personally, presiding over a legal same-sex marriage in Australia will be an emotional and proud moment for Tuazon-McCheyne.
He has recited the old monitum, including the definition of marriage that previously excluded his own, over and over again – a part of his otherwise joyful job that he described as "a little bit stressful and sad". But at a wedding on Saturday, he said the new monitum for the first time as he solemnised a straight wedding – the bride is a friend and a marriage equality campaigner.
"I was so nervous that I had to read it for the first time in 15 years," he said. "I didn't want to get it wrong!
"I made a mention that this was one the first times ever it's been said – it was 3pm on Saturday, the first day of the law change – and that my marriage is now recognised, and I'm so honoured I get to share this with you at your wedding."
And now on Thursday next week, Tuazon-McCheyne will get to say the new monitum at a legal same-sex wedding for the first time in his career.
Thirty-eight guests will be at Stapleton and Dyball's ceremony, which Stapleton said will be "pretty traditional" in terms of the walk down the aisle, some self-penned vows, and, of course, a reception party to follow.
The idea of being the first in Australia is huge for both of them, but in the flurry of last-minute wedding preparations – something same-sex couples around Australia can now look forward to – it hasn't quite sunk in yet.
"It feels like it's not real yet for us," Stapleton told BuzzFeed News.
"After the wedding we'll probably look back and think, Wow, that's really special. But for now, we've got family and friends flying in, and wedding things to finalise, and everything's happening very quickly."
This post has been updated with information from the NSW and Victorian registries of Births, Deaths and Marriages.