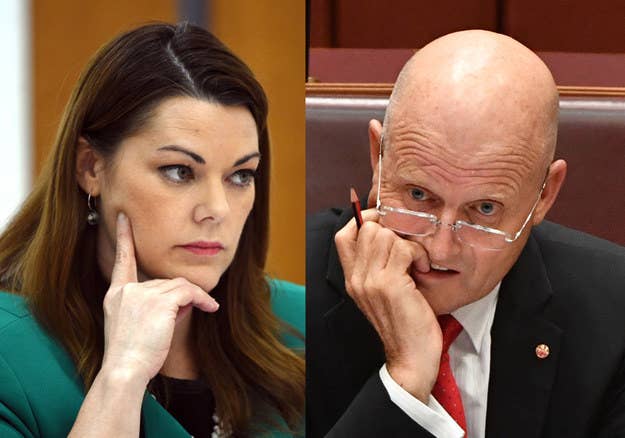 Australian senator David Leyonhjelm says political opponent Sarah Hanson-Young damaged her own reputation and "drowned out" his allegedly defamatory comments about her personal life when she accused him in a breakfast radio interview of "slut-shaming" her.

The two senators, from opposite ends of the political spectrum, are duking it out in the Australian Federal Court over a sexism stoush that started in the Australian Senate and escalated dramatically in the media.

The high profile case could potentially see Australia's politicians and press gallery journalists testifying in court about what exactly was said in the Senate when the dispute kicked off in late June.
But first, Leyonhjelm has filed an application to have the case thrown out of court, saying the claim is worded incorrectly and also contravenes the Australian Constitution.
It started when Leyonhjelm, a libertarian, told Hanson-Young, a Green, that she should "stop shagging men" during a parliamentary debate on whether women should be armed with pepper spray and tasers to curb violence. After he made the comment, Hanson-Young called him a "creep", to which he replied "Fuck off".
Leyonhjelm went on a media blitz after the exchange and made comments about Hanson-Young on several TV and radio programs. Hanson-Young went on Radio National's breakfast show and said Leyonhjelm was "slut-shaming" her.
"He is, for lack of a better word, and I really apologise for this — I'm thankful that my daughter is home in bed still and not up for school — he is slut-shaming me. That is what he is doing," she said.

She then sued Leyonhjelm for defamation. Hanson-Young claims Leyonhjelm defamed her by suggesting she made the "absurd claim that all men are rapists"; that she is a hypocrite for claiming all men are rapists and sleeping with them regardless; and that she is a misandrist.
According to court documents viewed by BuzzFeed News, Leyonhjelm will argue several defences – including truth – to the allegations in Hanson-Young's lawsuit.
He claims that Hanson-Young said something in the Senate "which was tantamount to a claim that all men are responsible for sexual assault or that all men are rapists" and as a result, the allegations she says defamed her are true. Hanson-Young denies making the comment.
In a court hearing on Thursday afternoon, Hanson-Young's barrister, Sue Chrysanthou, told Justice Richard White there would likely be evidence from witnesses – which could include senators who were in the chamber at the time – about what Hanson-Young said or didn't say.
There would also be evidence from witnesses about "the senator's prior good reputation and in relation to hurt feelings", Chrysanthou said.
But the prospect of evidence about whether or not Hanson-Young made the "absurd claim that all men are rapists", or said something along those lines, has raised another legal issue, according to Leyonhjelm's lawyer.
"This directly raises the spectre of a court determining not only what was said in the parliamentary chamber, but also whether the words used in the parliamentary chamber are accurately characterised as absurd," Anthony Morris QC said.
"Our bottom line proposition is that the court cannot do at least the latter without infringing the Bill of Rights 1688."
To this end, Leyonhjelm has asked for the case to be permanently dismissed, arguing that Hanson-Young is seeking to question the freedom of speech in parliamentary debates, and is therefore in contempt of the Senate and in breach of the Bill of Rights 1688 (which is applied to the parliament via the constitution).
The hearing on Thursday was otherwise consumed by quibbling over whether Hanson-Young's lawsuit is worded incorrectly. (Leyonhjelm's lawyer says it is, Hanson-Young's says it isn't.)
As part of this discussion, Chrysanthou told the court she hasn't been able to add more details of Leyonhjelm's aggravating conduct to the lawsuit yet because it happens "on a daily basis".
Leyonhjelm has also argued defences of qualified privilege, honest opinion, fair comment, and his "constitutionally protected right to free speech".

Under a heading in the defence titled "The Applicant's Own Words", Leyonhjelm argued Hanson-Young's comments about being slut-shamed were "calculated" to resonate with people, because Australians aren't used to hearing the word "slut" and are unfamiliar with the expression "slut-shaming".

The slut-shaming comment "drowned out" Leyonhjelm's comments, and the public discussion among Australians turned into one about whether Hanson-Young was a slut, whether Leyonhjelm had slut-shamed her, and whether his actions were reprehensible, the defence said.
As a result, any damage to reputation, distress, or embarrassment was caused by Hanson-Young's own words, Leyonhjelm argued.
Hanson-Young's lawsuit asks for aggravated damages to be awarded, arguing that Leyonhjelm was motivated by his "hatred" of Hanson-Young and that he knowingly published false allegations to hold her up to "shame and disgrace" in front of a wide audience that included her young daughter.

In response, Leyonhjelm said that he and Hanson-Young sit at radically different ends of the political spectrum and only people who already disliked Hanson-Young would pay any attention to his comments.
The defence also accuses Hanson-Young of using the brouhaha to promote herself.
For this reason, the publications didn't cause Hanson-Young harm and in fact are more likely to benefit her — "especially in her capacity as a practising politician seeking reelection to the Australian Senate at the next election," the defence said.
An application to determine whether the case would in fact would contravene the constitution – and whether or not Hanson-Young's claim is worded incorrectly and should be struck out – has been scheduled for a hearing on October 18.
CORRECTION
The case is before Justice Richard White. A previous version of this post misstated his first name.