One of the prison officers who held Aboriginal man David Dungay face down on a bed as he screamed "I can't breathe" in the moments before his death says he would mostly act the same way if the situation happened again.

Dunghutti man David Dungay was 26 when he died in Long Bay Hospital in Sydney on the afternoon of December 29, 2015.
A video of Dungay's last moments shows corrective services officers storming Dungay's cell, restraining him as he screams "I can't breathe" repeatedly in a high, agitated voice, and then a nurse injecting him with a sedative before he becomes unresponsive.
These events occurred after Dungay, a diabetic, refused to stop eating a packet of rice crackers, and there was concern the crackers might affect his blood sugar levels.
An inquest into his death is before deputy state coroner Derek Lee in the NSW Coroner's Court. A large number of Dungay's family and supporters have been attending each day, sporting bright red T-shirts calling for an honest inquest.

Among the issues being explored by the coroner is the role positional asphyxia – when someone suffocates from the way they are being restrained – played in the death. The court heard earlier this week that five of the six Immediate Action Team (IAT) officers had no training about positional asphyxia.
Officer O, one of six IAT officers who dealt with Dungay on December 29, told the court on Wednesday afternoon that he believed the way Dungay was restrained was the best way to do so.

The officers cannot be named for legal reasons and have been de-identified in the footage by the court.
Officer O said that if the situation with Dungay happened again, it might be appropriate to lay him on his side after a first injection and to check his airway and breathing – but other than that, he wouldn't change anything.
Under questioning from lawyer David Evenden, representing Dungay's mother Leetona and the maternal side of the family, Officer O confirmed he would again restrain Dungay and move him to a new cell, despite his screams about being unable to breathe.
"He was clearly having problems with his breathing, do you agree?" asked Evenden.
"I don't know about clearly. He was saying he couldn't breathe," Officer O said.
The officer added that his team had been checking whether or not Dungay could breathe the entire time he was being restrained.
"Officers are continually checking breathing and checking the rise and fall of the chest," he said.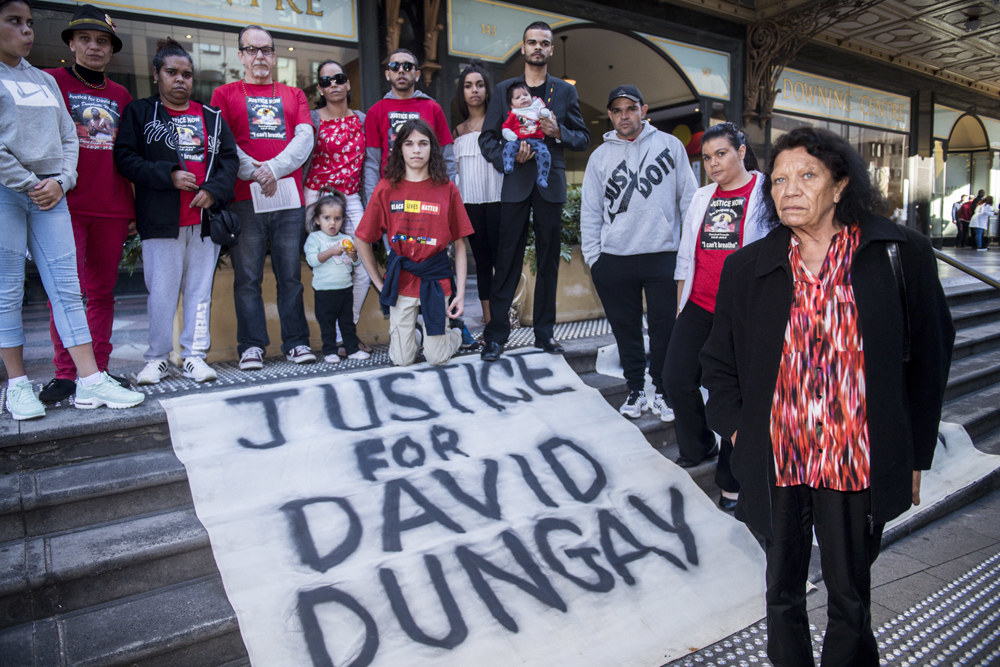 Officer O said he had received a memo from the Corrective Services Commissioner in July 2017 warning of the risks of positional asphyxia.

"You would have been particularly interested in that link [in the memo] given you'd been involved in the death of someone that is most likely linked to positional asphyxia?" asked Evenden.
"I don't know if that is the case," the officer replied.
"Did you not suspect that positional asphyxia, knowing what you knew about it at the time, could have been part of the reason for Mr Dungay dying?"
"I don't know the reason."
"I didn't ask you the reason. I asked did you not suspect it might have been part of the reason for him dying?"
"It may have been, it may not have been. I'm not sure."
Asked if he had any specific interest in the information in the memo given his involvement in Dungay's death, Officer O said: "I read multiple memos every day that come out."
Officer O was also questioned on whether the IAT had an opportunity to use any de-escalation techniques before entering Dungay's cell.
"I don't believe so, no," he told the court. "He wouldn't engage with us, he wouldn't talk to us, all he wanted to do was fight."
"You accept you've got a requirement, a procedure, to minimise or avoid force?" asked Evenden.

"If we can, yes. If we can avoid using force we do but it's dictated by the inmate," said Officer O. "[Dungay] was spoken to on numerous occasions. I don't know how long or how many times he needed to talk, he didn't want a bar of it."
He added that he didn't think it was unreasonable to give a patient with a mental illness one minute to comply with directions before rushing into the cell.
On Tuesday, Officer F, who was the acting assistant superintendent at the time of Dungay's death, said he believed Dungay was trying to trick officers by yelling "I can't breathe" and so didn't take the screams seriously.
The inquest continues.