An email searching for a missing petition against the Safe Schools Coalition has been sent to Coalition MPs amidst intense internal divisions over the LGBTI anti-bullying program.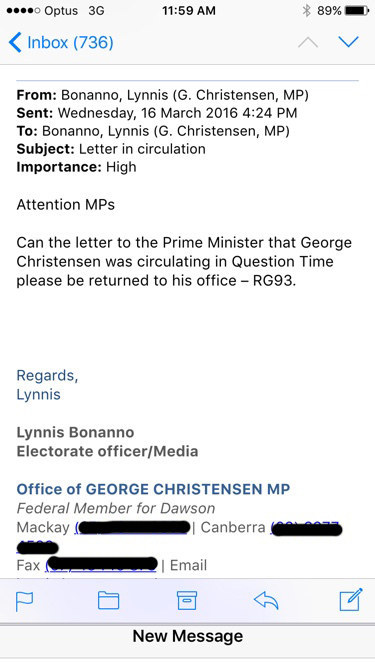 Organised by the LNP member for Mackay George Christensen, the petition was started after a government review into Safe Schools found the program is largely a good tool with good objectives.
After the findings were handed down on Tuesday evening, several conservative MPs remained unconvinced, labelling the review a "joke" and a "fraud".
The petition was being circulated among the Coalition backbench during question time on Wednesday – but by the evening, it was gone.
Liberal member for Leichhardt Warren Enstch told Radio National that he had been handed the petition and "refused to pass it on and refused to sign it".
"There wasn't that many [signatures] when I saw it," he said. "I handed it back and said I wasn't prepared to pass it on. There was some very, very inaccurate information."

According to reports, the petition garnered approximately 30 signatures from Coalition backbenchers before it disappeared. Former prime minister Tony Abbott is a signatory.
"I got an email last night asking if anybody had seen the petition, it's mysteriously disappeared," Entsch said.
Entsch also told the ABC that a lot of the opposition to the Safe Schools program within the Coalition came from a lack of understanding.
"There was a comment made that made me shake my head in disbelief, it was 'All kids start out confused when they're young, but as they grow up, they become normal'," Entsch said.

"It seems to me there needs to be more of an education program for the adults making noises now... The children are a lot more tolerant."