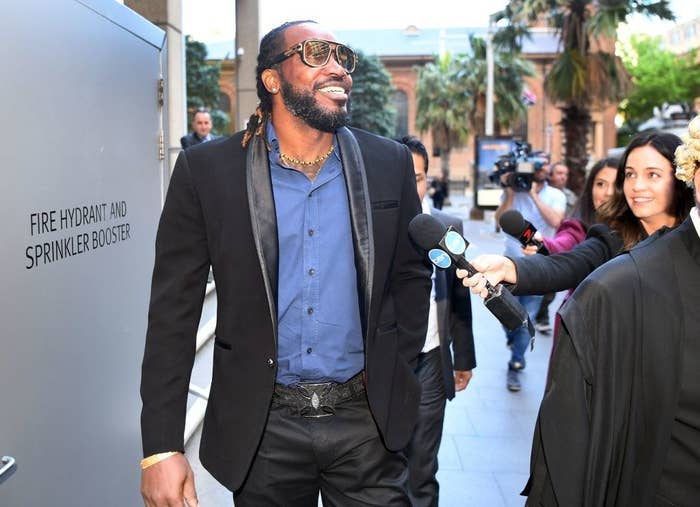 Cricketer Chris Gayle has been awarded $300,000 after he was defamed in a series of articles that alleged he had exposed himself to a masseuse in a team dressing room in 2015.
Gayle, a Jamaican batsman who plays internationally for the West Indies, sued Fairfax Media over the articles published in early 2016.
The stories alleged he had pulled down his towel to expose his genitals to massage therapist Leanne Russell in the dressing room during a West Indies training session at Drummoyne Oval in Sydney in preparation for the 2015 World Cup.
In October 2017, a jury of four found in Gayle's favour, rejecting Fairfax's defence of truth and finding that the media company was motivated by malice in publishing the articles.
On Monday afternoon, Justice Lucy McCallum awarded Gayle $300,000 in damages.

McCallum did not find Gayle's damages were aggravated — the test under which Australia's $398,500 cap on general damages for defamation can be exceeded.
McCallum said the defamation "went to the heart of Mr Gayle's professional life as a respected batsman" and had particular resonance in cricketing circles.

She described Gayle's evidence on how the articles had hurt his feelings as "surprisingly compelling", noting he was particularly hurt by the suggestion he should be banned from international cricket.
"For someone to come and accuse me for doing such [a] thing, which I didn't do, and then to, to actually be able to say I should be banned, it was, that was the most ... hurtful thing I've ever actually come across in my entire life," Gayle told the court during the six-day trial in October 2017.
McCallum said the articles had been read by "probably more than a million" people in Australia and agreed with Gayle's characterisation that the story "went viral" worldwide.
"Having regard to his high profile and popularity as an international cricketer, the nature of the allegation and the fascination of humankind with all things salacious, particularly in relation to people of some celebrity, I accept that it probably did," she wrote.
Fairfax attempted to discharge the jury on the fifth day of the trial, citing a number of concerns with the closing address of Gayle's lawyer Bruce McClintock SC, but the application was denied.
In a statement provided to BuzzFeed News, Fairfax Media said it "remains concerned with the conduct of the trial" and intends to immediately appeal the decision.
"The jury was misled in a way that prejudiced Fairfax, and Fairfax did not get a fair trial. The damages award merely confirms the appalling burden of defamation laws in this country."
The articles were published in the wake of Gayle's infamous "Don't blush, baby" interview with journalist Mel McLaughlin in early 2016.
The cricketer was not in court to hear the decision on damages.