The Department of Human Services has doubled down on its release of a woman's personal Centrelink information to a journalist, saying it was necessary to maintain confidence in Australia's welfare agency.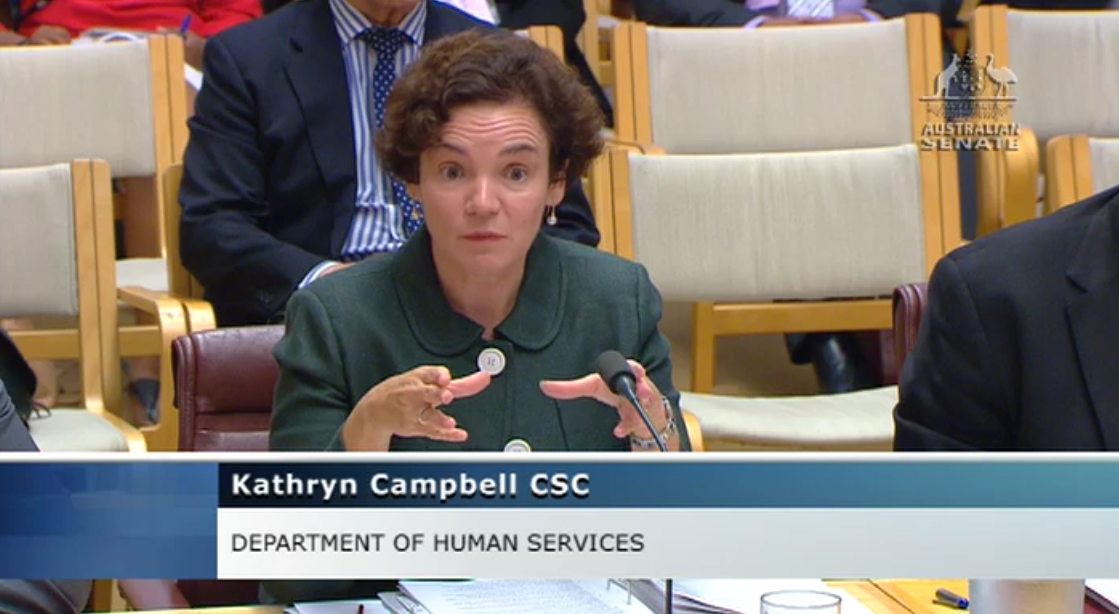 The government agency gave blogger Andie Fox's welfare history details to a Fairfax columnist, after Fox wrote an article claiming Centrelink had "terrorised" her over wrongful debt.

On Thursday morning department officials defended releasing the information, saying it was both legal and necessary to maintain public confidence and integrity in the welfare system.
"Unfounded allegations do unnecessarily undermine confidence in the department and the social welfare system," department secretary Kathryn Campbell told a Senate committee.

"The time spent dealing with unfounded allegations takes staff effort away from dealing with other claims."
Department official Jonathan Hutson said the release of information was instigated by questions from Fairfax columnist Paul Malone on February 21. The questions included:
* Why is a de facto partner being chased for her partner's debt in the first place? Surely Centrelink should be chasing the man himself.

* Isn't this a case of gross incompetence on Centrelink's part?

* Is it true that people have a three minute window at the Centrelink window, as stated by Ms Fox?
Malone wrote to the department: "Please do not hide behind the screen of privacy in relation to this matter – you can answer these questions in relation to a general inquiry".
Hutson said a response was prepared by the Human Services media team and run past the minister's office before being released to Malone on the evening of February 22.

He read out the part relating to Fox's personal circumstances, saying it was "quite short":
It is important to note this case is not related to the online compliance system. The recipient's debt relates to the family tax benefit. The experience described by the recipient could have been avoided if she had informed the department she had separated from her partner in a timely way and if she had lodged her tax returns in a timely way. These are both fundamental elements of the family tax benefit system and it's a strong reminder that people who accept government payments are required to fulfill their obligations.
Hutson said the only information the department is able to release is that "which is specifically to correct the record".
The officials took on notice questions about the actions of minister for human services Alan Tudge, and his staff, including queries about whether they had provided information to Malone, and whether they had input into the wording of the statement.

Campbell also said that 6,600 people were not made aware of money they owed to Centrelink until debt collectors came knocking. These people missed the initial letter of notice due to Centrelink sending it to an out-of-date address.
She said it was "not the hundreds of thousands [of people] reported in the media".