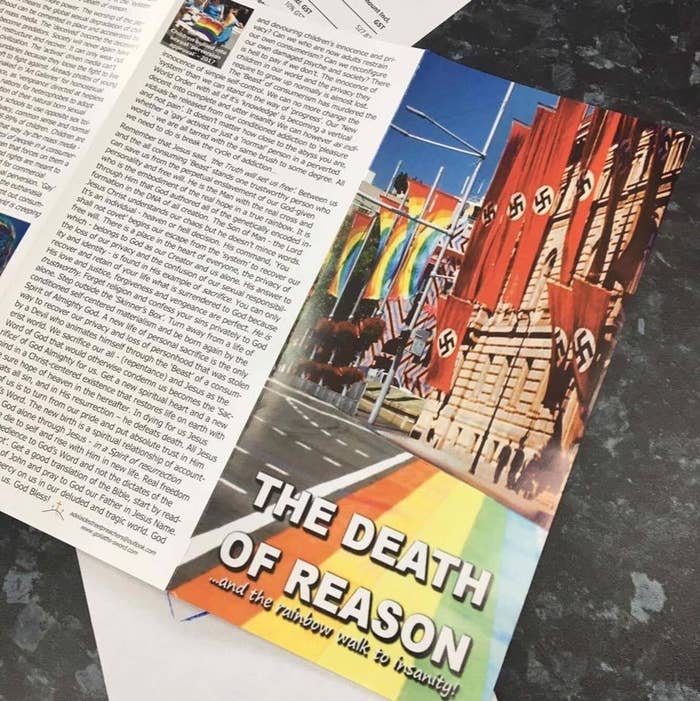 Australia Post unwittingly delivered anti-gay flyers with Nazi imagery to homes in Victoria, before realising what was inside the envelopes and urgently pulling the delivery.
The flyer, titled The Death Of Reason...and the rainbow walk to insanity!, shows a digitally-altered image of rainbow flags in Sydney's Taylor Square merged with a building displaying Nazi swastika flags.
It was distributed in white envelopes titled "The Rainbow of Reason" to houses in Melbourne's St Kilda, and the regional Victorian town Shepparton – both home to a substantive and vocal LGBTI community.
The lengthy text on the flyer makes several comparisons between Nazi propaganda and the LGBTI community, rails against consumerism and invasions of privacy, and ends with a call to God.

"So Hitler's invasion of the personal privacy of children in the 1930's [sic] is the same totalitarian invasive influence of today," the flyer reads.
"He used the same means, only now the pornography of power that is state propaganda has morphed from Nazi political perversion into perverted gay activism for abnormal 'marriage' equality."
An Australia Post spokesperson told BuzzFeed News: "As soon as we became aware of the contents of this flyer, we immediately withdrew it from distribution from our delivery network because it is against our terms and conditions."
The flyer directs readers to a website that claims to be a "handbook for Christian radicals". It contains several downloadable flyers and posters on various topics, including LGBTI rights, the internet, Israel, Charles Darwin and atheism.

The man behind the flyer is Adelaide street preacher Kevin Bickle, who runs the website along with other street preachers. He told BuzzFeed News the flyers were a "personal effort" rather than the work of an organisation.
"We weren't trying to be controversial, but we knew it wouldn't be popular," he said.
Bickle said he originally commissioned Australia Post to deliver 60,000 of the flyers last week, but was contacted earlier this week saying they wouldn't be delivered anymore. He declined to comment on how much he had spent on the flyers.
It is understood the flyers were delivered as part of the Unaddressed Mail Service (UMS) through which people and organisations pay to have unaddressed material delivered to homes in a certain area.

The UMS terms of services require all text and images in the items delivered to meet "acceptable community standards of reasonableness, honesty and decency".
Australia Post reserves the right to refuse to deliver anything which doesn't meet those standards or that is defamatory or offensive.
Bickle told BuzzFeed News: "We're talking against homosexuality, but not against the homosexuals."
"The tract is not a simile between LGBT people and Naziism. I would never do that. It's just a look at the means by which consumerism promotes things through mass media that extrapolates the effects in our day and age."
"You actually have to read it. You have to spend 15 minutes reading it and soaking it up. It's not by any means a quick look at and say 'this is unsuitable'. You have to actually read it and let it sink in."
"To be honest with you, I could not see any other way of making it simplified."
Bickle said St Kilda and Shepparton were not targeted for their LGBTI presence, and the flyer is also slated for distribution in "at least four other areas". He declined to name the suburbs or towns.
Chair of the Jewish civil rights group the Anti-Defamation Commission, Dvir Abramovich, told BuzzFeed News he had been contacted by Australia Post with an apology on Friday after he spoke out publicly against the flyers.
In an email to Abramovich seen by BuzzFeed News, an Australia Post staff member wrote that that the content of the flyers had initially gone unnoticed as they were inside envelopes.
"It shocks the conscience that such virulently anti-gay rhetoric has invaded the homes of residents in Melbourne, promoting its message of hate and exploiting the Holocaust to demonise the LGBTQI community and those supporting marriage equality," Abramovich said.
"Imagine the fear and intimidation a young person will feel after being confronted with such repulsive slurs."

Damien Stevens, a Shepparton resident and publicity officer for local LGBTI group Goulburn Valley Pride, told BuzzFeed News he received one of the "appalling" flyers in his letterbox earlier this week.
"The content is shocking, the content is appalling, it's disgusting, it's hateful, it's inaccurate," he said. "The very small amount of people who will take the time to read it will hopefully see the information for the rubbish that it is."

Stevens said he'd spoken to people in Shepparton who had also received the mail directly from the postman, or in with their normal mail – as opposed to a regular "junk mail" drop.

"The feel is that it was an Australia Post delivery, not junk mail," he said.

Stevens added that such flyers only served to invigorate Shepparton's vibrant LGBTI community.

"Shepparton has worked so hard for 20 years to ensure we have an inclusive, supporting, caring community. We're very proud of what's happening here and this kind of material only continues to inspire our efforts."