Attorney General: "You Are Fools If You Think Marriage Equality Is Inevitable"
An "angry and frustrated" Brandis spoke to 20 representatives from LGBTI groups.
Attorney general George Brandis told a meeting of marriage equality advocates they are "fools" if they think the reform is inevitable, according to attendees at the meeting, after the groups restated their opposition to the government's plebiscite.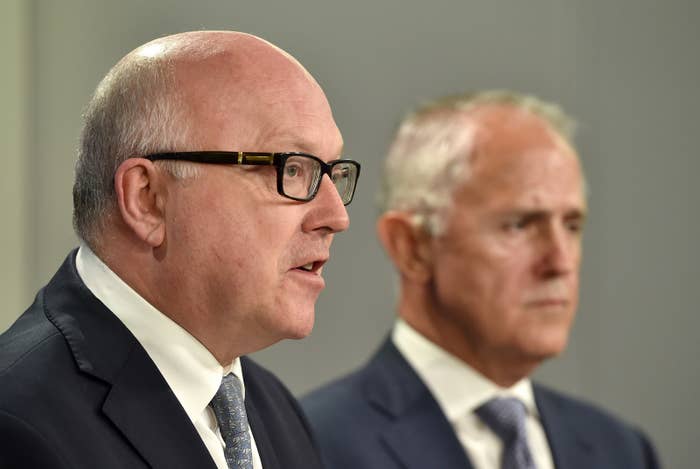 The meeting, between Brandis and approximately 20 representatives from various LGBTI groups, was held via teleconference on Thursday afternoon, ahead of Labor's expected announcement next week that it will block the plebiscite.

Representatives at the meeting each had a minute to talk about their position, and all elected to use the time to express opposition to the plebiscite.
A source who attended the meeting told BuzzFeed News Brandis appeared "angry and frustrated" by the ongoing opposition to a plebiscite, saying it squandered chances of marriage equality in this term of parliament.
"He was surprised by the form the meeting took... he expected discussions on the plebiscite framework and amendments to the Marriage Act," the source said.
Two sources told BuzzFeed News that at one point, Brandis told the room, "You are fools if you think marriage equality is inevitable."
Brandis also told the meeting that he had met with conservative Christian groups who were "just as angry" about the idea that the Marriage Act should be changed as LGBTI advocates are about the idea it should stay the same.
Alex Greenwich, co-chair of Australian Marriage Equality, told BuzzFeed News he thought the meeting was "very constructive".

"Obviously there is a disagreement about process," he said, adding that it was a "good conversation" about the plebiscite proposal.

"I give great credit to the attorney general for having that open dialogue with us."
Brandis told the meeting his submission to cabinet on the proposed changes to the Marriage Act will include exemptions from servicing gay weddings for religious ministers and civil celebrants, but not commercial service providers such as bakers or florists.
He will also advise cabinet to simply remove the 2004 amendment from the Marriage Act, which defined marriage as between a man and a woman.
This would mitigate the concerns of some LGBTI advocates, who fear language like "two people of the same sex" could exclude some transgender and intersex people from being allowed to marry.
BuzzFeed News understands funding for LGBTI mental health organisations in the event of a plebiscite is under "active consideration" by the government.
Greenwich said the point he made at the meeting was that blocking a plebiscite will not achieve marriage equality.
"Blocking a plebiscite is not going to stop our opponents' campaign against the LGBTI community," he said.
"What we need is for our supporters to legislate this year for marriage equality."
A spokesperson for the attorney general told BuzzFeed News he had no post-meeting comment to offer.