Five people were arrested at warring protests in the Sydney CBD this morning, where around 600 people gathered to rally for Reclaim Australia and in a counter-protest against racism.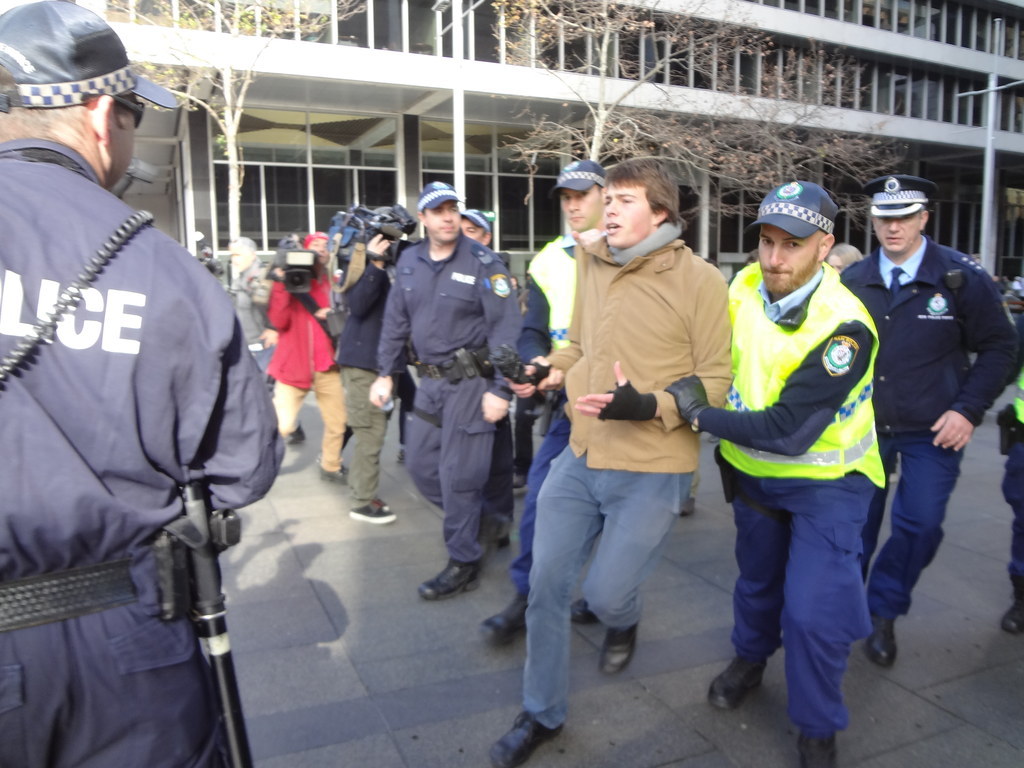 Reclaim Australia – a nationalist, anti-Islamic group – scheduled 16 rallies across Australia for this weekend, including in Canberra, Brisbane and Perth.
The Sydney arrests follow violent clashes at the Melbourne rally on Saturday.
Of the five people arrested, two are expected to be charged, including a 40-year-old woman and a 57-year-old man.
Approximately 200 people attended the Reclaim Australia rally, wearing Australian flags and carrying signs rallying against Islam and foreign ownership.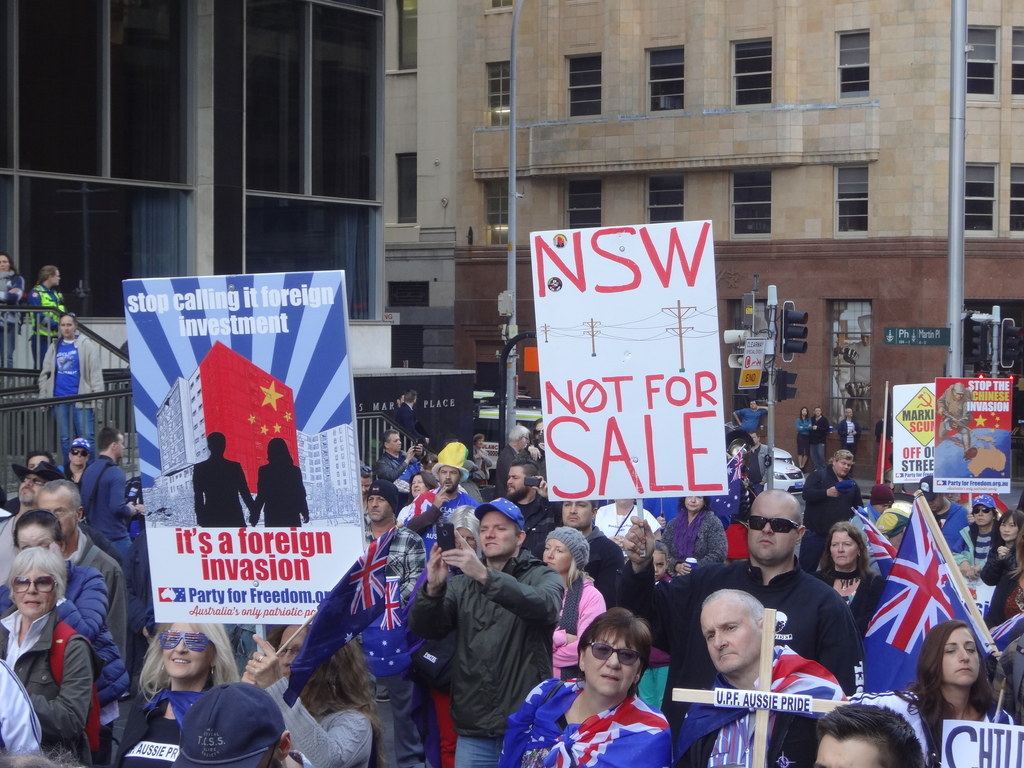 National president of the Rise Up Australia party Daniel Nalliah addressed the crowd, saying "multiculturalism does not work in a Western democracy".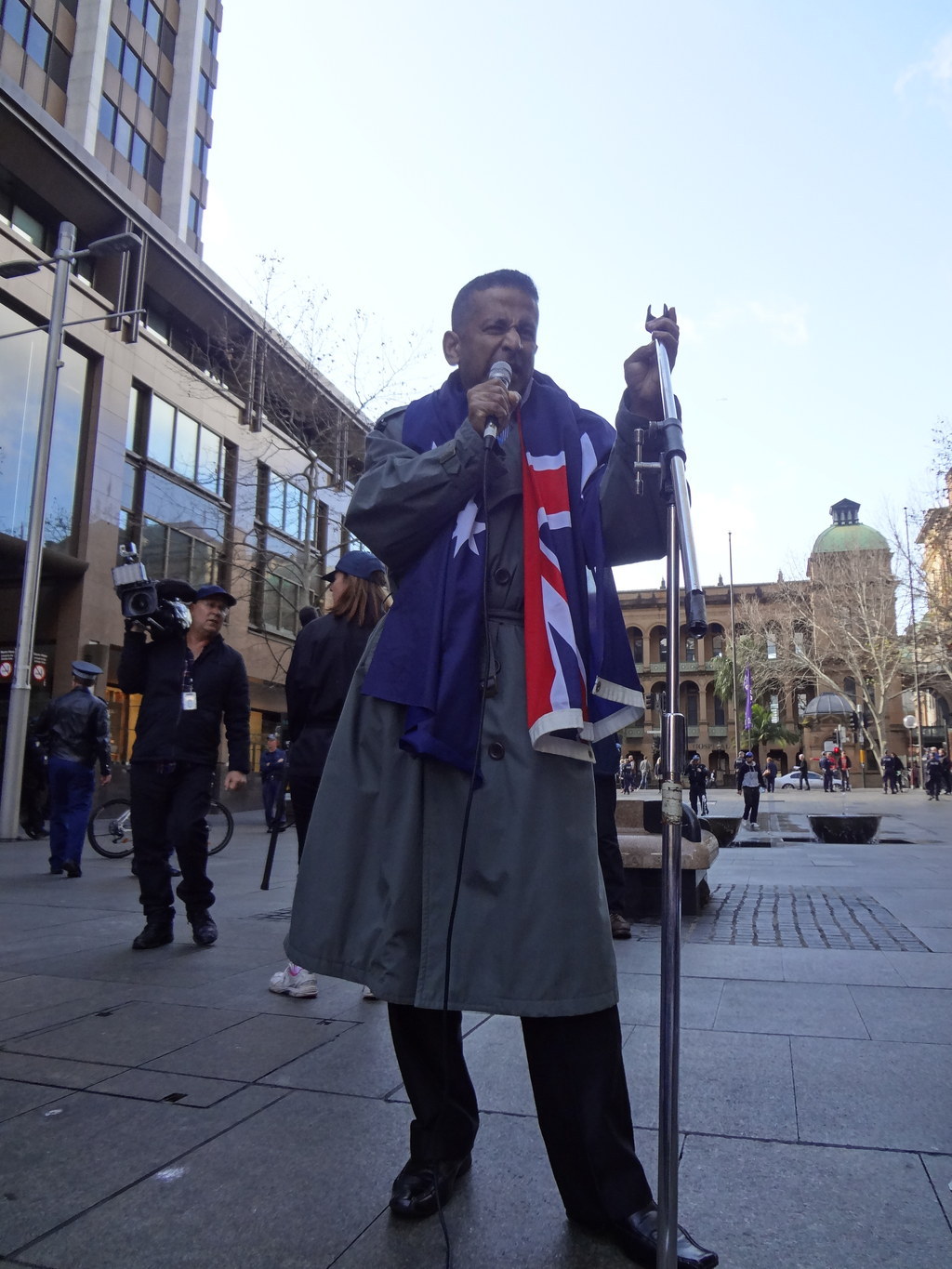 "If people leave their country, and come into Australia, they need to integrate into Australian life and Australian culture," Nalliah said.
"Our politicians are gutless. Our politicians have no backbone....I got into politics because I love Australia and I want to keep Australia Australian!"
Nalliah also condemned the "colourblind" media, saying they had wrongly characterised Reclaim Australia as a racist group.
"I'm not white mate! I am black!" he said.
"The media will not show me speaking, because they will not be able to sell their message to the public."
Attendees described accusations of racism as "ridiculous" and told BuzzFeed News they were worried about the future.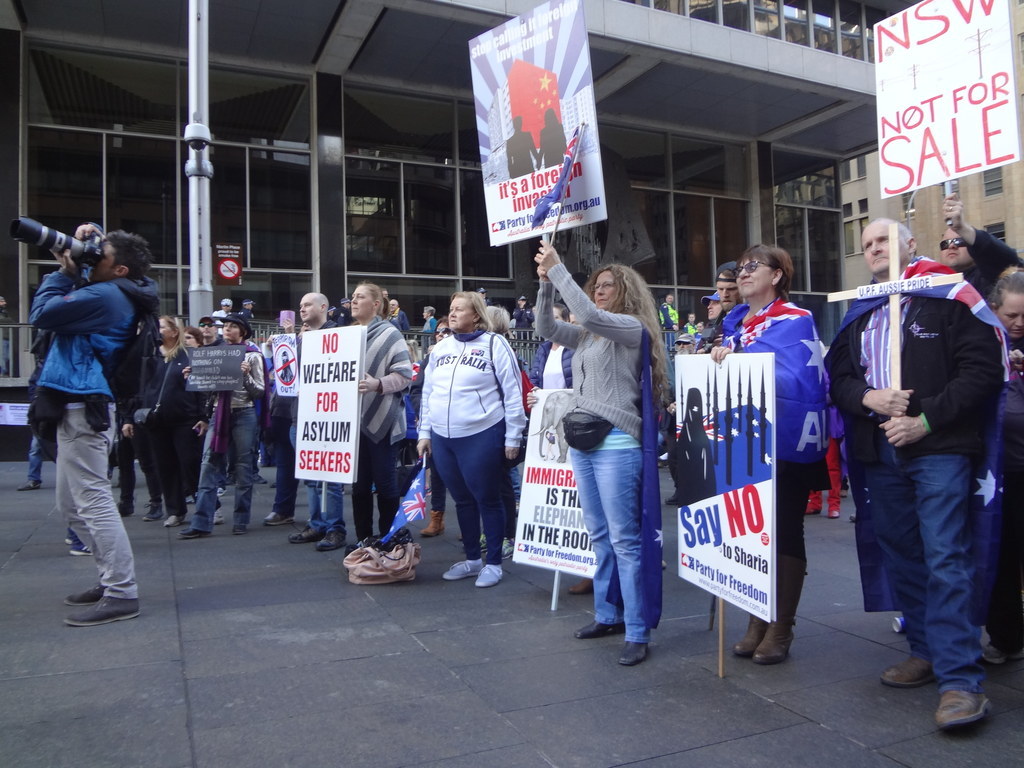 George, dressed as a soldier, told BuzzFeed News he was at the rally to "defend democracy and freedom of speech from Sharia law".
"What happens in Europe trickles down to Australia. You don't have to be a genius to figure that out."
George denied he was racist, saying that both his parents were immigrants. "I'm not against Muslims as long as they're secular. When they read from the Koran, it scares me," he said.
Nicholas Folkes, chairman of the Party For Freedom, said he was supporting Reclaim Australia because he was "pissed off" with the direction of Australia.
Folkes listed multiculturalism, immigration, foreign ownership and restrictions on free speech as issues he was unhappy with. However, Folkes said the movement was not a racist one.
"The people here today, it's social and economic issues," he said. "They're worried about Islam, which is an ideology. It's not a race."
"I am absolutely anti-Islam. It's incompatible with the Australian way of life."
Attendees at the protest against racism listened to speakers talk about Indigenous rights and welcoming Muslim people to Australia. Other speakers berated the police.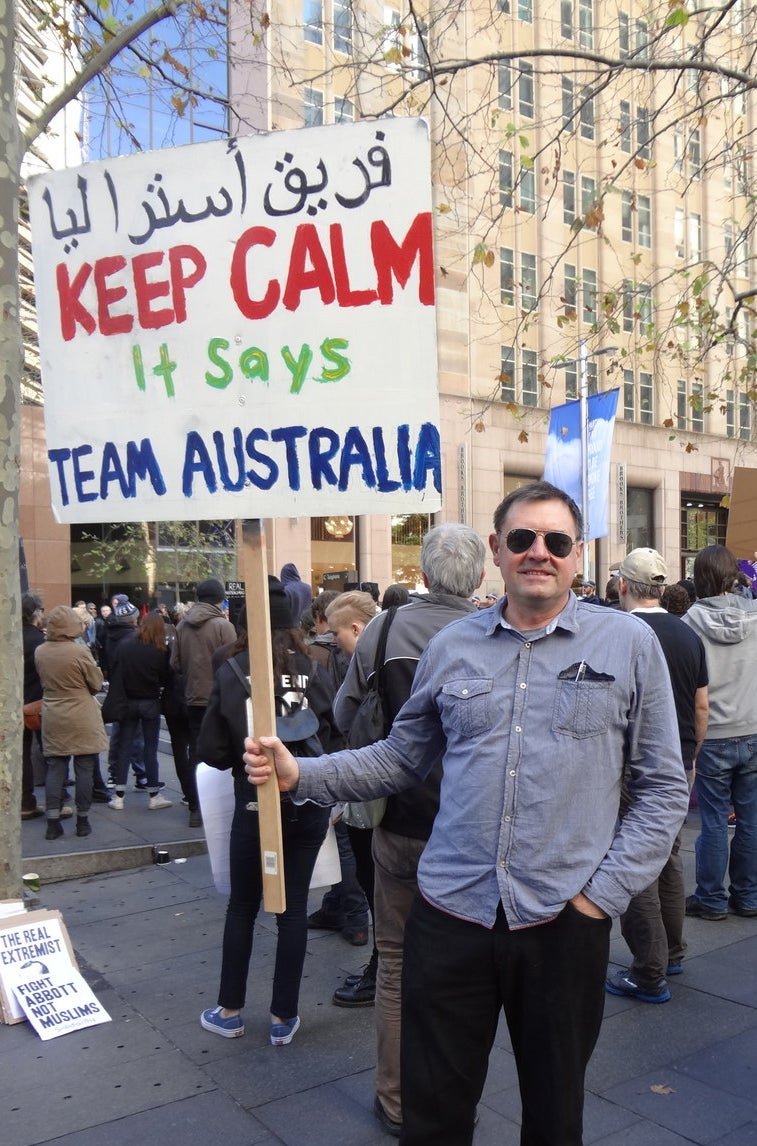 Chris told BuzzFeed News he was supporting the protest because the message of Reclaim Australia was "ugly racism".
"I hate the politics of division and racism," he said. "They're just ugly bigots, they're bigoted against everything."
A large police presence kept the two rallies separated by a couple of blocks.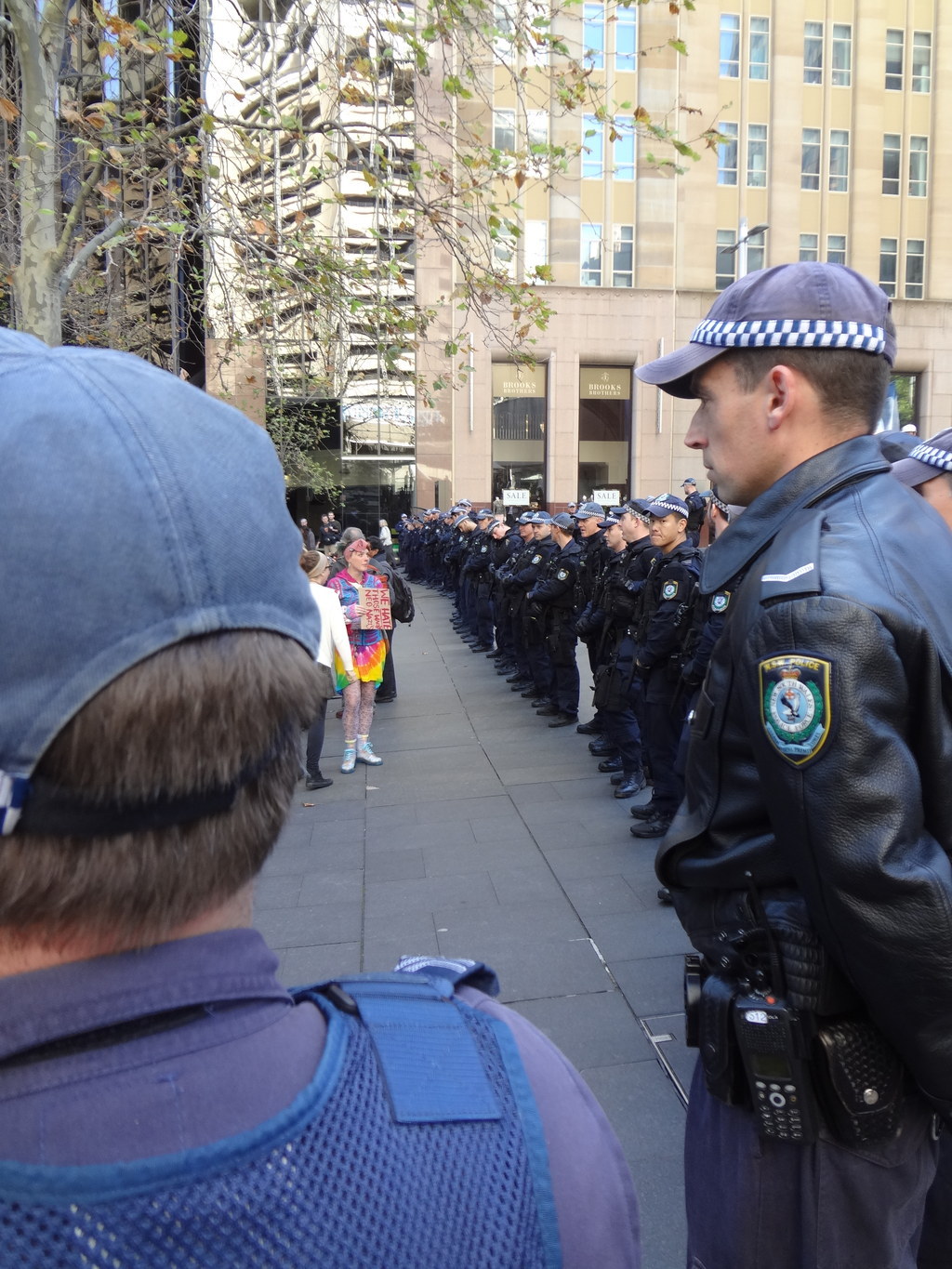 Early on, the counter-protesters attempted to get around the police lines, but were thwarted in CBD side streets.
Despite the arrests and some minor scuffles, the respective protests largely occurred uninterrupted.
NSW assistant commissioner Alan Clarke said the operation was a success from the police perspective.
"While there were a small number of people who chose to do the wrong thing, the majority of participants cooperated with police, which allowed for a peaceful demonstration," he said.
"There was a minority who chose to ignore police directions and they were removed from the area immediately."
MP George Christensen and former MP Pauline Hanson spoke at Reclaim Australia rallies in Mackay and Rockhampton respectively.
Speaking over interjections from counter protesters, Christensen described Sharia law as a "threat that is within our midst".
"We are protesting against the dangers of radical Islam, and the culture of appeasement that allows radical extremism like that to fester," he said.
"That culture of appeasement dictated that I should not speak here today for fear of giving you credibility, as if your voice would otherwise have no credibility."
"Well, I've got to say, you have a very good argument. You have credibility."
Pauline Hanson said division in Australia was based on Islam.
"We have other different religions that have never been a problem in Australia," she said.
"I'm not targeting Muslims, I'm targeting the ideology, what Islam stands for, and it is very different to our culture and Christianity."