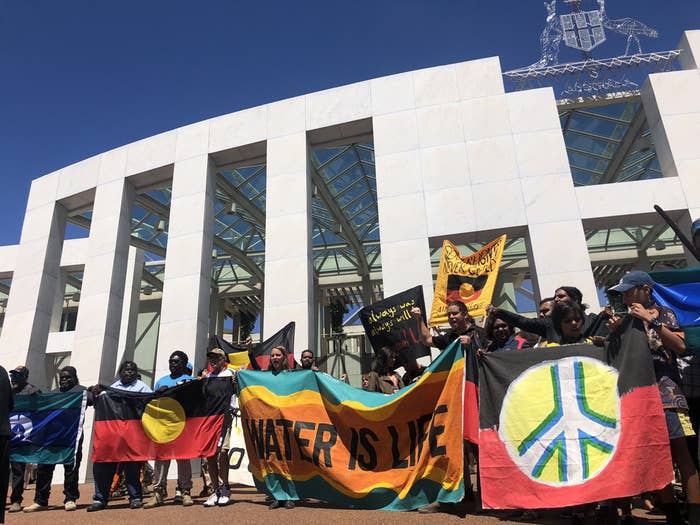 On Wednesday morning, all eyes were on the Senate as the government suffered a stunning defeat on a crucial vote that will make it easier for refugees and asylum seekers on Manus Island and Nauru to travel to Australia for medical treatment.
But as the dust settled from the medevac bill brawl, Aboriginal people and supporters entered the Parliament House foyer to stage a protest that would bring attention to a crisis of a different kind: the climate.
About 100 people intermittently chanted and held signs that read "Water is life" and "Protect country", a group of speakers surrounded by a large, colourful circle of protesters made for an arresting sight in the middle of the foyer.
Their mission? To point out that Aboriginal and Torres Strait Islander people are on the "front lines" of the damage caused to land and water by fossil fuel extraction and global climate change.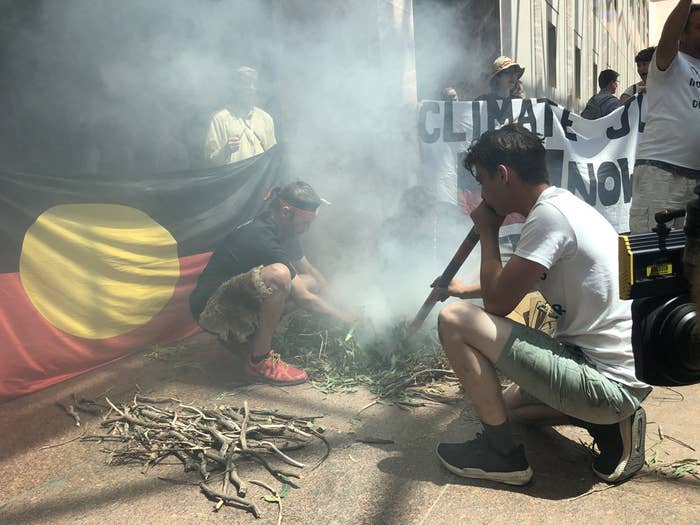 "Our country has been dug up and destroyed ever since colonisation," Amelia Telford, a 24-year-old Bundjalung woman, told BuzzFeed News. "Across the country, people are saying enough is enough."

Telford is part of the Seed Indigenous Youth Climate Network, which organised the protest along with the Warriors of Aboriginal Resistance, the Aboriginal Tent Embassy, and other groups.
She said people had come from near and far, including the Kimberley, the Torres Strait, and the Pacific Islands, to bring numerous environmental concerns to the table. First and foremost is water.
"For so many of our communities, water is life. It forms the basis of our culture and stories and survival," she said.
"We can't live without it, and right now we're seeing incredibly scary issues, and we're facing a massive water crisis with communities suffering drought and being forced to drink bore water and even poisoned water."
After chants and speeches in the foyer for about an hour – closely watched by numerous parliament house security guards and police officers – the protest marched out of Parliament House and headed down towards the Aboriginal Tent Embassy by old Parliament House.
The group chanted "Always was, always will be Aboriginal land" and "Water is life, our land's in strife" as they marched.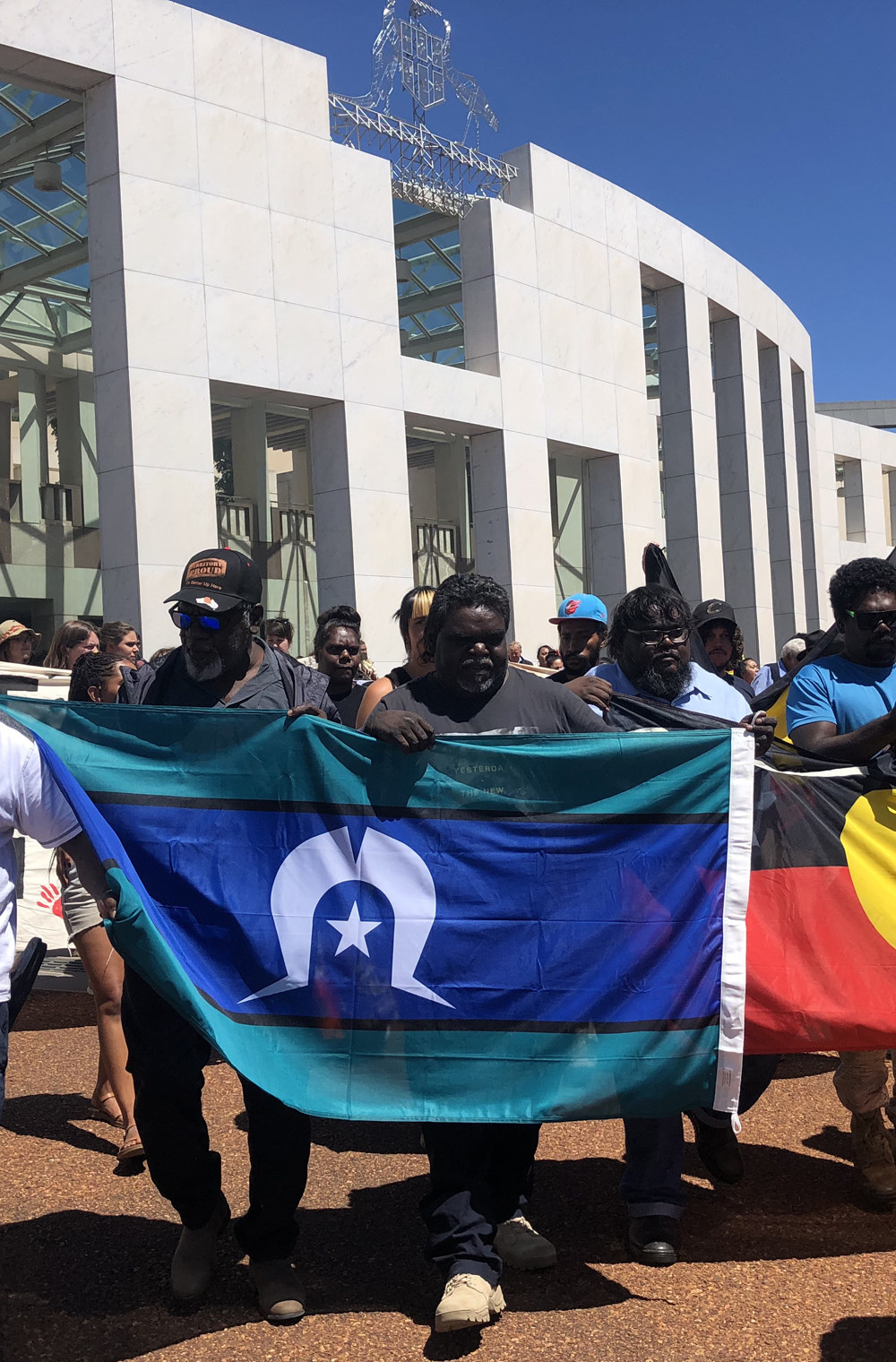 Bradley Farrer is an Alawa man from the tiny community of Minyerri in the Northern Territory.

He too is preoccupied with water — haunted by the image of hundreds of thousands of dead fish floating in the Murray River from earlier this year.
"When the fish die, float up like what happened in the Murray River, I don't want that to happen on my land, in the NT. I want it to be left like that, untouched, for our future, for our kids," he said.
Farrer said his country is under a "big threat" from fracking, explorative drilling for oil and gas.
"I don't want fracking on my land, because if they do fracking on my land everything will die. The water will die, the grass will die, the tree will die. There will be rocks and dirt, that's all. There will be nothing left, not even birds."
Farrer travelled from Minyerri to Darwin, where he got on a plane – his first time flying – to come to Canberra for the protest.
He fears his community could easily be taken advantage of when it comes to oil and gas companies.
"They don't understand, when people come with a piece of paper and they sign, they sign it blindly," he said. "Some of the old people, they don't know, they don't understand the white law."
Farrer told BuzzFeed News that non-Aboriginal Australians often struggle to understand the significance of the Indigenous connection to land. The effects of fossil fuel exploration, he said, are greater than people may imagine.
"It destroys everything," he said. "The connection, the land, the people, the animals."

Telford said "our country is a part of who we are ... It's our identity, our culture, the basis of how we are connected right across the country. It's part of our cultural responsibility to look after the land, to look after each other, and to think about generations ahead of us."