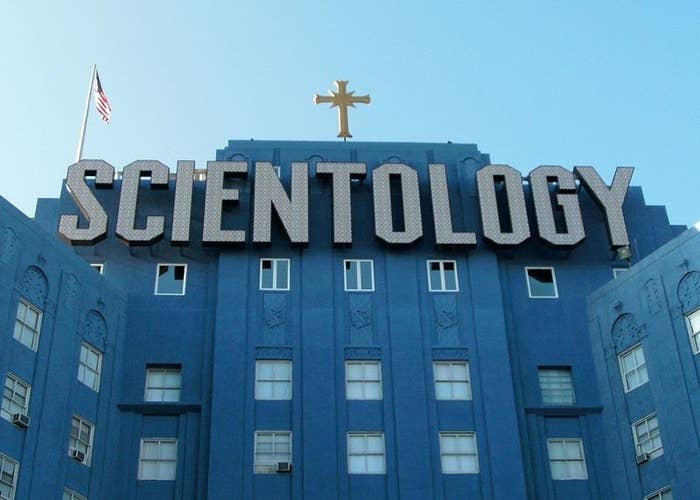 Throughout the 1980s and '90s, the Church of Scientology exerted a near-iron grip over media coverage of their organization. Through a combination of intimidation, secrecy, and vigorous litigation, the group managed to almost entirely avoid public scrutiny, despite its exploding presence in the entertainment community in particular. The big questions about Scientology's work, philosophy, and alleged control over its members were rarely asked, much less examined in any depth.
One of the very few media organizations to take a peek was the Los Angeles Times, whose reporters Joel Sappell and Robert Welkos in 1985 published the first explanation of the Church's science-fictionesque philosophy, and then in 1990, ran a groundbreaking six-part investigation into the church.
While working on the piece, Sappell and Welkos experienced a series of strange and troubling events, which came after warnings from inside the church that the reporters were putting themselves at risk. Perhaps the most disturbing, however, was the sudden death of Sappell's family dog in 1985, which occurred after Sappell had been warned repeatedly to "keep an eye on his pets."
Almost 30 years later, Scientology's iron grip over its coverage has crumbled. A series of public scandals (must recently the Suri Cruise "flight to freedom") and the work of a handful of reporters have led to a slew of disturbing revelations about the Church. For Sappell, however, a few questions have troubled him throughout these decades: What really happened with his dog? And what was the truth about the harassment campaign against him? How much of it was in his head and how much was real? With a handful of defectors from the Church's inner circles now on the streets and openly discussing their experiences, Sappell decided to go after the truth.
In a new article for Los Angeles Magazine (available on the magazine's website Tuesday), Sappell visited some of the Church's most knowledgable exiles and uncovered much of the story of those days, including a campaign by the Church's leader David Miscavige to go after the reporters and "crush them." Among the other findings he turns up in the article: The Church hired private investigators to comb through Sappell and Welkos' financial records, and Marty Rathbun, the Church's most prominent defector, has begun a breakaway movement, persuading members to become "Independent Scientologists."
In the exclusive excerpt below, Sappell lays out the events around his dog's mysterious death and the beginning of his hunt for the truth:
The Tip of the Spear
I'd never heard my wife so upset. "The dog's been poisoned," she said into the phone. Her quavering voice was scared and panicked. Soon I would be, too. It was late 1985, and I'd just checked into a San Diego hotel with Bob Welkos, a reporter—like me—at the Los Angeles Times. Bob and I had been sent out of town by our editors in the turbulent wake of a story we'd written about the Church of Scientology. In it we revealed for the first time the secret teachings of church founder L. Ron Hubbard, who traced the origins of mankind's ills to a galactic battle 75 million years ago, when an evil tyrant named Xenu reigned supreme. The story made international headlines, and the church was angry. The paper thought it would be best if Bob and I disappeared for a few days until things cooled down. So I'd packed a bag and headed south while my wife, Linda, stayed behind with our 13-year-old shepherd mix, Crystal.
Now the loyal dog I'd rescued from a Huntington Beach shelter a year or so after my high school graduation was dying. "She's frothing and convulsing," Linda told me from the vet's office. Crystal's illness had come on suddenly, she said, and the vet couldn't pinpoint the cause. All we could do was keep her sedated. "Things like this don't just happen," Linda cried. A month or so later, after countless doses of phenobarbital failed to calm Crystal's frightening seizures, I placed her on a gurney one final time and held her as we put her down.
Did I have proof the Church of Scientology was to blame? No. But I was haunted by the warnings I remembered getting at the start of what would become a five-year investigation of the church. More than one source had told Bob and me to keep an eye on our pets. Others who'd run afoul of church leaders had lost beloved animals under suspicious circumstances, they claim—but I hadn't listened.
Not long after Crystal fell ill, I got another call—this one from Los Angeles Superior Court judge Ronald Swearinger. I'd never spoken to him, but I was covering a nasty civil trial over which he was presiding that pitted the Church of Scientology against a former church member who claimed he'd been relentlessly harassed. Thousands of Scientologists from across the country had converged on downtown Los Angeles to protest the trial and what they perceived as Swearinger's religious bigotry. Now he was reaching out to me.
"I hear your dog was poisoned," the judge said softly. I was startled. It's highly unusual for judges to contact reporters during a trial, especially when they've already been accused of bias. There was a pause as Swearinger took a breath. "My dog was drowned," he said, referring to his collie. "We found him dead in our pool. He'd never go near the water on his own."
More than four years later, in June of 1990, the Los Angeles Times published the six-day series Bob and I had written on the Church of Scientology—one of the most comprehensive pieces on Scientology ever undertaken by an American news organization. In 24 stories based on thousands of documents and hundreds of interviews, we tackled everything from Hubbard's bogus biographical claims to the organization's high-pressure sales techniques to the intimidating tactics employed against perceived adversaries such as Bob and me. Personal experience had taught us how the church and its leaders—first Hubbard and then his successor, David Miscavige—had made psychological warfare a spiritual imperative.
The usual rules of journalistic engagement didn't apply. Hubbard was both guru and general to his worshippers, lacing his writings on theological affairs with militant directives on how to blunt enemies. "If attacked on some vulnerable point by anyone or anything or any organization, always find or manufacture enough threat against them to cause them to sue for peace," Hubbard told his flock. "Don't ever tamely submit to an investigation of us. Make it rough, rough on attackers all the way."
And they did. Crystal's death, as it turns out, was just the beginning of a series of events that rattled through our lives. Which is why, a few days before Halloween, I board a Texas-bound plane from LAX to pay a visit to the man who once ran Scientology's intelligence operations, the highest-ranking person to defect from the church since our series ran. He is also a man the church now brands "a defrocked apostate" and "pathological liar." Nonetheless, I'm going to see what he may know about what happened to me.