This Could Be The Greatest Sports-Bar NCAA Finals Viewing Experience Of All Time
It's America's Sentimental Favorites vs. America's Alma Mater in March Madness's highly promising conclusion.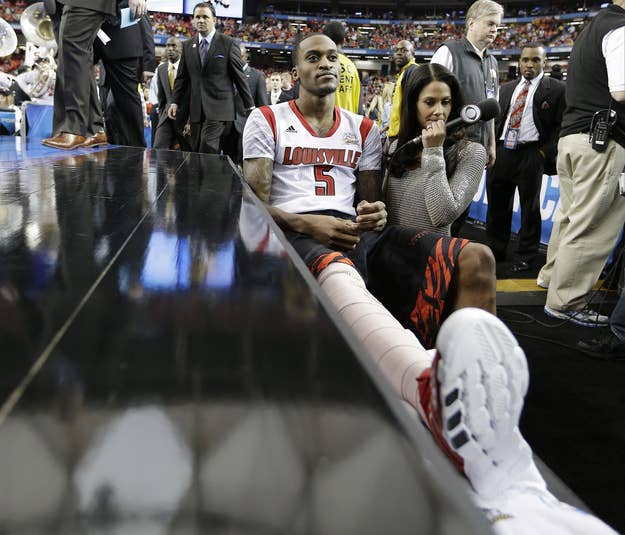 A little over a week ago, a hotly contested game between Duke and Louisville was playing out in the normal way that basketball games play out — i.e. without anyone's bones forcefully exiting their body. Then, with six-and-a-half minutes left in the first half, Louisville guard Kevin Ware's shinbone forcefully exited his body. And after you'd finished praying to every god you'd ever heard of that you'd one day forget the sight of Ware's lower leg bending at a 90-degree angle, you might have noticed that the atmosphere around the game seemed to have changed. Louisville had gone from #1 overall seed in the country, coached by a resurrected mummy with a messiah complex, to being the nation's beloved underdogs.
Seriously: the graphic destruction of Kevin Ware's tibia on network television inadvertently created the phenomena of making the tournament's best and highest-rated team into a cause célèbre and public-sentiment favorite against WICHITA STATE, which is from Wichita, Kansas and started as a #9 seed and has the team name "Shockers." And so, when Louisville came back from a double-digit deficit to beat the Shockers in the Final Four, it felt like we'd just witnessed the plucky upstart upsetting its favored rival, not the exact opposite thing.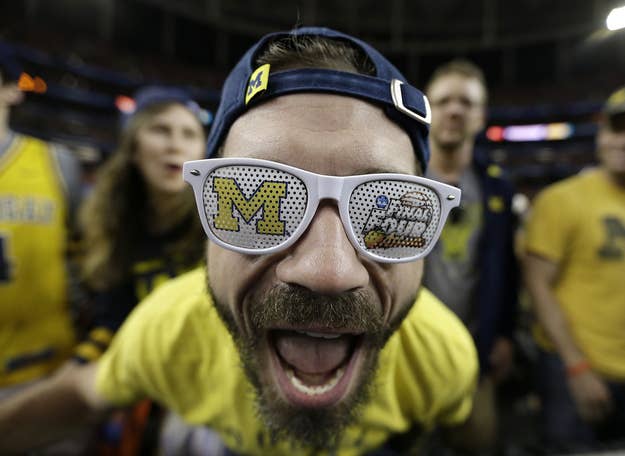 On the other side of the bracket, there's the Michigan Wolverines. A #4 seed, Michigan was one of those teams that could have just as easily lost in the first round against the South Dakota State Jackrabbits as made it to the national championship. And much of the team's success has come thanks to Mitch McGary, whose tournament performance hasn't been so much an "emergence" as a "supernova explosion of fearsome thick-skulled in-the-paint virtuosity." Without McGary, Michigan is just the nation's best player, Trey Burke, plus a raft of inconsistent, three-point-dependent wings; with him, they're an inside-outside offensive powerhouse that creates second-chance points out of sheer maniac intensity.
The other thing about Michigan, of course, is that their fans are everywhere. There are a few other schools in this conversation, but if you had a graph that rated the school spirit of a university's average individual alumnus on its y-axis, and its pure number of alumni on the x-axis, Michigan would likely be the farthest to the upper-right. All over the country, there are Michigan fans, and they let you know it. [Editor's note: Go blue!] There are likely several of them wearing maize and/or blue wherever you are right now. Purely anecdotally, BuzzFeed's coverage of Michigan has seemed to do better traffic-wise than our coverage of any other team EXCEPT Harvard. (lol.) And in the run-up to tonight's title game, Michigan faithful have been beating their chests and painting their faces from the hallowed halls of Ann Arbor to the Blue Moon-soaked beer-pong tables of midtown Manhattan.
Michigan's prominence is not the worst thing. In a sea of teams that play muddied, barbarian forms of basketball that more closely resemble laying siege to Medieval keeps than anything in the professional game — I'm particularly looking at Syracuse here, which wins the 2013 Kevin Lincoln Award for Most Intolerable Sports-Viewing Experience — Michigan is fast-paced, athletic, and aggressive. With McGary keeping it at 110 percent and Glenn Robinson III, Tim Hardaway Jr., and Burke launching threes and converting lovely, intricate fast breaks, they might be the country's most entertaining team. Meanwhile, Louisville is no slouch in the spectacle-department either, what with its hyperactive full-court press and NBA-level athletes who hustle like a mid-major.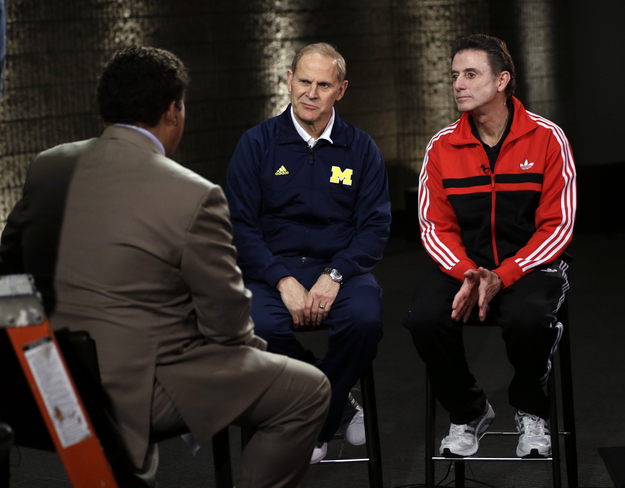 What this means: tonight's matchup is a good one to watch in some sort of public place where fans gather, a "sporting tavern," if you will. On the one hand, there's Louisville, the clear favorite of any neutral party; on the other, there's Michigan, the beautiful squad with a billion obsessed un-neutral parties already behind it. It's going to be fun.