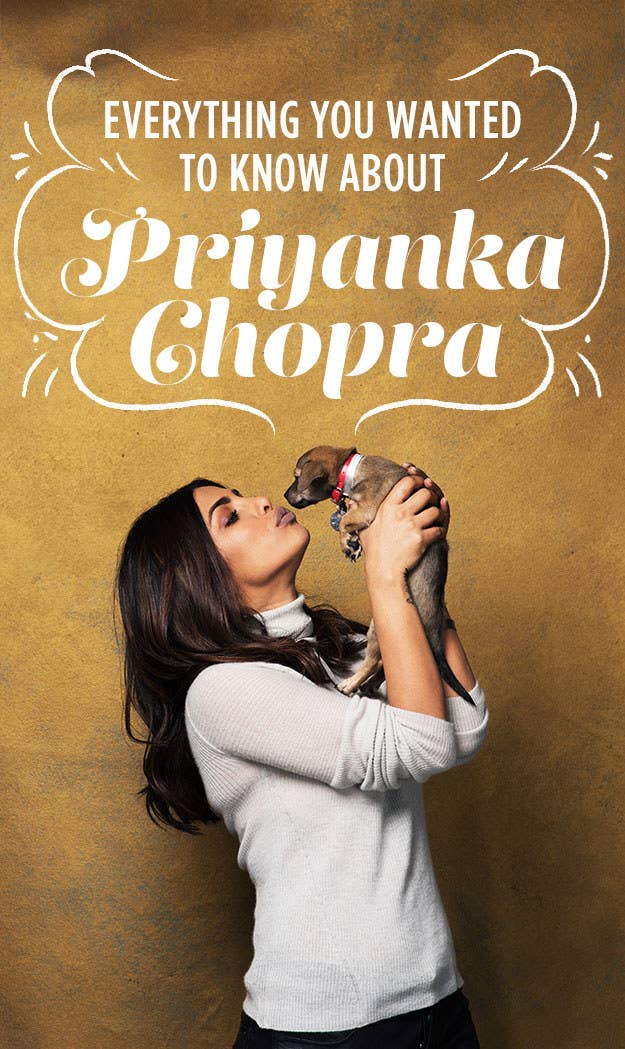 Priyanka Chopra is already a Bollywood icon, and now she's made a name for herself in the US playing badass Alex Parrish on the FBI-inspired show Quantico. But aside from being an incredibly talented actress, she's also an animal lover. And because animals make everything better, we recently had the actress stop by BuzzFeed New York to answer everything you've always wanted to know while cuddling a bunch of rescue puppies.
As if Priyanka + puppies wasn't adorable enough, she ended up adopting one of the lucky pups right after our shoot, and we're still not over it. Watch it all go down in the video below, and read on for more!
1. You've been in the FBI and now CIA, so what is next for Alex in Quantico? —@Mithu2010
Priyanka Chopra: God, even I don't know. No one knows what's next in Quantico or what happens in any episode or what happens to Alex. But I'm hoping that, you know, she continues to keep kicking ass because that's my favorite part of playing Alex, the fact that she thinks on her feet, she's a smart girl. She's not someone who, you know, comprises her values — I love that about her. So I hope there's more of that.
2. Where do you think you would prefer working in real life, the FBI or the CIA? —@Mithu2010
PC: Oh god, neither. I'm gonna get serious for a minute. We watch it so much on television that people think it's a really easy job — my dad was in the Army, my mom was in the Army. It takes so much courage to be law enforcement. To be in places that people are running away from, you're running inside that. And we take it for granted completely. But I've seen that in my family, and I don't think I have the courage to do it, honestly. So I'm glad I get to pretend to be one at least on TV!
3. Do you have a fun memory to share with us from the Baywatch set? —@Thea_sherin
PC: Baywatch for me was a major in and out, because I was shooting Quantico and Baywatch like everything together. And I think that the best part about Baywatch, because we were shooting in Montreal, [was when] we would come to Miami or Savannah to shoot. Me and my assistant, Jenna, we would just run into the ocean as soon as we walked into Miami. And it was the best part about shooting Baywatch, being on the beach all the time. As much as my character doesn't like the beach, I love it.

4. Who was more mischievous on set, The Rock or Zac Efron? —@Mithu2010
PC: Definitely Zac. Dwayne is just, he's such a gentleman, so well-behaved. And just really, really nice. Mmm, Zac, well... [laughs]. It was a lot of fun because between Zac, Alex [Daddario], Ilfie [Hadera], Jon [Bass], and the rest of the cast, we all would hang out in one of their trailers and just, like, order food. They're completely different people, but both just so sweet and really nice.

5. Will you be doing a Bollywood or Hollywood project next year during your break from Quantico? —@Mithu2010
PC: I do intend to. I don't know whether it will be a Hindi film or an English movie yet, I just know that I'm in the middle of assessing films from both here and there. I'll definitely be doing a movie, I just don't know which one it will be.

6. What's the first thing you do when you go back home to Mumbai? —@ms_slaysalot
PC: The first thing I do is I go to my mom's house and just lay on her bed and tell her what I want to eat and stay there for like three days with my family, and my friends come and visit. I haven't been home for so long that I think that's what I miss most: my house.

7. If you were to take, let's say, one of your American fans to India for 48 hours, what would you do? —@ayeepaolaaxo
PC: Well, I'd definitely take them to a film set. I think it'll be so much fun to show, especially if we were doing a big song, you know? It's so much fun to see whenever we do those big dance numbers because you have epic dancers and it's a lot of work and people don't realize that. Like the last big dance song I did was my movie Bajirao Mastani and it took us about 12 days to do one video. So it's a lot of fun to see — whenever my friends come from abroad I definitely make sure they come on a film set, even if we're doing scenes and stuff, it's a different environment.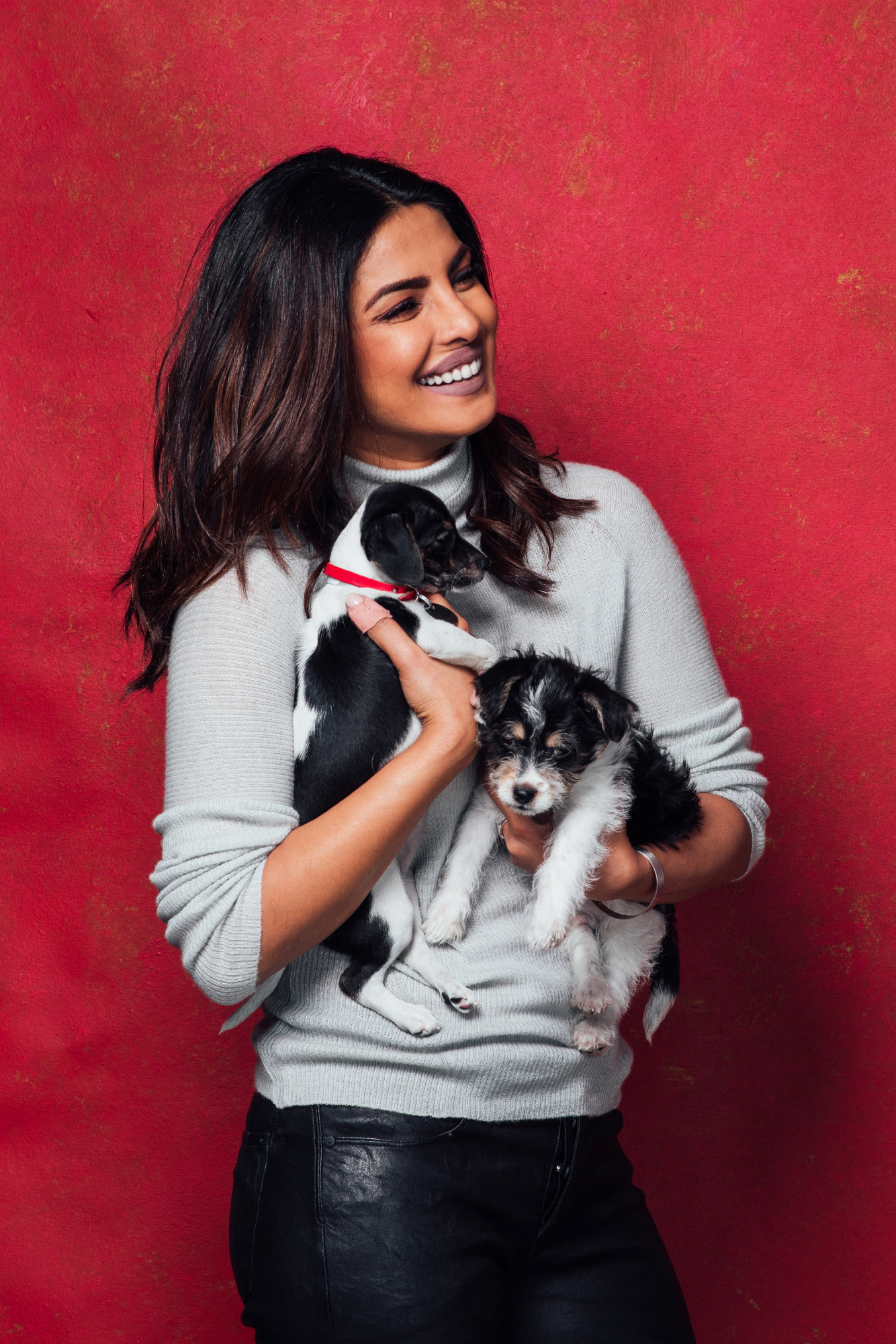 8. What street food do you miss when you are out of India? —@Tweetm3hul
PC: Pani puri! I miss pani puri the most. I can't even explain them, they're just magic. Pani puri is the best.
9. When can we expect your next album? —@monisha.anand3
PC:
I know, I know. I wish — I haven't done music for so long, and I miss the studio so much. But between
Quantico
and all the movies that I'm trying to do, and my production, I haven't been back into the studio. But I'm hoping it'll happen soon!
10. What advice do you have for girls who want to be like you in the future? —@Hazzadragmee

PC: Don't try and be like me; try and be like you. I always wanted to be Priyanka when I grew up — I still don't know who that is, but it'll take you a lifetime to figure out who you are, you know? You just have to every single day identify what you like and what you don't, who you are and what your opinion is. And don't let anyone tell you that your dreams are not worth something, or you can't be a certain way. Because you can be whatever you decide to be, and there are too many girls in the world who are always told that they should behave a certain way or be a certain way and that's not right. We should all try and be how we want.

12. Priyanka, you are absolutely amazing and are breaking down so many barriers for Indians in America. I was wondering what you love most about NYC now that Quantico is filming here. —@uma.balachandran.927

PC: I'm just really happy to be in New York because I can fly back to India on a direct flight. So I go for the weekend, I go any time, and I love New York City. I think it's like, you know, it's such a vibrant, vibrant city it has people from all over the world, and you can find anything you want in New York. There's nothing that you won't get here, so I love the city, I'm having a lot of fun here.
13. What's the weirdest and best thing a fan has ever done for you? —@NazibaAhmed1
PC: The weirdest was [someone writing] letters to me in blood, which was really weird. But I'm a smart girl, okay? And I got these letters every month written in blood. Both of my parents are doctors so I sent the letter to get tested to see what kind of blood it was. It was like, sheep or something. But it was the weirdest thing because it was being passed off as "I'm writing in my blood!" and stuff like that. But I have such incredible fans around the world, they make such an effort to see me, be with me, meet me, they fly across the world if they find out I'm somewhere. They're just always so effusive with the love that they share. My encounters with my fans really warm my heart, they make me feel extremely loved.
11. What's your favorite thing to do when you have time off? —@ms_slaysalot
PC: Just vegetate. I like to grow roots where I am. Like, I won't move even to get a bottle of water. I put like five bottles of water next to me, lots of food, watch TV, read a script. I like to do nothing.
14. What's the most adventurous thing you've done? —@monisha.anand3
PC:
Every day for me is an adventure because I don't know the people I'm gonna meet. Especially right now I mean think about it I moved across continents suddenly and I don't know where my life is taking me because i'm not someone who makes plans. You know life throws itself at me and I just go for it.
15. If you could have one superpower, what would it be?
PC: Oh my god there's so many good ones. Altering people's thoughts — that would be powerful.

16. Where do you draw your strength from? How do you motivate yourself to push through obstacles? —@StacySuperDuper
PC: Oh god, everyone says they're strong. Really, you're not. We're all human, we're all fragile, we all have, you know, days where you need [to cuddle puppies]. There's an innate strength each one of us as human beings I think have inside of us, we don't realize it. So when you're having a terrible day and you don't know how you're going to perform or do your best because you're just emotionally messed up, or whatever the reason might be, you have to remind yourself that you're so lucky to be living the way we are, we're so lucky. At least for me, I'm so lucky to have the job that I have, and to be able to live the life that I do. And I'm blessed for it. And if I wasn't doing it someone else would, so I just get out there and do what I have to do.

17. Besides Quantico, which TV show are you obsessed with these days? —@xojazzz
PC: I'm glad the world is obsessed with Quantico; I don't really watch it every night [laughs]. But I like watching quintessential TV, so let's see, what have I been watching... I love Devious Maids, Grey's Anatomy, Scandal. I just like TV, TV. I'm not someone who looks for art in my TV.
18. What's the first thing you do when you wake up? —@vibhanshud
PC: Check my phone like all of us do! Um, have a cup of coffee, just a very strong espresso, and check my phone and see what's happening in the world.

19. What is the best advice you've been given? —@SalmansWorld
PC: Hmm, people give people so much advice all the time. I don't know, I think I've sort of decided that it's very important for people to figure out what their lives are by themselves, and I think the one advice that has stuck to me for a very long time is "live and let live." You know, we judge people too much, and we always have an opinion of what someone's doing and why they're doing it and if they should be or shouldn't be doing it, and who is anyone to say what anyone else should do? So live and let live, I love that.

20. How does it feel to be the role model to so many women across the globe? —@desiavan
PC:
The way I see it, I don't wake up every morning and say that I want to be a role model. I'm just being a girl, just me, and I think I'm really grateful that people look up to me or see me in that position. But I think what's most important is anyone can be a role model, you don't have to be a celebrity or public person. I think a role model is someone that people look up to and I'm really glad I've been able to do things where people look up to me like that, but that wasn't the intention, so thank you!
21. What would you like to do in 2017 that you haven't been able to do this year? —@Saraaa8

PC: Adopt a puppy! I've been waiting to get a puppy because my dog is a cocker spaniel and he's back home in Mumbai with my mom and I really, really miss him. But he's really old — he can't travel now. So yeah, that's definitely something I've been wanting to do for awhile so this is just really appropriate.

22. Who is the most influential person to you? —@RealSmartyRahul
PC: My mom. My dad and my mom. I've been very influenced by my parents, but since my dad passed, my mother.

Be sure to catch Priyanka Chopra in Quantico every Sunday at 10 p.m. ET on ABC. And to adopt an adorable pup like Priyanka did, head to North Shore Animal League America for more info!