Tell Us About Your Self(ie): Emma Ishta
The Stitchers star takes our Q&A!
by
,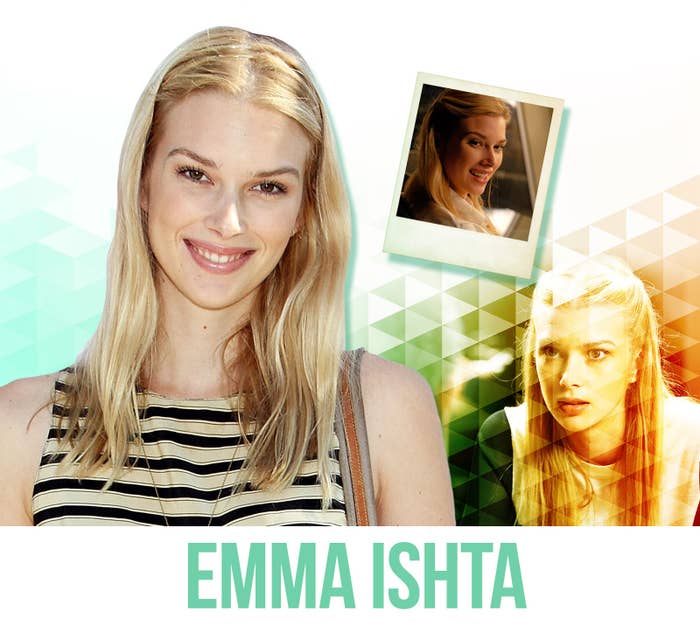 What's the wallpaper on your phone and/or computer?
On my phone it's a photo of my husband crouching down to hug my stepdaughter on our wedding day. My computer background is a black and white picture I took of the Niterói Contemporary Art Museum in Brazil.
When you walk into a bar, what do you typically order?
Moscow Mule if they know how to make a good one. If it's the end of the evening a White Russian for dessert and chips. Always chips.
What's the one word you are guilty of using too often?
You know what I mean? We make it into one word in Australia. Yanowhaddamean?

What is the last thing you searched for on Google?
What do you need in a shaving kit? Obviously not for me, unless I'm hiding some real hair issues. To be fair I also googled how to access my Google search history.
Who is the last person that called or texted you?
Called — my stepmomma, we are playing phone tag right now. Texted — my stepdaughter's mom, sharing a pic from their day at Coney Island.
What was the last awkward situation you were in and how did you handle it?
I spent a number of hours talking to a lovely woman at a small party we threw recently only to realize that we had met numerous times before, even at my own house, and I had no recollection of it. I just basically crawled into my shame.
When is the last time you went to a theatre?
Two weeks ago we went to see the opening night of Origin Theatre's The International at Playwrights Horizons. A very powerful piece of work.
What TV show should everyone should be watching?
What. A. Question. I'm going to go with two that I currently can't choose between. Both Netflix shows, both amazing and very different. Peaky Blinders and Bloodline.

And what is your TV guilty pleasure?
Outlanders. Can iTunes please make the next eight episodes available??
What's the first CD you bought?
I definitely got Spice Girls Spice and Aqua Aquarium around the same time. I didn't understand why my mom didn't want me listening to "Barbie Girl." All I can say is thank god my stepdaughter's favourite band in the whole wide world is The Beatles. We do have dance parties to "Wannabe" though.
What is the one food you cannot resist?
French fries, especially if they are truffle French fries. Nom nom.
What music are you currently listening to?
The National 'Trouble Will Find Me,' Jamie XX 'Loud Places,' and of course the classics, Leonard Cohen, Joni Mitchell, Paul Simon, Bob Dylan, The La's, I could go on forever...
What movie makes you laugh the most?
The Graduate
What drives you absolutely crazy?
People biting their nails. And in public! Don't do that on the train man, it's like eating yourself. Fancy a gnaw at your elbow??
What was your first online screen name?
I honestly don't remember but I can tell you my first and only laser tag name. Groovy Girl. Don't judge me, I'm still groovy.
What's your favorite emoji?
According to my phone it's hearts, blowing kiss, thumbs up, and piggy faces.

Pick one: Kittens or puppies?
Puppies
New York or Los Angeles?
New York forever.
Comedy or drama?
Drama
Bacon or Nutella?
Realllly? Bacon Nutella obviously.
Coffee or tea?
A good flat white coffee.
'80s or '90s?
'90s all the way.
Britney or Christina?
Christina up until Stripped. I had no idea what "Genie in a Bottle" was about.
NSYNC or BSB?
It's a tough one but I'm going to go with BSB.
Hannah Montana or Lizzie McGuire?
Who?
And finally: Tell us a secret.
My last name is actually my middle name. Gotcha!
Watch Emma in the Stitchers finale on Tuesday, Aug. 4 at 9 P.M. on ABC Family!