We can all agree on one thing: Disney Channel's wand promos were the cornerstone of our youth. You know the ones, where your favorite Disney stars introduced themselves while magically making mouse ears with a wand.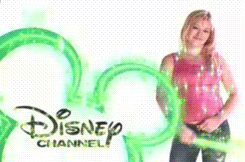 Which we all re-created in the mirror with a hairbrush back in '02.
And then out of nowhere we were blessed with a wonderful '00s time capsule: Some unearthed behind-the-scenes footage from the making of those promos was revealed. And it was, in one word, i c o n i c.
Especially the footage featuring Hilary Duff — who was slightly confused about the whole situation.
So when Hilary stopped by BuzzFeed to talk about the new season of Younger, she also dished about that hilarious day on set and what actually went down.
It's so ridiculous. It's so funny though. So we had to do the thing and then they put it in CGI, the mouse ears. And then they made us do it like 900 times. And I think I like lost all personality at that point. Plus, I was, like, a pubescent teen — I was like, What are they making me do, this is invisible! But Raven-Symoné was nailing it!
It turns out she had been filming the promos all day long and also had zero idea of what she was actually supposed to be doing.
[I had been doing it] all day! I think I had shot the beginning of Lizzie McGuire with all those bouncy balls, and I was like, What is this-last minute thing? It's so good. It's, like, Hilary with a lot of attitude. Like, What are they making me do? But now I'm happy to do it, because that was hilarious.
Most importantly, she re-created the hilariously unenthusiastic moment all over again for us, and it was truly magical.
Be sure to catch Hilary Duff on Season 4 of Younger every Wednesday at 10 p.m. ET on TV Land!