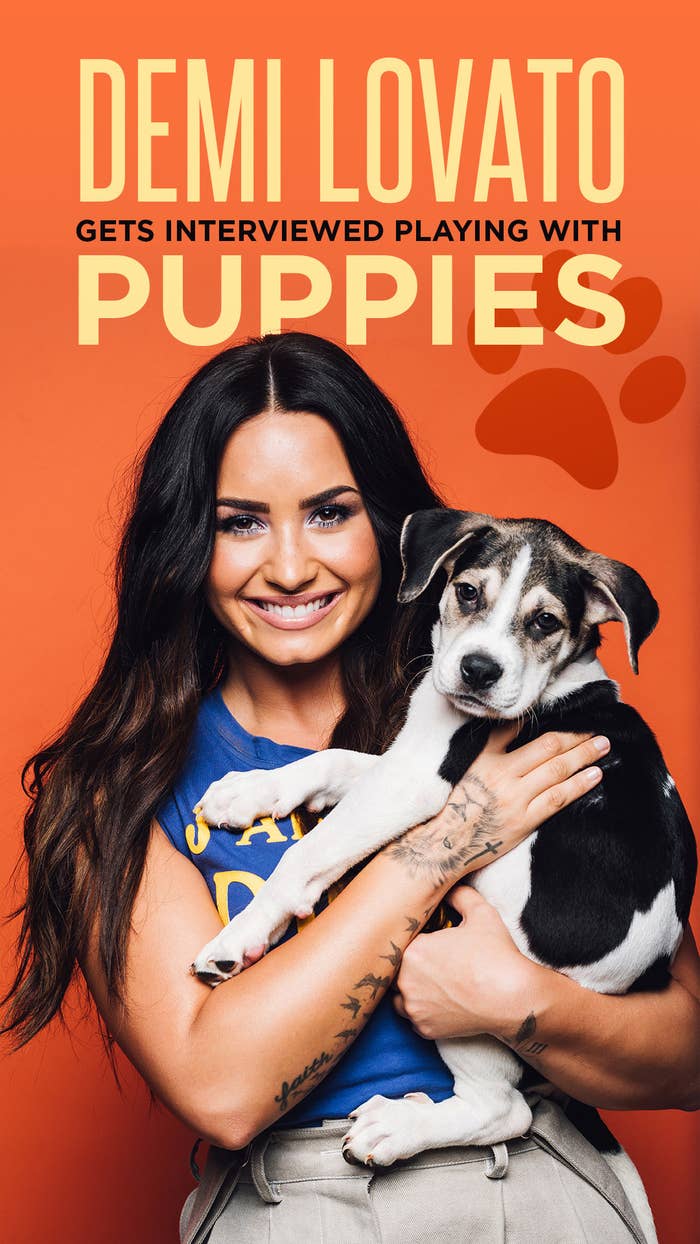 Once upon a time Demi Lovato was just another friend on Barney And Friends. But now, she's a multi-platinum artist, an LGBT activist, and an advocate for mental health. Also, she gifted the world with "Cool For The Summer" which is an achievement all on its own that should not be forgotten.
Demi's sixth studio album, Tell Me You Love Me was released late August, and to celebrate and talk about what this album means to her, she stopped by the BuzzFeed office to answer fan questions. In addition to fan questions, there were puppies, because everything is better with puppies. Here's what happened.
What song on your newest album do you think is the most personal?
Which song on this record was the hardest to write/record?
DL: The hardest song to record was "Smoke & Mirrors" which is on the deluxe version of the album. It was a very emotional song that I wrote on, that basically reminded me of some very emotional times that I went through.
Would you release a song in Spanish in the future? If so which Latin artist would you like to collaborate with?
DL: I actually—you will have to wait and find out, because I recorded something recently that I think you will like.
What has been your favorite fan interaction or experience?
How is this album different than Confident or any of your other albums?
DL: This album is different from my other albums because it's more soulful, and I think it's the most mature out of all the albums that I've made. And I've done a lot of growing up personally and professionally so, I think that that's the reason why.
How do you deal with a breakup?
Do you want to act again?
DL: I think I would love to act at some point. I've just been so focused with music right now that I haven't had the chance to.
After watching your cover of "Silent Night", I couldn't help but think, would you ever consider making a Christmas album?
DL: I have considered making a Christmas album. Hopefully I'll do that soon, you never know!
Social media can be really tough on a person mentally! Any tips on staying sane and confident in a world where every photo is Facetuned and photoshopped?
What has been your best achievement so far?
DL: I think having a #1 single was definitely a career highlight, and also getting my Grammy nomination.
Are you planning on directing more of your music videos like how you directed "Made In The USA"?
DL: I think I would love to direct at some point, but — maybe the next one, who knows.
You're an inspiration to your fans and to other people who have gone through tough times. What does it mean to you to be able to inspire and change the lives of others through your fame?
Why did you decide to name your new album Tell Me You Love Me?
DL: I decided to name my album Tell Me You Love Me because it's one of my favorite songs off of the album and it also is a very vulnerable and raw title.
What is your favorite tattoo that you have, and are you planning on getting more?
DL: I'm not planning on getting more as of right now, but that'll change i'm sure. My favorite tattoo is my lion on my hand.
Who's the first person you call when you have good news?
What's the funniest prank you've ever pulled, and who did you pull it on?
DL: The funniest prank that I ever pulled on somebody was I pulled a prank on my security guard, and in Vegas it's legal to hire a lady of the night to make surprise visits for somebody. So, I did that and i sent her to my security guard's room, and told her to be very forceful and make herself enter the room. And she did just that, and he was very startled and i'm glad that he didn't keep her.
You can download Demi's new album Tell Me You Love Me now, and catch her documentary DEMI LOVATO: SIMPLY COMPLICATED when it premieres tomorrow on YouTube!