1.
Gina Rodriguez became a Harry Styles stan.
2.
Issa Rae crafted some stellar summer plans.
3.
Joe Jonas remained #trendy.
4.
Chrissy Teigen had some questions about Cannes.
5.
Constance Zimmer spent too much time with her phone.
6.
Kendall Jenner shared this cute as heck throwback.
7.
Neil Patrick Harris had some typing difficulties.
8.
Wiz Khalifa gave a shout out to Khloe Kardashian.
9.
Chris Evans found a new friend.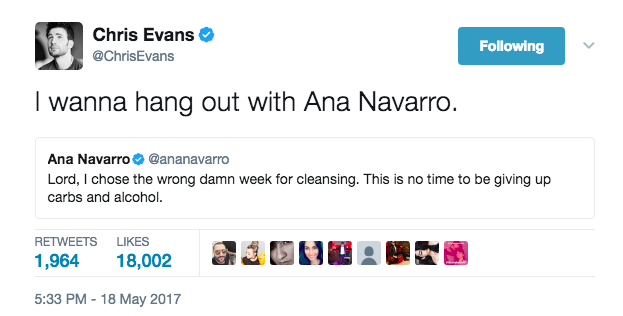 10.
Rainn Wilson was a rebel.
11.
Seth Rogen found his true doppelgänger.
12.
Jaden Smith learned something new.
13.
Lin-Manuel Miranda shared this In the Heights TBT.
14.
And Cole Sprouse grew up... a lot.