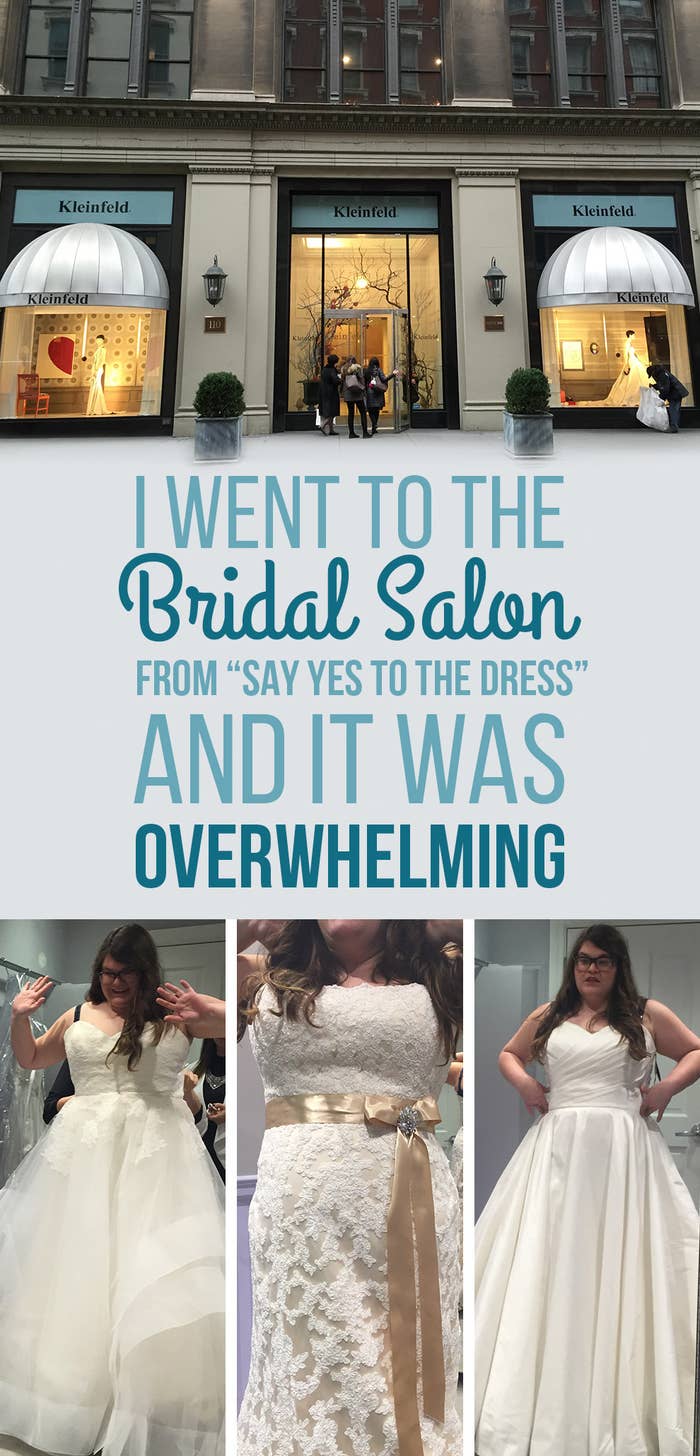 Hi, I'm Kristin. Despite my best efforts at being an anxious weirdo, I am getting married.
And since I am also a person who has procrastinated at least once, I've seen my share of TLC's iconic bridal gown shopping show Say Yes to the Dress.
And since I'm now shopping for a bridal gown, I decided to kick off my search by going to the home of Say Yes to the Dress, the Disneyland of bridal salons... KLEINFELD.
For those of you who don't know: Say Yes to the Dress is a show in which brides shop for wedding dresses, and bring along loved ones to say rude things about their bodies.
Would I find a dress I loved in my size? Would I leave feeling terrible about myself? Would they need to bring Pnina Tornai out from whatever room they keep her in so she can save the day with a $10,000 see-through corset dress?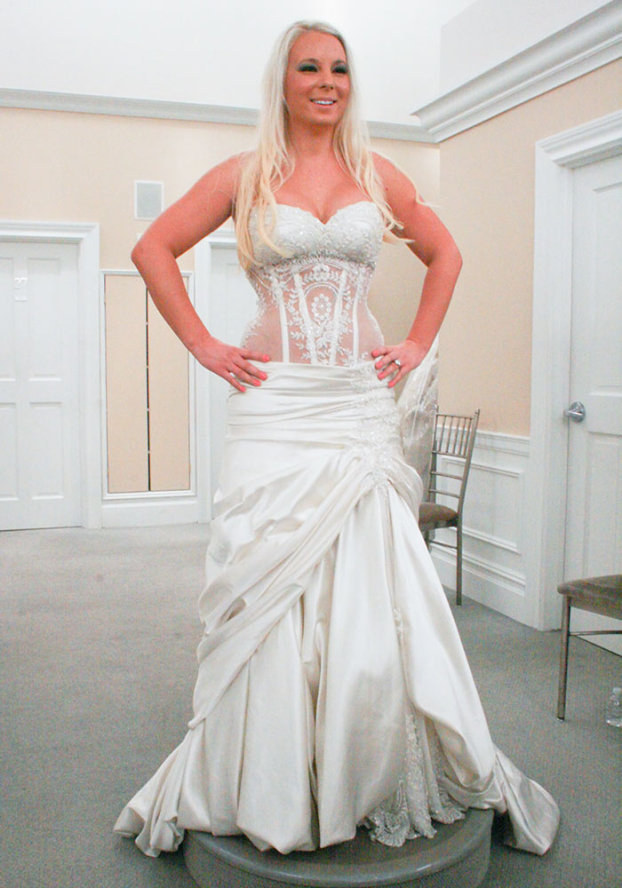 First, you fill out a detailed appointment form: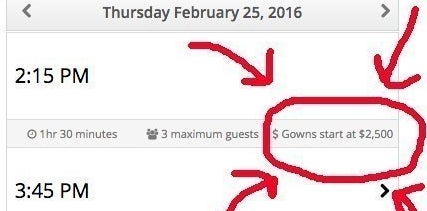 With every appointment slot, they have reminders that if you don't have $2,500 to drop on a dress, you'd best keep walking. You also give them details about your wedding, the theme, your price point, your general taste in dresses, and a link to your Pinterest board (yes, really).
When I got to my appointment with my entourage, we were taken by the bridal consultant and an intern to a little fitting room. I was given a robe, like I was in a very fancy gynecologist's office.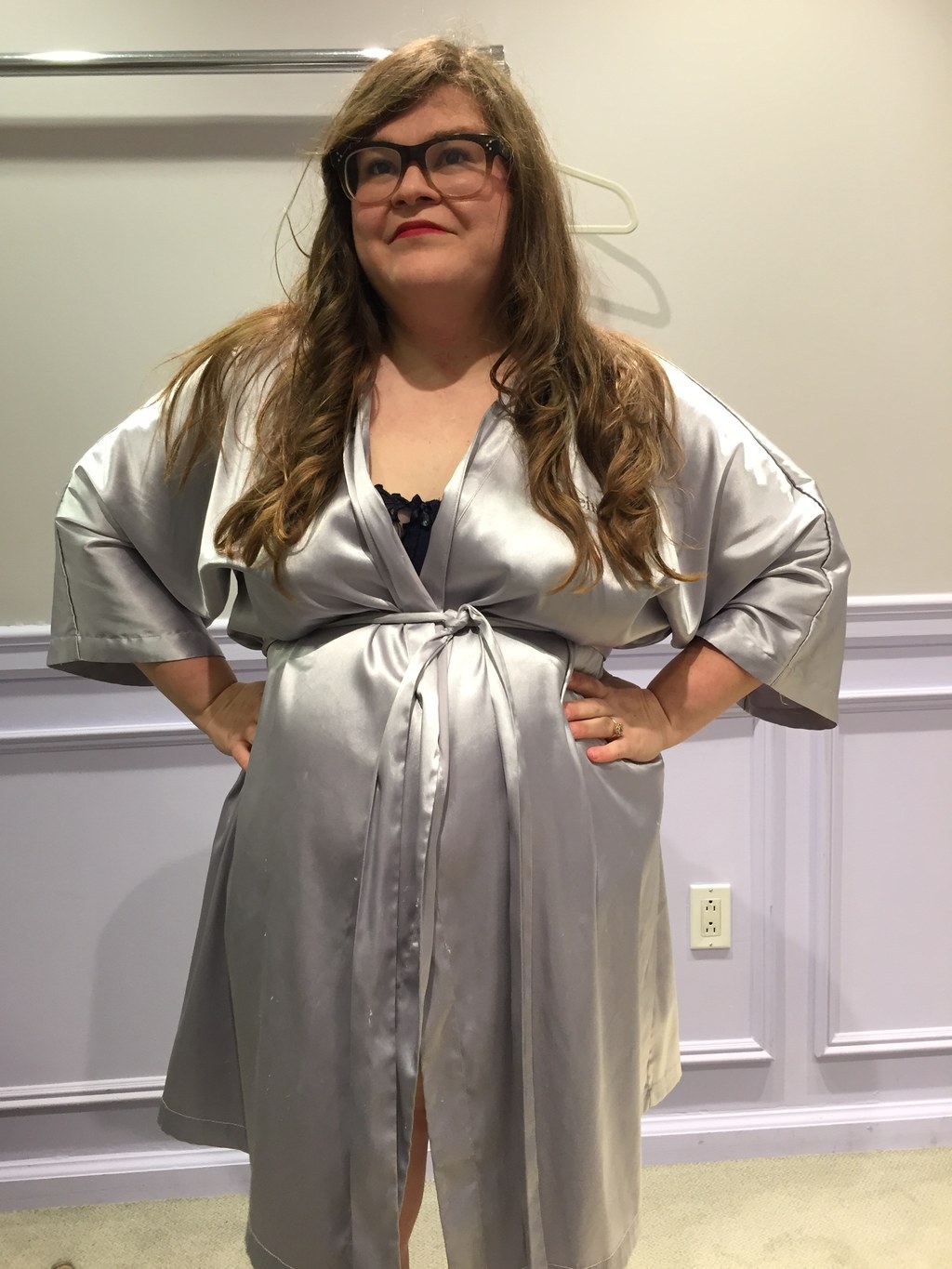 I tell the consultants that I like ball gowns and lace, and they go off to pull some dresses for me from the mythical ~sample closet~.

This Jim Hjelm ball gown was the most overwhelming thing I have ever put on my body.
Seriously, it felt like I was putting on every dress ever made on earth at the same time.
Also, I was not prepared for how GRAVEYARD QUIET the room was while people waited for me to give my opinions on this dress.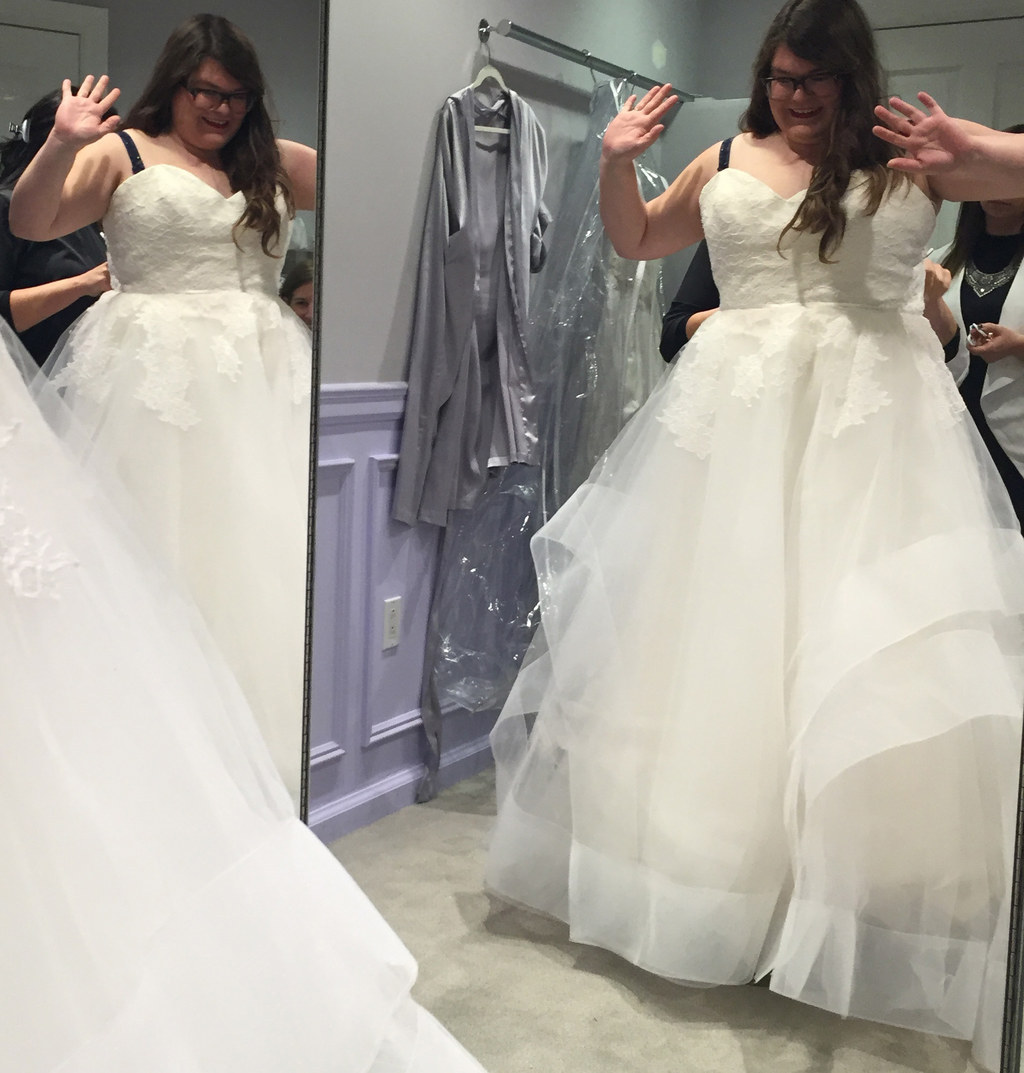 This Anne Barge dress was the most awkward. I felt a bit too much like a clumsy girl at the prom, and it pretty much sealed it for me that ball gowns may just not be my thing.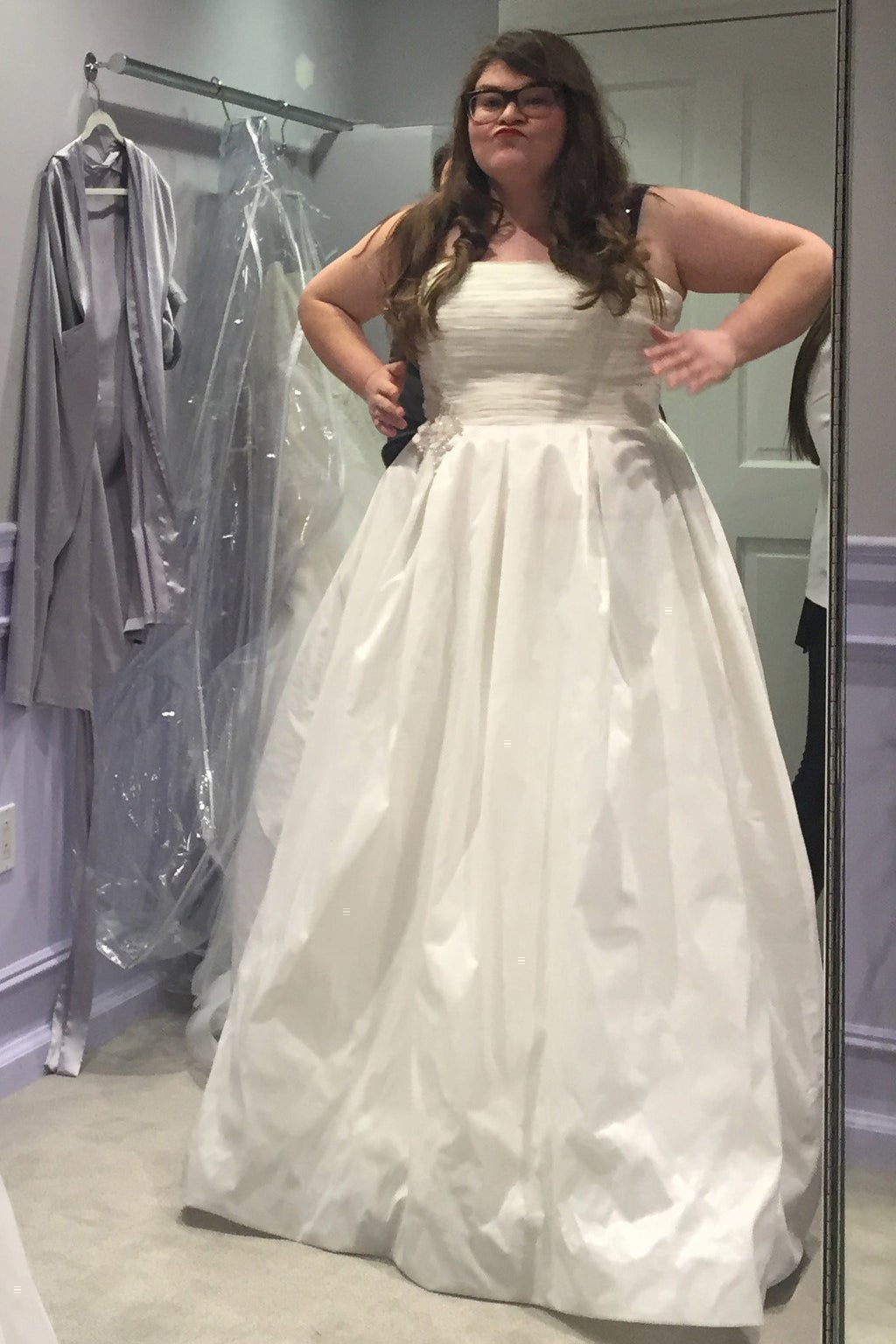 Seriously, I don't know what I thought ball gown skirts were stuffed with before this (air? IOUs?), but I didn't get this far in life only to get taken out on my wedding day by a $3,000 cloud.
After realizing that I actually maybe don't like ball gowns, my consultants went to go fetch some alternative silhouettes.

This Maggie Sottero was the dress that I was the most surprised (and scared) by.
I usually avoid clingy silhouettes because I don't want to give people more ammunition to be cruel than I need to, and I was prepared to shut this dress down. My consultants patiently listened to my million excuses for why I couldn't possibly like this dress. But even I couldn't help but admit after five minutes of grumbling that my anxiety was blinding me to how nice this was.
Then — because it seemed like I was developing feelings for the dress — the consultants left me wearing it for a few minutes while they stepped out (I'm guessing because that way I'd get attached to it).
They also brought me some A-line dresses, which I belatedly realized were what I originally thought I'd meant by ball gowns (I am so in over my head).

I was the most frustrated by this Michelle Roth dress because it was SO CLOSE to what I thought I wanted, but wasn't quite there.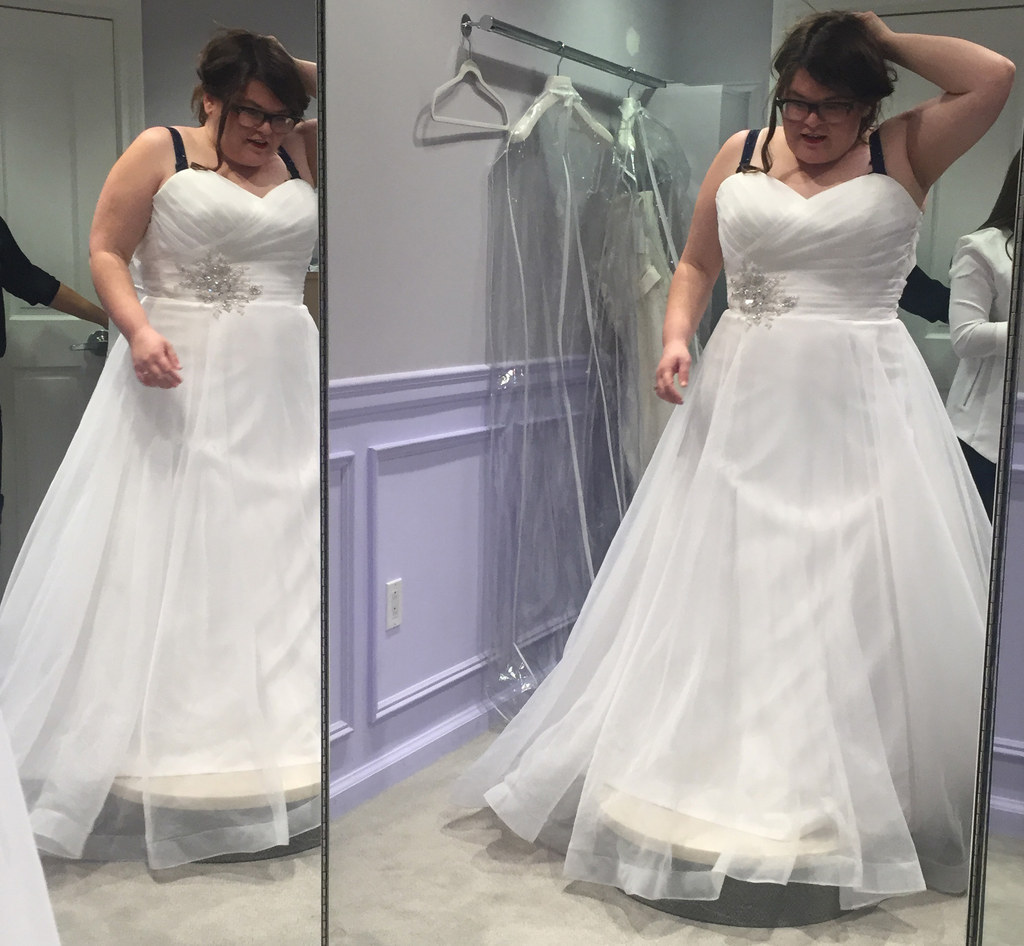 This other Michelle Roth dress was the most exciting dress I had ever put on. It was like a wheelbarrow full of puppies who never leave you voicemails.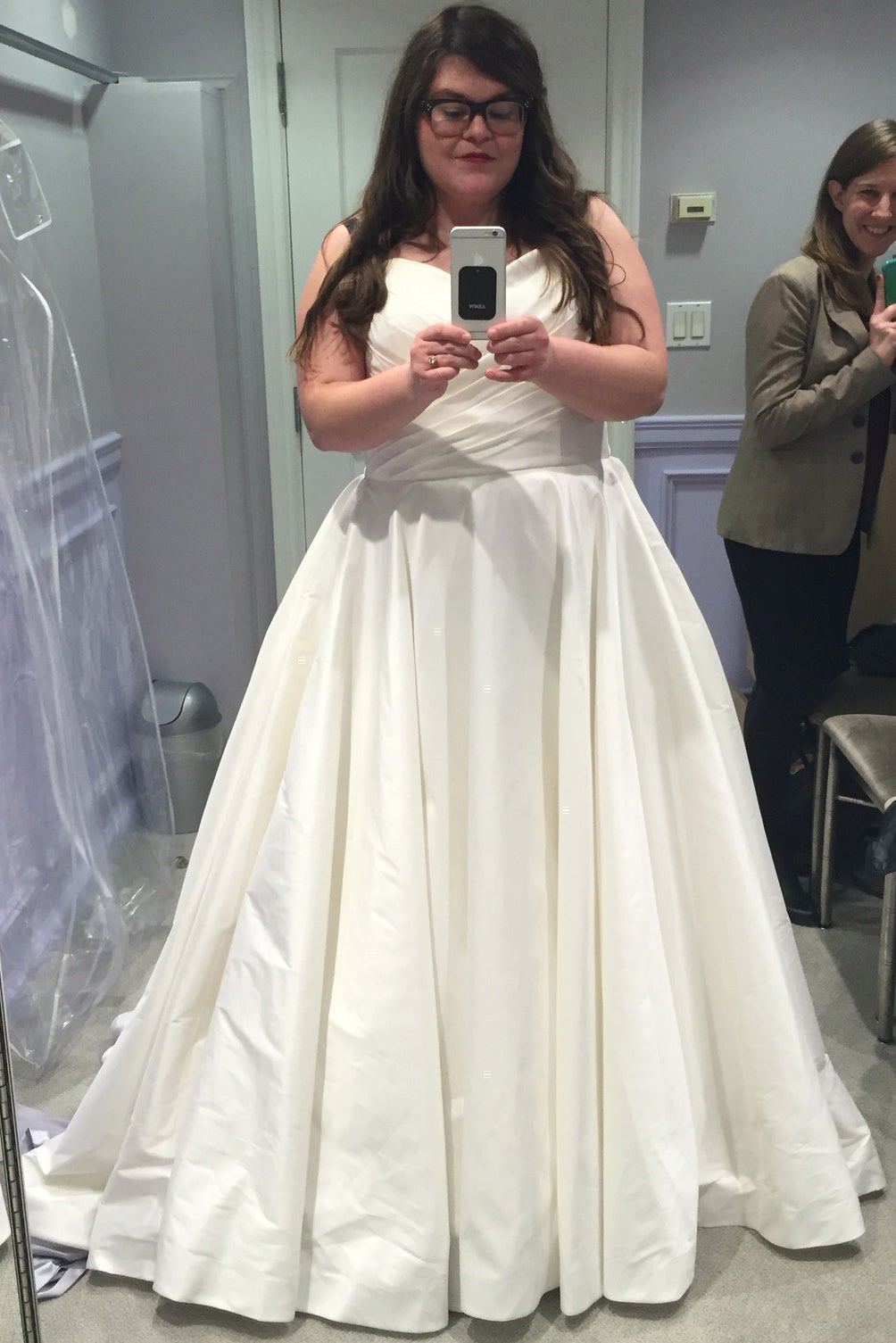 For the second time, the consultants left me alone wearing the dress, because duh, it was so beautiful that I was literally just twirling in circles while cursing. Then, in one of the more intimidating moments of my life, one of the owners popped her head in to my fitting room and let me know that she thought the dress was very beautiful and "slenderizing."
It was a real hard sell. There's something about being told that you look thin that makes your credit card just pelvic thrust its way right out of your wallet.
When the consultants came back to ask how my one-on-one date with dress #5 went, I asked to try on belts with it. There was a noticeable uptick in their excitement.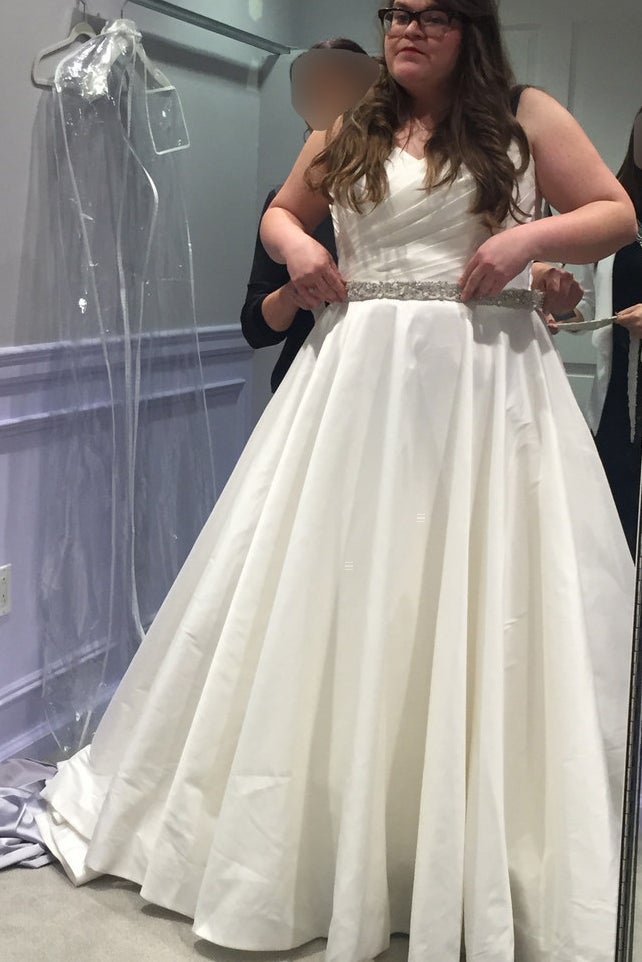 The more I talked about how I liked the dress, the more the consultants talked about how they liked the dress. So while before it was just me giving my opinions into a noiseless vacuum, the room suddenly became a warm, happy positivity echo chamber about how this dress was obviously the best dress to ever say yes to.
And no one actually asked if I wanted to get "jacked up," but after I tried on the belts, they asked if I wanted to try a veil.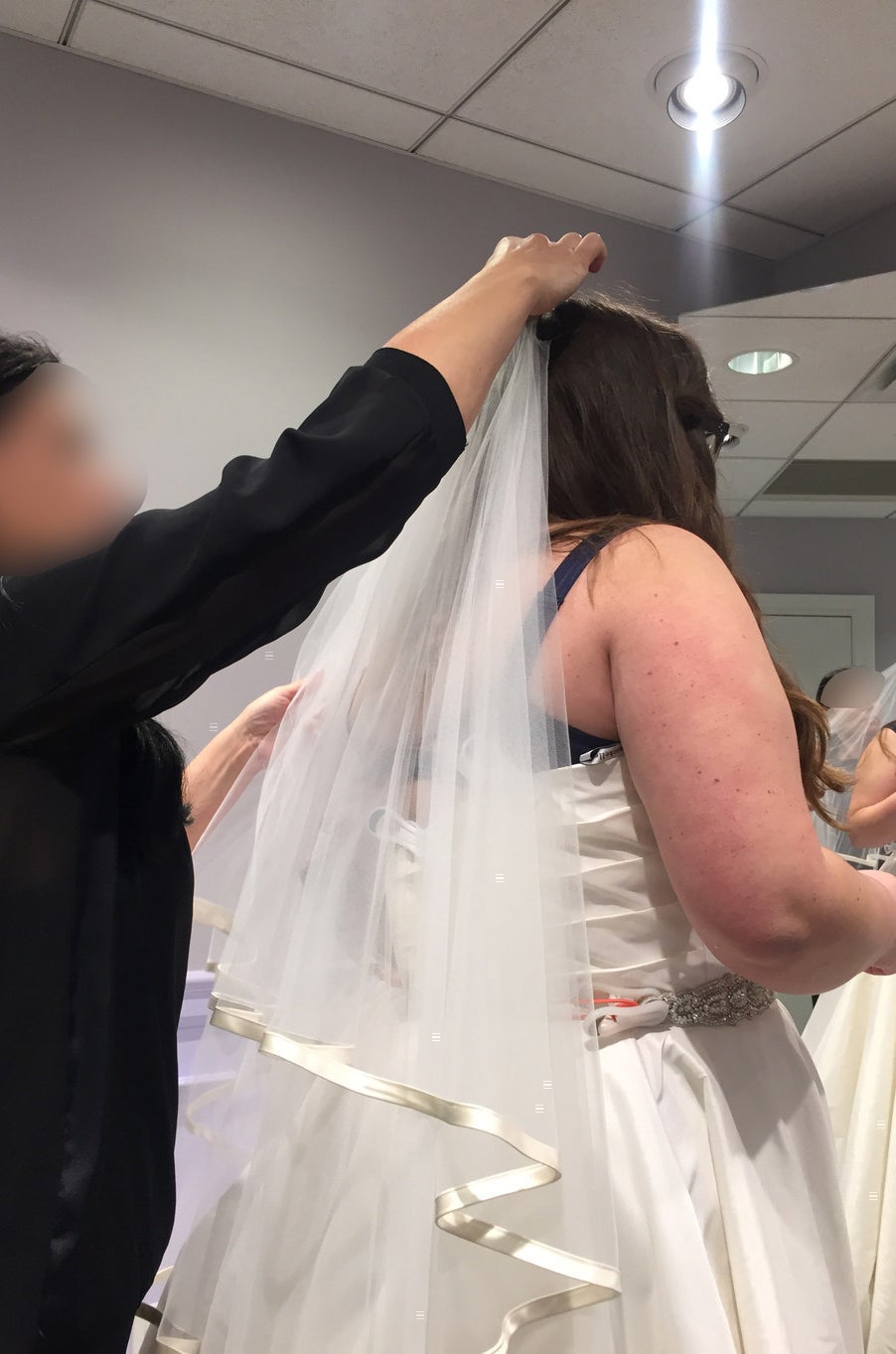 I know it seems like such a small detail. But CRAP CRAP CRAP it really made such a difference. I realized that this dress was going to be a real contender and that I was probably going to have to come back with my mom. SORRY, MOM, KLEINFELD IS CALLING.
I said I needed some time to think about dress #5 and I thought the appointment was over...
But then there was a BONUS ROUND: The consultants asked if I wanted to pick out any dresses from the stock closet to try on. We were going INTO THE STOCK CLOSET!
And HOLY CRAP the stock closet was an ocean and I basically drowned bye forever.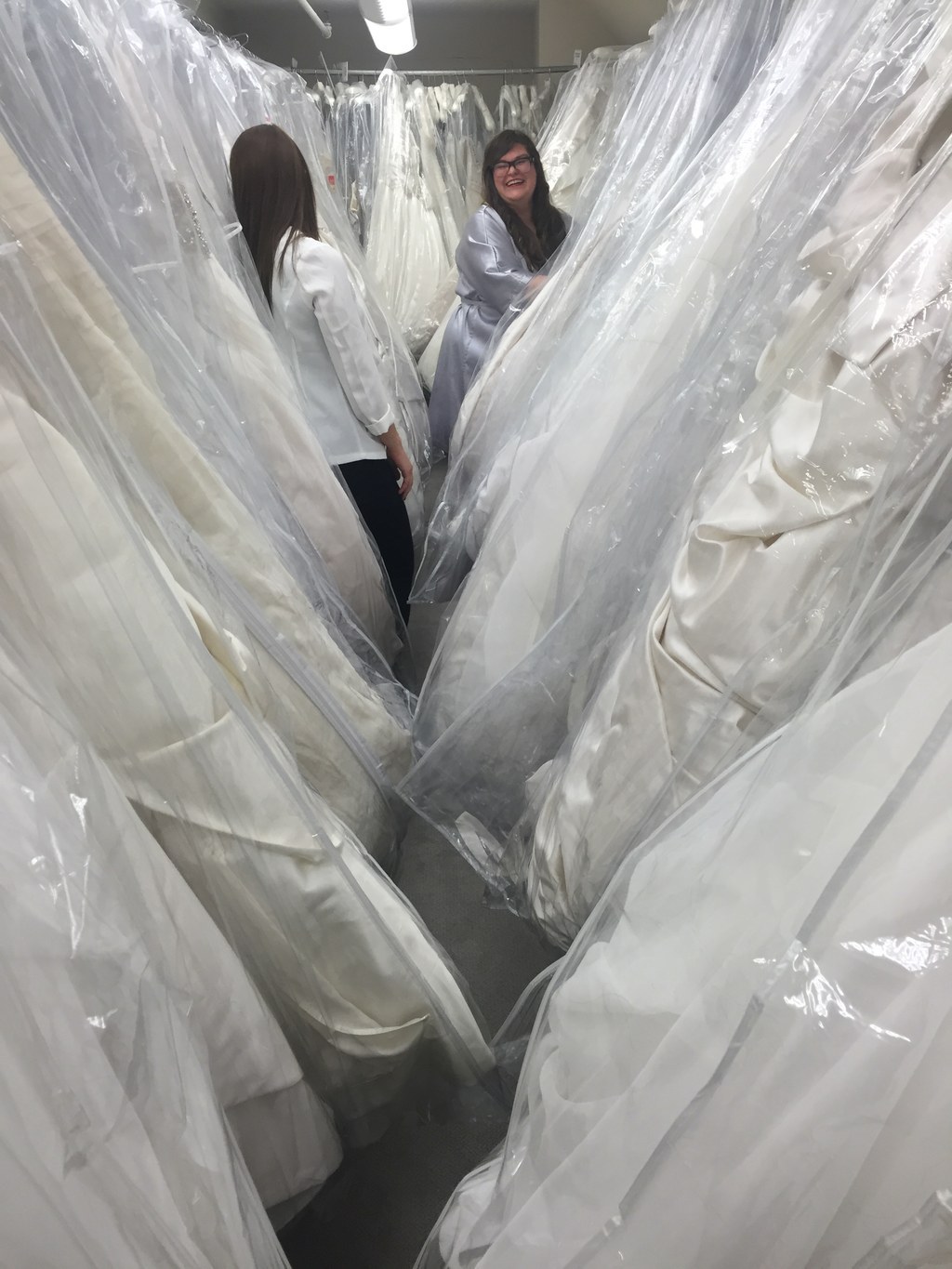 However, the dresses I picked out from the closet only served to prove how much the consultants really knew what they were doing:


This Anne Barge dress was my boobs' least favorite because it flattened in the most lovely and vengeful way, like an evil stepmother.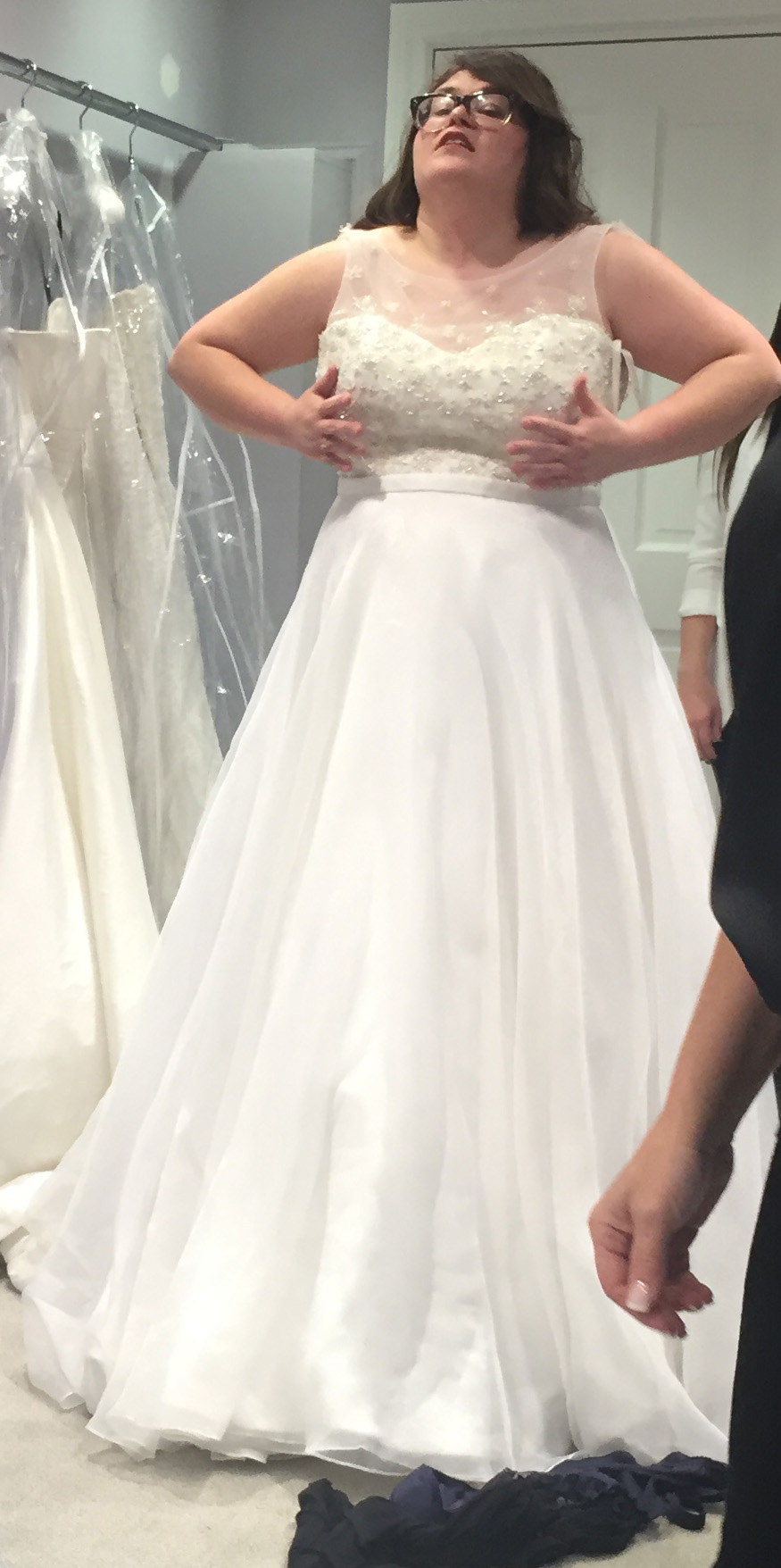 And while I didn't walk away with a dress, I do have a ~major contender~ and I got some insight on some of the Kleinfeld process (though I'm sure every experience is different):