Last month, TikTok user @mountaindewbarrymore asked people to share the unsupervised things they did as children that could have killed them:
In her video, which has over 2 million views, she explained how she used to try to breathe underwater. And, it turns out, a lot of people did some very unsafe things in the bathtub: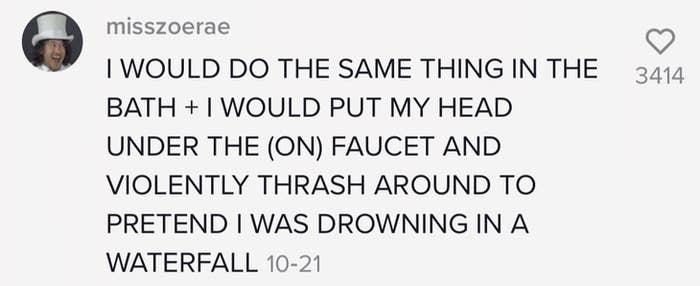 Anyway, user @vududoll999 recently saw the video and told a story about how she and her siblings used to put their youngest brother in the dryer AND START IT because he was the favorite:
Her video also went viral, causing the original video to start trending again.
So, we went through the comments to find some of the wildest responses. Here they are...
This person used to drink ~potions~ made of toxic chemicals:
It turns out it was fairly common for people to eat glow sticks:
This person figured out a way to make their own ice skating rink at home:
This person is very lucky they never accidentally suffocated themselves with their "parachute":
This person used a sleeping bag to create their own roller coaster on the stairs:
This person used to ingest pounds of dirt:
Several people admitted they licked light sockets:
And there were quite a few people who used to drink medicine:
This person would play an extremely unsafe version of hide-and-seek:
This person loved peanuts, even though they were life-threatening:
And this person's friend used to love soap:
This person played with fire in the most dangerous way possible:
And this person lit their hair on fire for fun:
This person would fight their sibling with actual knives:
This person used to eat cough drops like candy:
And this person used to eat any wild outdoor mushroom they could find:
This person used to weigh herself down at the bottom of the pool:

This person put foil in the microwave like it was NBD:

And, finally, this person used to try to tame wild buffalo:
Oh boy, the things kids do when their parents aren't looking! Do you have any wild things to add from your childhood?! We wanna hear about it in the comments!