Aurora Garcia is 20 years old and recently went viral after sharing the reaction her skin had to a popular skincare product on TikTok.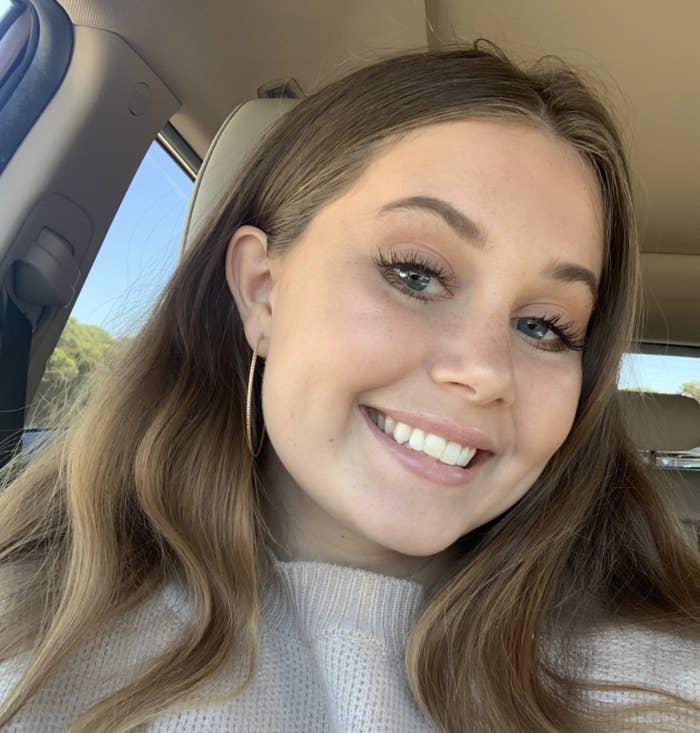 BuzzFeed spoke to Aurora, who said she has struggled with blackheads on her nose and chin for a while. "When I saw The Ordinary Peeling Solution on TikTok, I ordered it because it seemed legit — considering so many people have reviewed it," she said. After receiving it, she patch-tested an area on her upper cheek, left the product on for about five minutes, and didn't experience any tingling or reaction on her skin.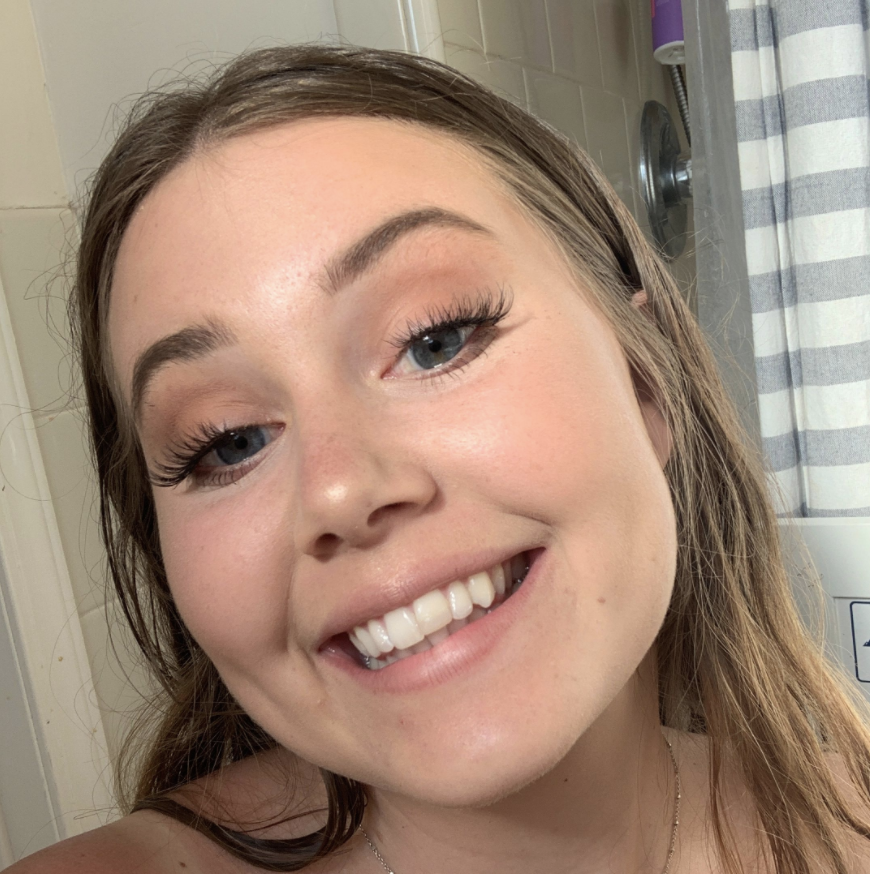 Aurora then decided to apply the product to her problem area, which is her T-Zone. The day after she used the peel, she began seeing little bumps appear on her chin. She also said she experienced a tightening and burning sensation.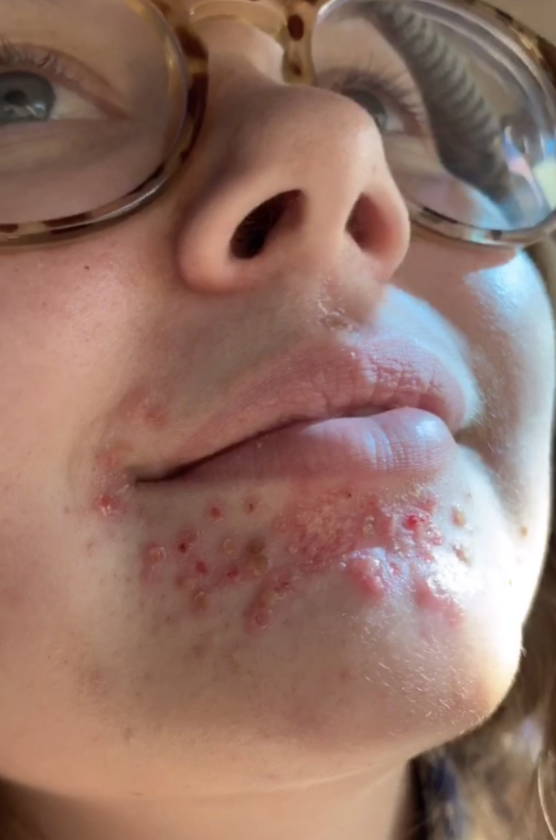 After Aurora first saw the bumps, she immediately stopped using any and all skincare products on her face. "By the third day, there were blisters covering my chin. At this point, the pain was probably about a five. However, as days went by, the pain got worse. I couldn't eat, I barely could open my mouth, and I had to keep a protective gauze on it."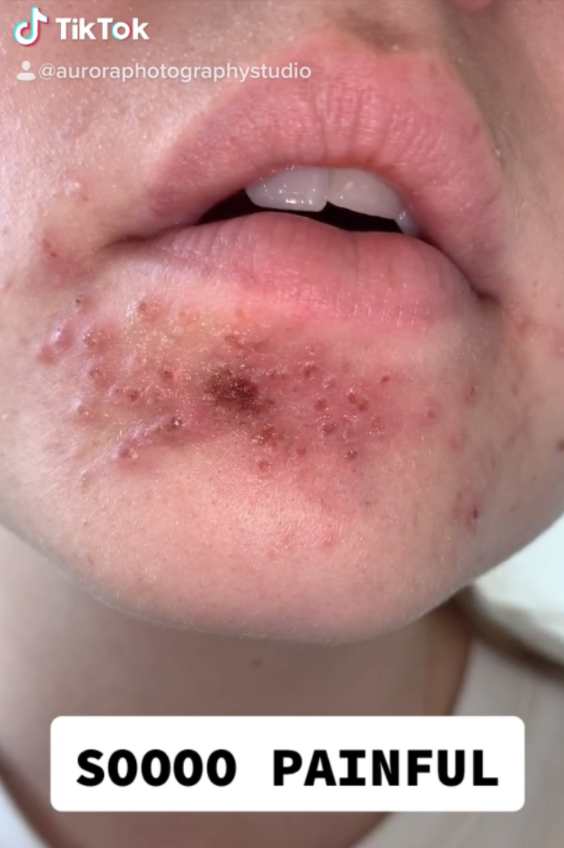 Aurora decided to go to an Urgent Care center, where she was told she had impetigo and was given antibiotics and ointment. "However, I have received a lot of messages from people who say that it is definitely perioral dermatitis," she explained.
Aurora's skin continued to get worse, and she started getting irritation around her eye, so she went back to the doctor — where she was diagnosed with impetigo again. "I have always had sensitive skin, but I've never experienced anything this crazy," she said.
Since sharing her story on TikTok, Aurora said she's had people telling her to use things like bleach and even powdered sugar on her face to help heal it. "The whole situation has been very hard on me, my self-esteem, my relationship, and my good night's rest. My skin is completely scarred and it is going to take a long time and probably some micro-needling to heal it," she said.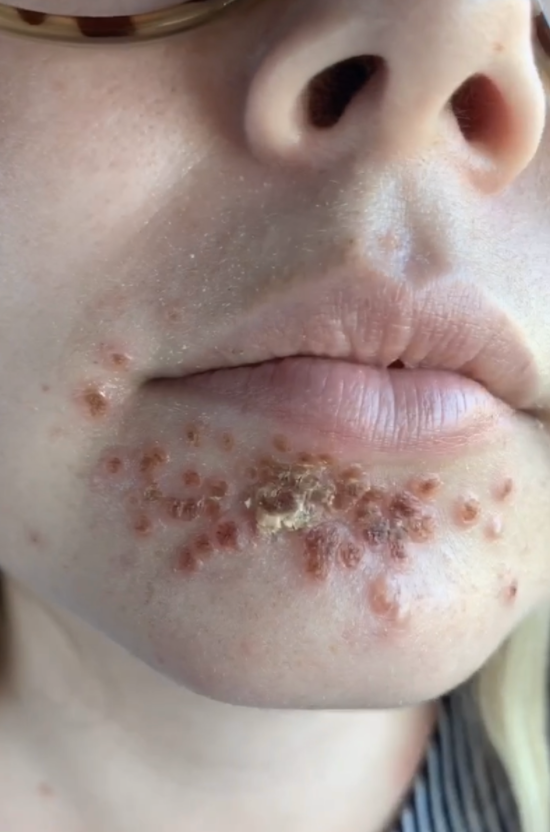 To get a little more insight about what may have happened to Aurora's skin, BuzzFeed spoke to Dr. Joyce Park, who is a board-certified dermatologist and creator of Tea with MD.
Dr. Park said that, first and foremost, it's important to remember that everyone's skin is different, with different sensitivities and different levels of tolerance to active ingredients. So, just because one product works for one person or influencer, that does not mean that product works for everyone universally. The Ordinary's Peeling Solution is not a bad product, it is just not ideal for every skin type.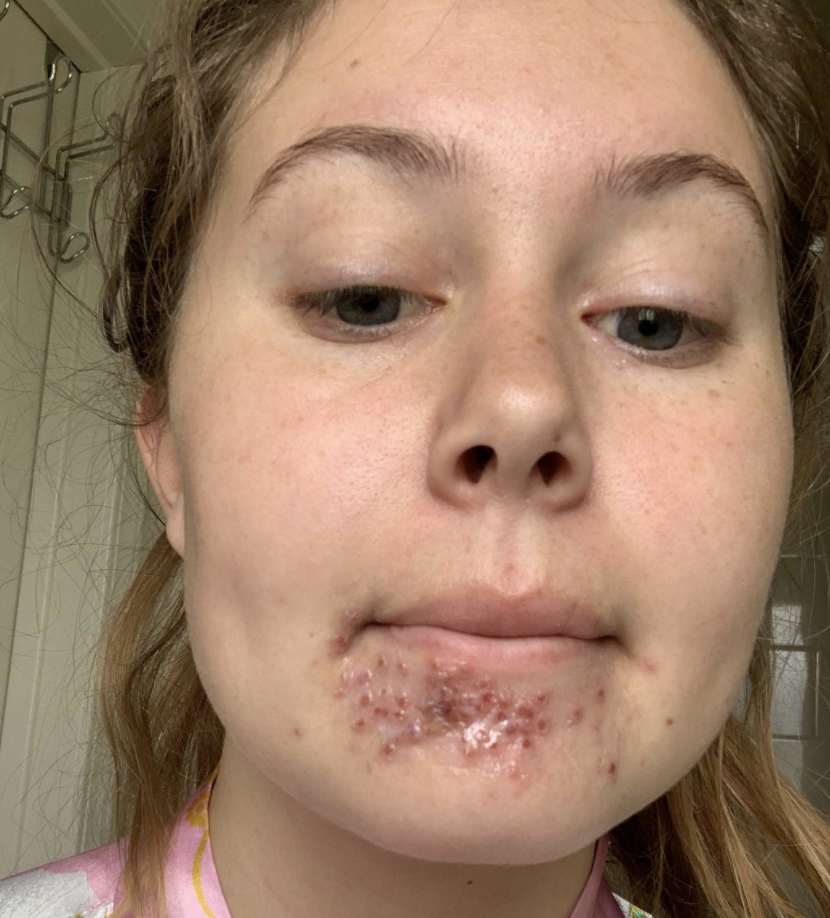 One way Aurora may have been able to prevent what happened would have been by letting the product sit on the area she patch-tested for a full 24 hours — not five minutes. "I recommend doing a small test area when starting a new skincare product, especially if it contains potentially irritating ingredients, like acids at high concentrations. This means placing a small amount of the product on an area of skin that isn't too noticeable, like the side of your face or inside of your wrist. Then, you have to wait one day to see if you get a reaction before you start applying it to the rest of your skin," Dr. Park explained.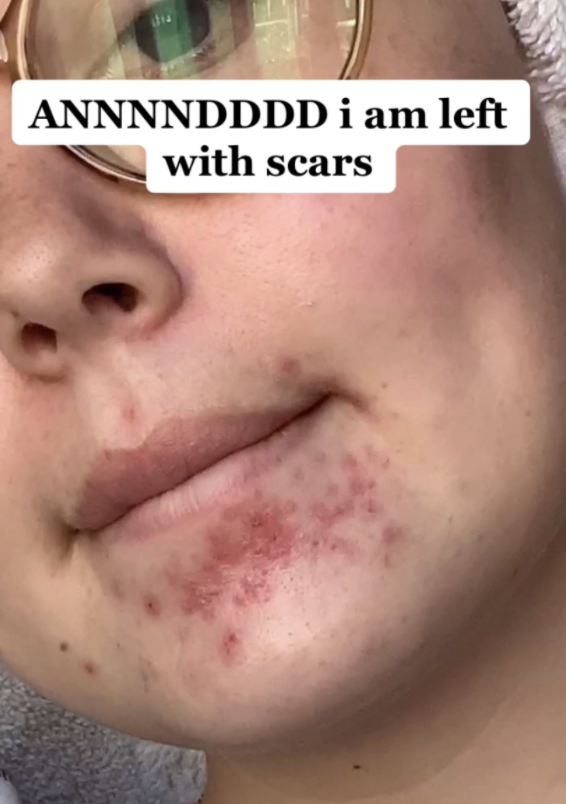 Dr. Park said that she definitely recommends Aurora see a dermatologist going forward. "Again, I want to emphasize that, just because a product is deemed helpful online by influencers, it doesn't mean this product works for everyone and every skin type. Please do a small test application and wait a day to see if you react prior to fully applying something with such high concentration of potentially irritating ingredients. And if you start to develop redness, crusting, sores, pain — please, please see a doctor ASAP!"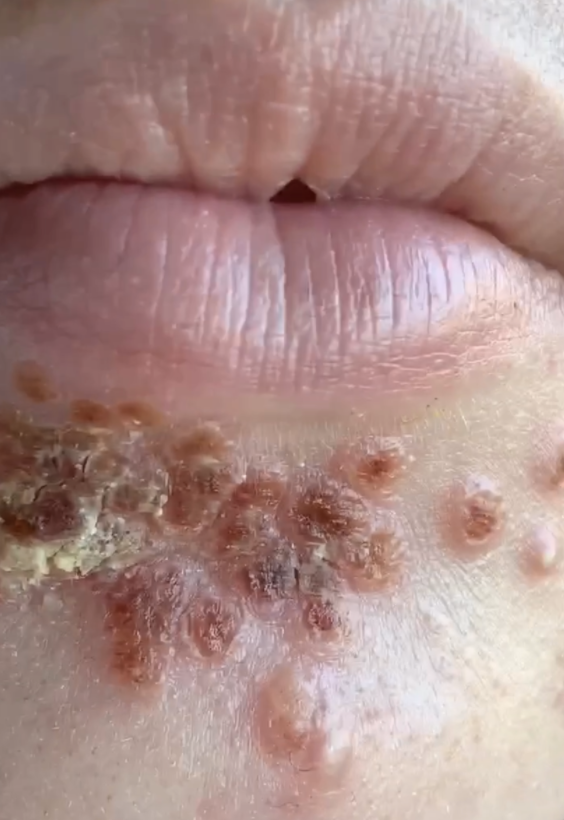 Aurora said she hopes her story helps prevent this from happening to other people. "My advice is to not believe everything you see on social media when it comes to skincare advice, no matter how credible the person seems. Also, I've learned that everyone's skin is so different that, if you really do have a skin problem you would like to fix with chemicals, please go see a doctor." The good news is, she is starting to finally see her skin clear up. You can follow more of Aurora's skincare journey on TikTok.