A Petition To "Stop Allowing Immigrants Into The UK" Has Reached 100,000 Signatures
The petition claims immigrants are "trying to change UK into a Muslim country".
Over 100,000 people have signed a petition to "stop allowing immigrants into the UK" which was posted to the government and parliament petitions site.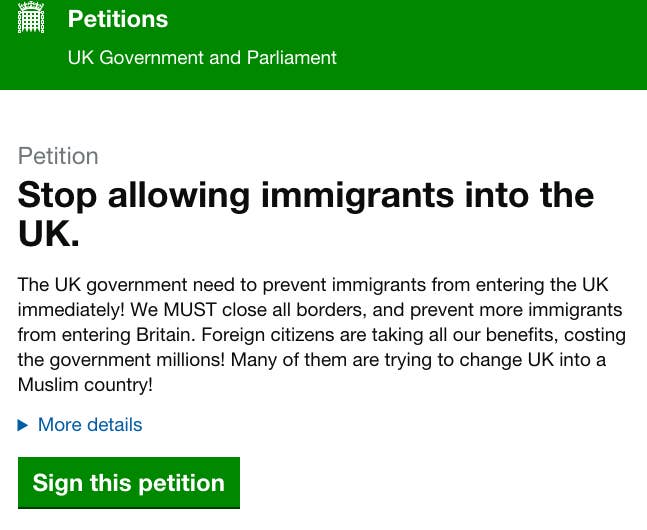 The petition calls for the UK's borders to be closed to prevent immigrants from trying to change Britain into "a Muslim country".
The UK government need to prevent immigrants from entering the UK immediately! We MUST close all borders, and prevent more immigrants from entering Britain. Foreign citizens are taking all our benefits, costing the government millions! Many of them are trying to change UK into a Muslim country!


If the Government does not do anything, then Britain may take in 12 million more immigrants by 2060. There is footage of foreigners destroying British soldiers [sic] graves, which is a huge disrespect to us. Sign this petition to show the government what they need to do!
BuzzFeed News spoke to the creator of the petition, 17-year-old Kieran Worrallo from Walsall in the West Midlands.
Worrallo said that he has "always been thinking about immigrants flooding the UK, so I suddenly thought about making a petition about it."
"I felt like it needed to be created as you may already know our country is being flooded with immigrants and they're taking our benefits, so my petition needs to be debated for our country."
When asked where he found the statistics cited in the article, Worrallo said they were "off an internet page, so not 100% sure if it is correct."
On Monday David Cameron announced that the UK would take in up to 20,000 refugees between now and 2020.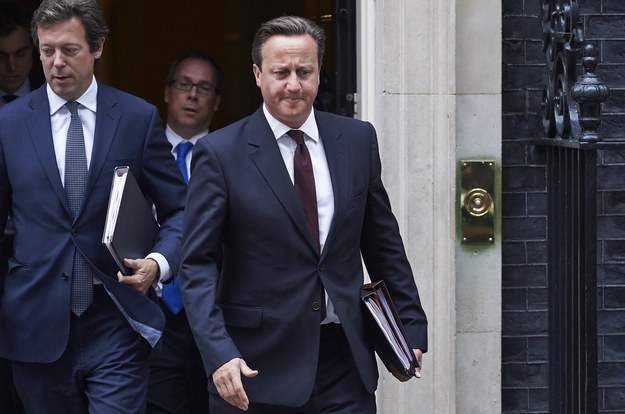 As of Tuesday morning, the petition had reached over 100,000 signatures and therefore will be considered for discussion in parliament.

A petition set up previously calling for the prime minister to "Accept more asylum seekers and increase support for refugee migrants in the UK" has received more than 400,000 signatures.