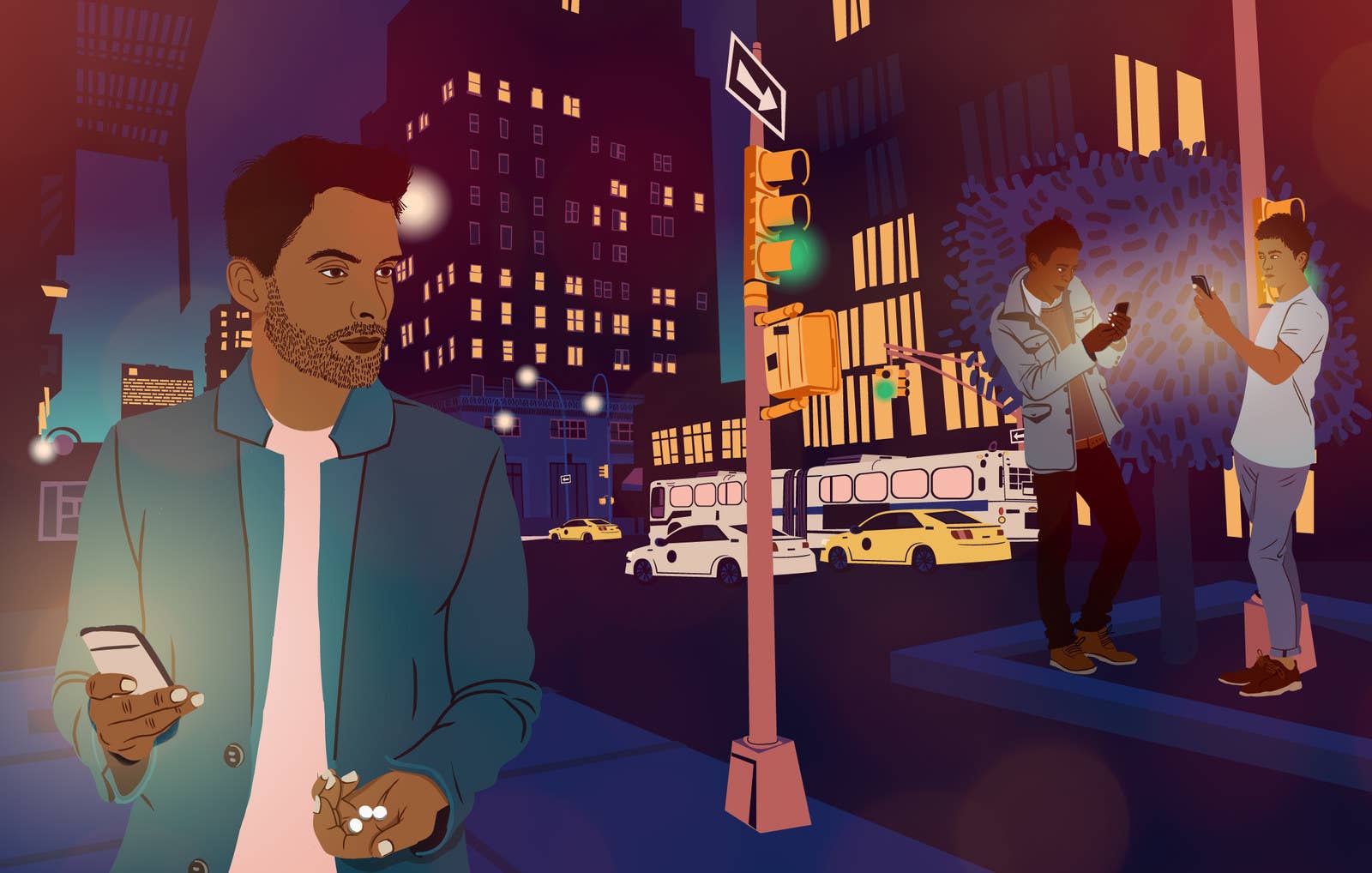 It was a chilly December night. I was living on the outskirts of Delhi, away from my family and boyfriend. My friends had come over for a few drinks and we wrapped up the party at 2am.

I cleaned the apartment and finally went to bed. Just as I was about to fall asleep, a terrible loneliness overcame me. I longed to have someone by my side to see me through the night. I wanted to sleep next to a man and wake up in his arms the next morning.
I unlocked my phone and opened Grindr. I matched with someone and we hit it off instantly. We quickly exchanged pictures and agreed on where to meet. But right after I stepped outside and started hunting for my cab, I sensed that something was wrong. He called me several dozen times during my 15-minute cab ride, frantic and edgy. This behaviour was not new to me. I had been in those exact same shoes months before. He was high on drugs and had lost his grip on time.
I was pissed, but I also looked forward to the sex.
Grindr – an app for gay men to find and meet like-minded people – was one of my ugly addictions. When I was younger and new to the app, I believed that it helps you get to know other gay men and gives you a shot at finding love; but after half a decade of using it, I know it's more useful as a means to find hookup partners to get you through the night.

But I didn't always meet people just for plain vanilla sex. There's been another trend booming on Grindr for the last few years: The app is increasingly being used by gay men looking to combine drugs and sex. Usernames such as "High Fun" and "Chem Sex" are gaining traction, and messages like "Into high fun? Do you slam? Let's split the cost? Let's play high!" are being shared more frequently.
The use of drugs to enhance pleasure is not new, but there is something different about the new drugs flooding Indian markets. Meth, meow-meow, M-cat, cat, crystal, glass, MD, white, powder, stuff – whatever you call them, all the names refer to the same class of drugs: amphetamines. These drugs can help elevate arousal levels while lowering inhibitions for several hours – sometimes days – at a stretch.
But not all amphetamines are made the same. Though MDMA and meth are both amphetamines, they have vastly different effects. While MDMA gives you euphoria, energy, and sexual urges, meth is more toxic and impure, and the high is fast, piercing, addictive, and usually accompanied by paranoia and hallucinations. But crucially, meth is also a whole lot cheaper. Standard rates for meth in Indian metros range from Rs 500–800 a gram, whereas MDMA will cost you Rs 2,000–3,000 a gram.
With the advent of hookup apps, it has become easy to organise drug-fuelled sex parties that carry on for days on end.
Since everyone at the party is high, condoms are often thrown to the wind and consent becomes blurry.
Under the influence of the confidence and energy these drugs provide, users often go way beyond their boundaries and find themselves at risk of violence, sexual assault, and overdoses.

My first planned chemsex encounter was with an old guy who had just returned from the States. He told me he had organised rave parties there. He also told me that he loved pushing needles as it gave him an instant, stronger, and long-lasting high. I agreed to let him push a needle into my vein. Within a few seconds of the drugs mixing with my bloodstream, I was euphoric.

A few months later, I met another guy in my colony who was into meth. One night, when both of us were high, he touched me and I ended up giving him a blow job. He loved it so much that for the next few days, we were just using drugs and going down on each other – on my terrace, at his house, or in any random park at night.
A few days later, still high, I fell off my terrace and broke my leg. That night I had consumed more drugs than I ever ever had before, and at some point in the night, I sold my phone to procure more. The next day I got an email from my boss saying that I was fired.
Drugs can make you do things you would never imagine your sober self doing. Combining it with intimate situations only increases the risk. I remember one night when my friend dropped me in front of my apartment. I stood there in the soaking rain, waiting for his car to disappear around the corner. When he was gone, I walked down the street, looking at every passing man. Finally, I caught the eye of a cyclist passing by. By the time I got to my bed in the morning, I was exhausted and overwhelmed by guilt and shame.
Over the years, I became a connoisseur of watching nights turning into days. I spent weeks lying in bed or looking out my balcony, messaging every person online until I saw the moon go down and the sun come up. I ventured out high, twice or thrice, walking down long and shady routes, gesturing to sleepy drivers for a quick blow job. I would return only after daybreak, when my body was so tired that it only wanted to sleep.
And then there was the threat of violence. Most of my dates weren't aggressive or violent, but their behaviour could be unpredictable, leading to sad or scary situations. In combination with the anxiety these drugs can produce, such situations often feel like they can spiral out of control at any moment. While warning me to stay away from drugs, another friend recounted an episode: "One night, a man walked into my room, high and clearly out of his head. He didn't look anything like the pictures he had exchanged. He insisted on fucking without a condom. I had already told him that I wasn't up for anal sex, but he didn't want to budge. He started forcing himself on me. I had to literally jump out of bed and lock him in the room until morning."
This risk of violence has manifested in a very real form in the UK and the US, where the chemsex scene has taken an even darker turn. GHB, widely known as the date-rape drug, has risen in popularity among chemsex practitioners over the last five years, as has the practice of "speedballing", or combining multiple drugs to devastating effects. In London alone, 61 deaths are reported to have been caused by GHB, between 2011 to 2015. The drug made national headlines in late 2016 when a serial killer named Stephen Port murdered four young men he met on Grindr by overdosing them on the drug. Since then, several news publications across the UK have reported on chemsex and the devastating effect it has had on the gay community.
In India, there are no reliable statistics on men who have sex with men (MSM) – estimates range from 3.1 million (United Nations) to 0.43 million (National AIDS Control Organisation). A sixth of these men are reportedly on gay dating or hookup apps, according to a study by Blue Lotus Advisory's Safe Masti program. However, it is not just app users who indulge in chemsex, or high fun, as it is called in India. In my experience, autowallas, truck drivers, and labourers too engage in MSM activity, with or without drugs.
Why is drug use so common among people with an alternate sexuality or identity?
Data about drug use in India in equally unreliable, with the latest (and possibly only) national survey on drug use in India – the National Survey on Extent, Pattern, Trends of Drug Use in India – being more than a decade old. The only categories of drug use it offers data on are heroin, other opiates, cannabis, sedatives, and the rather broad "injection drug use". If international statistics are anything to go by, drug use in general tends to be higher within the MSM community. According to an American report, 20–30% of gay and transgender people worldwide abuse substances, compared to 9% of the general population.
I've always wondered why I even started doing drugs in the first place. For me, it was because it transported me to a world where stigma, stereotyping, typecasting, abuse, shame, and bullying didn't exist. I always felt better when I could lock myself in a room and get off on whatever substance was available. But the sense of escape is short-lived.

Feelings of guilt, shame, regret, and depression hit you the morning after. "Every time I shoot that needle through my vein before having sex, I wake up the next morning with terrible guilt and suicidal thoughts," said one of my many dates on Grindr. "I curse myself, my existence, my choices, and my lifestyle until the stuff wears off." A friend who uses hookup apps regularly, but only for sex, said: "Last time someone slammed a needle on my arm, I lost sense of time and place to wake up next morning naked at his house. I had a slight sensation of pain in my body, my mood was at its worst, and I couldn't process what had happened the previous night."
Amphetamine use has been clinically linked to anxiety, bipolar disorder, depression, psychosis, sexual dysfunction, and sleeping disorders. As per Indian government statistics, 3,647 suicides were reported in India due to drug abuse and addiction in 2014.
Drugs are generally bad for mental health. And people with alternate sexualities don't rank too well in mental health. Combining the two makes everything worse.
I've experienced paranoia, anxiety, depression, and suicidal tendencies after quitting drugs. I've seen the self-confidence and esteem of friends plummet before my eyes. Many chose to take a break or check into rehabilitation centres.

When you add STDs and STIs to the picture, circumstances appear dire. According to NACO estimates, between 4.3% to 14% of MSM live with HIV across the world. Chemsex parties where unsafe sex and shared needles proliferate can become a hotbed for the spread of HIV and hepatitis. To make matters worse, studies show meth may make antiretroviral treatment slightly less effective. Sexual dysfunction when not on the drug can contribute to a high rate of relapse, locking users into a morbid loop.
I still remember the last time I indulged in chemsex. I remember it as the day I came very close to being raped. I had organised the party, but I remember thinking that everyone in the room was super weird. There was a guy there who fucked everyone in the room except me, one after the other. He just rolled his pants down and started fucking each of them. He didn't stop and kept on switching partners and throwing away used condoms. After he was done with everyone at least twice, he set his eyes on me. As the night slowly faded into the next day, he pleaded, tried to force himself, and lovingly tried to persuade me. I turned him down, repeatedly. I was terrified. The house was empty. How far would my screams go? Finally, several hours after daybreak, he agreed to let me go. The moment I got out, sunshine burst upon me. It was overwhelming and I felt alienated from the rest of the world that was up, fresh, sober, and running.

I got myself tested for STDs and HIV a few weeks later, and I continue to get myself tested every three months. A part of me is terrified when I get tested – it remembers everything I did when I was desperate, alone, and under the influence of drugs.
For me, it was loneliness that had done me in. My boyfriend of eight years had begun to openly cheat on me. Friends from college had got me hooked to drugs. To appear cool and man enough, I tried every drug out there – from marijuana to LSD – and was addicted by the time I was 20. We mostly cut fine lines of the chemical, usually on our phones or iPads, in colony gardens, building terraces, or parking lots – roll a note, snort it up, increase the bass, and race down empty streets at night. It was the coolest thing to do before the repercussions hit.
Eventually my friends got busy with their lives and I sought out people on Grindr.
It took me two years, several orgies, a battle with depression and anxiety, and risking rape to finally give up drugs. Life is tough as a gay man, but I don't think it's all bad. It's still possible to stay sober and enjoy sex. My life is now slowly getting better and I hope to find a steady relationship soon.
When speaking of chemsex, it is important to not repeat the mistake of the 1980s, when there was so much anger, bitterness, and stigmatisation that arose when the connection between HIV and the gay community was revealed. I believe that it is vital that we have a conversation about chemsex, but without the judgment. The longer it remains behind closed doors or is discussed only in whispers, the more lives will we be putting at stake.
The author's name has been changed to protect their identity.

If you're struggling with issues related to drug addiction and want to seek help, the Government of India provides free rehabilitation and de-addiction services at the following hospitals around the country.
1. Department of Psychiatry, King Edward Memorial (KEM) hospital, Mumbai
2. Drug De-addiction Centre, Bhardawadi, Mumbai
3. Rajawadi Hospital,Rajawadi, Mumbai
4. Civil Hospital, Osmanabad
5. Department of Psychiatry, Regional Institute of Medical Sciences , Imphal
6. District Hospital, Thoubal
7. District Hospital, Bishnupur
8. District Hospital, Churachandpur
9. Department of Psychiatry and De-addiction Centre, PGIMS, Rohtak
10. Civil Hospital, Kapurthala
11. Civil Hospital, Bathinda
12. Department of Psychiatry and De-addiction Centre, King George Medical University, Lucknow
13. Department of Psychiatry, Kota Medical College, Kota
14. Kotla Mubarkpur , New Delhi