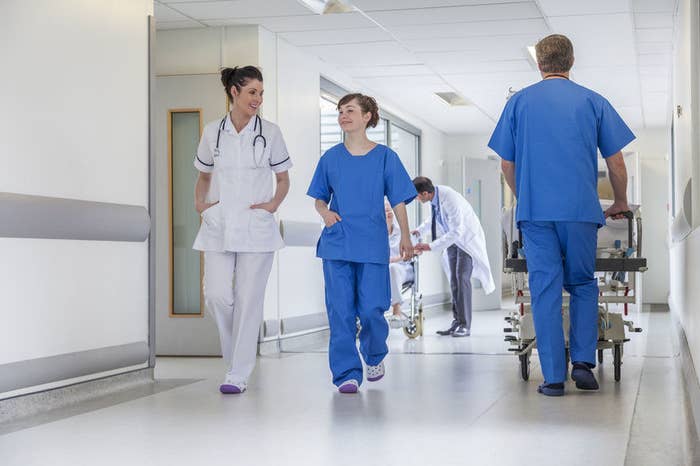 When it comes to options, there are thousands of shoes available for nurses to choose from. However, most of these shoes can be broken down into five different types, each having its own benefits, depending on the nurses' situation. They are the best shoes for nurses considering the nature of their job, for instance, working a double shift on their feet. These nursing specific shoes are built to cover a large distance. Besides, these slip-resistant, cushioned, and cute shoes are perfect for their active workplace.
These shoes include clogs, crocs, athletic sneakers and casual shoes and slip-on.
While the requirements for what is allowed in a healthcare center may vary based on the facility, most healthcare centers will require nurses to wear closed toe shoes with covered heels that offer an ideal level of foot protection and slip resistance.
Although there are tons of shoes you can buy that fit into these five types, it's important to understand that not every shoe is for every nurses and everyone will have different opinions of which shoe is the best; however, this guide will shed some light on the differences between each shoe and help you decide which nursing shoe is best for you.
1.
Clogs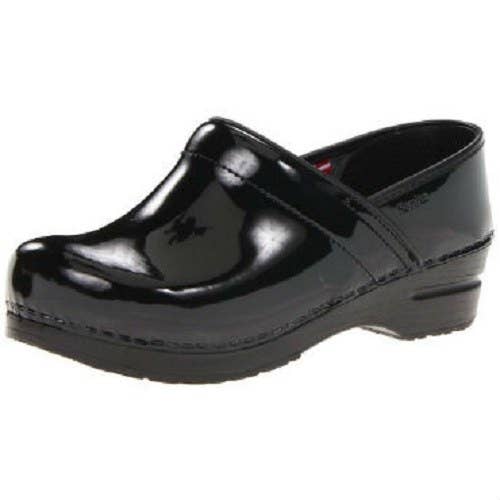 Clogs are a very popular shoe within the nursing community because of their comfort, arch/heel support and protective design.
Clogs are shoes that are typically made with a closed toe, open back design, and an optional rear strap to help keep the clog from slipping off; however, numerous manufacturers have designed some of their nurse clogs with a more closed/lifted back and removed the strap for added overall protection.
Many nursing clogs also focus on work-related features such as improved slip resistance, reinforced toes guards, waterproof materials or coating and arch supportive heels.
These shoes can be made out of various types of materials such as resin, leather or suede, which all have their own pros and cons based on the nurses work function.
This can include factors such as weight, durability and stain resistance.
The many great aspects of clogs will likely make these a premium choice for nurses who need a good all-around work shoe that has great comfort, support and built in protection.
With that said not all nurses would agree on clogs, and some will prefer sneakers or crocs based on their own personal experience, foot type and medical condition.
2.
Crocs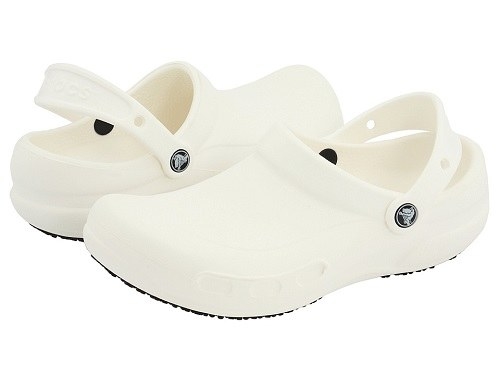 Crocs are generally made with a solid foam resin material and often feature a closed vented air portal front and an open or low-level heel design.
Like clogs these shoes may also come with an optional rear strap; however, the overall shoe may consist of a single mold solid resin.
In many cases, crocs are built with top or side vents that allow the foot to breathe comfortably, however, clogs designed for the nursing or medical community may be made without vents to offer greater foot protection against spills and germs.
The foam/resin material that the croc is made out of allows it to conform easily to and flex with the wearers foot to provide them with maximal comfort.
In addition to being comfortable, crocs have also been listed as having medical benefits by certain podiatrists and may be recommended to people who are suffering from certain medical ailments.
These shoes are also worn by individuals who simply enjoy the feeling of crocs and may use them either as a fashion statement or when performing various activities due to their durability.
Depending on the healthcare center a nurse works for the requirements for shoes can vary significantly and may ban or restrict the use of crocs to the designs that they feel are work safe, which may include requiring shoes with a closed toe/heel design and no exposed air vents.
3.
Tennis / Athletic Shoes
Athletic shoes such as tennis and running shoes provide nurses with a nice balance between comfort and performance since these shoes are designed to protect the feet of people who are always moving and making contact with hard surfaces.
Many healthcare facilities are designed with hard floors that are easy to clean, but can be hard on the feet, so having footwear such as tennis shoes and running shoes that are made to deal with this can be a great option.
In addition to being designed with shock absorption in mind, these athletic shoes are also lightweight and built for comfort and flexibility, which makes walking around in them for long periods of time much less stressful.
Depending on the athletic shoe you look they may be designed with various benefits such as ankle support, memory foam insoles, slip-on or laceless entry, super grip outer soles and ultra-lightweight materials.
For individuals who are athletic and/or are used to wearing athletic shoes regularly, they may want to stick with athletic shoes for both work and personal use as they are already familiar to the wearer and do a great job of supporting various foot movements and speeds.
4.
Casual Sneakers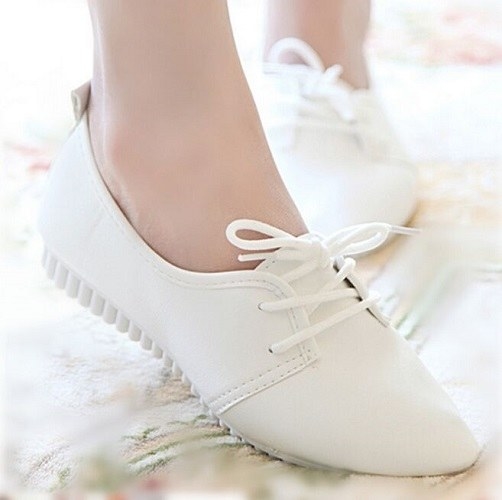 Causal sneakers are a good alternative to nurses who spend moderate but not excessive amounts of time on their feet. Causal shoes can include walking shoes and slip-on or any shoe that is designed for comfortable walking (not running or athletic activities).
These types of shoes are generally very comfortable and have a flat, but grippy outer sole that complements a causal walking gait.
Although casual shoes are great for walking not all shoes are designed for traveling over long distances on foot, so it is important to understand the design and purpose of the casual shoe before making a buying decision.
One of the most compelling reasons for wearing causal shoes is that they look amazing and can be a great choice for nurses who are very trendy and fashionable.
5.
Slip-On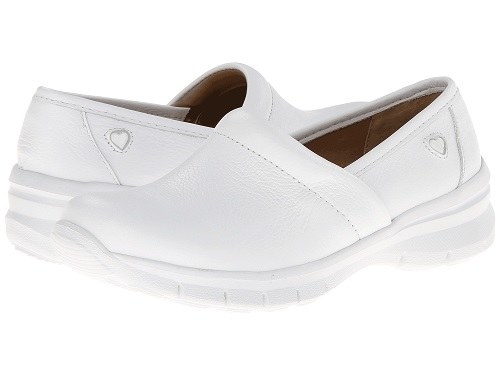 Slip-On offer a designer clog with lab rated slip resistance and a stain-proof coating. These shoes are made for fashion, comfort and extended use, and come in a wide variety of fashionable designs. A popular brand in this category is Alegria Women's Debra Slip-On. The shoe is not only fashionable but also comfortable, easy to move in and provide all day support.
The heel measures in at 1.5 inches with a 1 inch platform and elastic materials that make it easy to slip these shoes on and off.
It is available in a number of solid and colorful patters including solid black or white and patterned designs. A nurse can slip into this women's clog and enjoy the comfort of the removable, cushioned cork and latex foot bed.
Conclusion
As mentioned earlier there are five common types of shoes that nurses tend to wear when they are working. Each shoe has its own benefits as well as pros and cons. Choosing the appropriate nursing shoe often depends on the individual's health (medical condition), foot type and personal style.
Many people aren't aware of just how much of an impact on stress nursing shoes can have on their work performance and happiness until they find the right shoes for their needs. The best shoes for nurses will make performing your job responsibilities easy while minimizing stress and offering optimal foot coverage.
Depending on where you work, some healthcare centers may pass specific requirements that must be met when wearing shoes at work and some facilities will ban certain types of shoes all together. Most places will also require nursing shoes that are slip resistant and protect your feet, especially the toes from falling objects and chemicals.