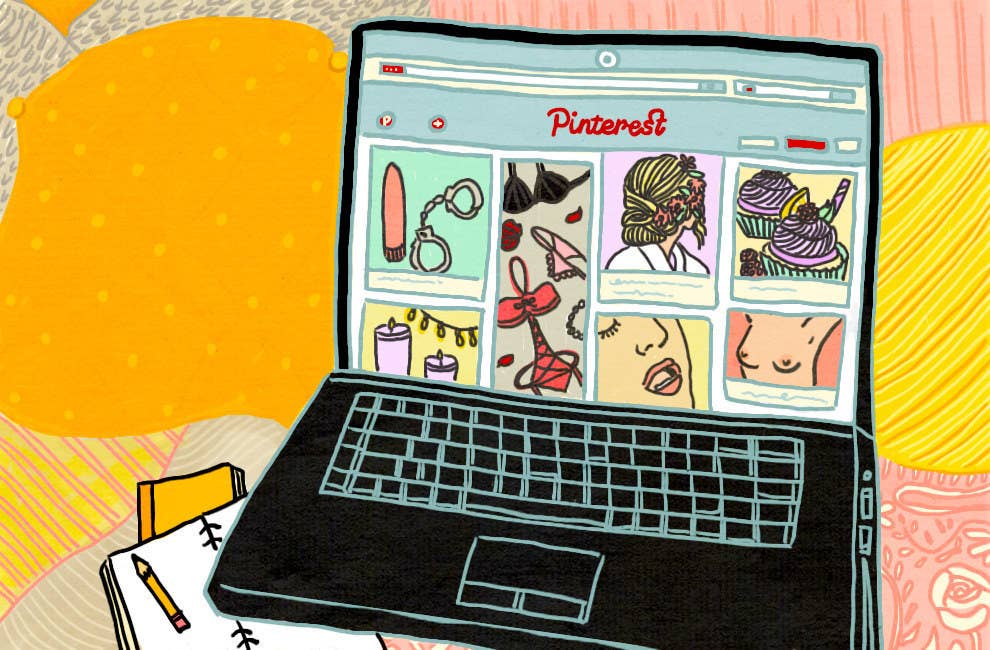 I recently got the chance to direct and star in my own pornographic feature film for the first time. I've worked both as a performer and production assistant for the queer porn company TROUBLEfilms for two years. But when my creative visionary of a boss started art school this fall, they put me in charge as manager, giving me the big opportunity to run the show on a film from start to finish. I wanted to go in prepared. I wanted to prove myself. So I did what countless people planning for a big life event have done. I made a Pinterest board.

I'm not one to slowly wade into the shallows, so I decided my first film as a director would be a threesome. The threesome would be between me, my real-life romantic partner N, and a super-hot tattooed performer we'll call R. My partner, N, has been performing in porn for about as long as I have, so asking him to have group sex on camera would be old hat. Except: We had never had a threesome as a couple before. And, of course, this would be on film, meaning that every awkward moment would be recorded forever. Whee!
But I knew I'd prefer our first threesome to be on camera, even if it added extra pressure to a situation with a lot of potential for failure. I felt that I would have more control over the outcome this way, and I needed that control because I've had bad experiences with threesomes in the past.
For instance, I once woke up the morning after a threesome to find my then-boyfriend and the other woman fucking while I slept next to them, apparently not considering whether that might wake me up or, I don't know, make me feel left out. I've been a part of threesomes where one person was locked in the bathroom crying because they felt left out, and threesomes where I was the one locking myself in the bathroom.

I wanted this to be different. Not only was I in this to (hopefully!) enjoy myself and get off, but I also wanted it to look good to an outside observer, and maybe finally get both fans and other professionals in the porn world to notice me.
And that's where Pinterest came in.

To be clear, Pinterest ​officially doesn't allow any content that is "sexually explicit or pornographic in nature." The site's description of which kinds of nudity are OK ("artistic, scientific or educational") and which kinds aren't is pretty ambiguous. But Pinterest enforces its rules through a lively community policing system, which means flagged content is often quickly dealt with, so I had to keep my porno planning board under wraps. While there are some websites that use a Pinterest-y interface specifically to share porn, I wanted to do my planning on a site I was already used to and where I could share it (privately) with other users.
Rather than repinning other people's content, which is how most people use the site, I used Google to find images or GIFs that inspired me and added those to a private, smutty vision board. (That said, sometimes repinning came in handy for saving ideas on set building, costume making, or other SFW things.)
Planning for a shoot this way was probably the best, and hottest, homework I've ever done. As a performer, I was able to figure out what positions make it possible to have an orgasm instead of worrying about my muscles giving out, or getting a cramp in the middle of sex. As a director, I was finding my own artistic eye.
There's a reason people create storyboards when developing a plotline. It gives the creator a foundation for the arc of a piece, offering visual cues to guide the process and share your artistic/erotic vision with the other people on set. In porn, where clear communication is vital from a director, it's a lot easier to point to images instead of trying to verbally work out whose face should go where. And if you're performing in the scene, it's the most pragmatic foreplay you'll likely ever engage in.
If you happen to be having sex in front of an audience, a Pinterest board filled with positions, lighting, and camera angles that have worked in other situations is a godsend. I don't know how many of you have tried to shoot sex before, but during the throes of passion, people often cast shadows where you need light, or block visibility during a vital moment. Why waste time trying to figure out which positions will make your posterior look best for posterity when other porn studios have already done the work for you?
You can make things much easier for your cameraperson by having something to refer to ­when you're midway through and your mascara is running and you're grinning because you've had a couple of orgasms already and your brain can't think of the next direction. When I was directing mid-performance and stumped about what should come after the cream pie, being able to not use my sex-frazzled brain was all right, as my sensible self had pinned a few possibilities. All I had to do was point and say, "How about that one?"

The ​projected (female) gender identity of Pinterest​ offered one drawback to this system.­ If I'm planning a scene involving femme-­identified folks, I imagine using and sharing a Pinterest board to plan collaboratively would be easy-peasy. Trying to get masculine-of-center people to sign up for the service, even in support of drama­-free sexyfuntimes, was a stumbling block. I think I ended up sending screenshots of the general layout I had set up to my threesome scene companions and camera girl when they declined to sign up for the service.
Will I use Pinterest again for planning a porn scene? Absolutely, as long as they don't kick me off the service for my pervy pinning ways. The visual format makes scene conversations much smoother for people who don't have the same levels of comfort or fluency in sexual negotiations. And the fact that it's online means I have a shot list I can easily access on my phone, wherever I go.
My next board is going to be my sexual bucket (fuckit?) list. I can't wait to do the research for that one. And if you ask nicely, I might send you the link.