Liam Gallagher Leads Manchester Celebs Paying Tribute Following Concert Attack
Musicians, actors, and sports stars who hail from Manchester have been sharing their condolences after 22 people died and dozens more were injured at an Ariana Grande concert on Monday night.
Celebrities who hail from Manchester, or have links to the area, have taken to social media to express their shock and sadness after 22 people died and dozens more were injured at an Ariana Grande concert in the city on Monday.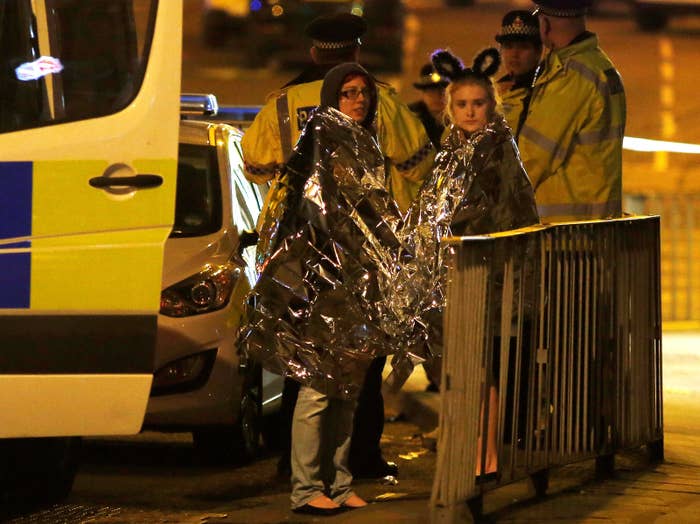 Ariana Grande shared her heartbreak.
And those hailing from Manchester have been flooding social networks. Oasis star Liam Gallagher was among the first to post a tribute.
Along with a number of local musicians.
Charlatans lead singer Tim Burgess said: "An attack on beautiful people who love music. Heartbreaking."
Joy Division and New Order bassist Peter Hook had a daughter at the concert and was relieved she made it home safe.
The Wanted's Max George also shared messages on Twitter.
The 1975's frontman Matt Healy interrupted a concert to rant about the attack with an impassioned speech.
He told the crowd at their Detroit gig: "I'm bored of nationalism and I'm bored of racism. It's over. Nationalism, religion, all these regressive things, they're over. We can't carry on in the way that we're carrying on.
"We're from Manchester and where we used to hang out — the actual place that we used to hang out — someone put a bomb in there tonight.
"And then killed a bunch of kids that were going to a fucking show in Manchester. I don't need to be educated on fucking anything to say — that's bollocks."
And a number of Manchester-born actors and presenters made their own tributes.
Brooke Vincent went down to the scene and described the horror of what she saw.
Coronation Street stars also flooded Twitter with messages.
The local football teams also expressed upset over the explosion, which police are treating as a possible terrorist incident.
Former Manchester United player David Beckham put this heartfelt message across his social media channels.
His wife Victoria Beckham added this.
And Manchester United player Wayne Rooney's wife Coleen described it as "devastating news".
Comedian Jason Manford, who is from Salford, couldn't believe the news and shared numerous posts on Facebook.
He also changed his profile picture to a photo stating "I ❤️ Manchester" and his cover photo to one of his beloved city.

And he broke down in tears during a Facebook Live when he discussed the attack with fans shortly after the news broke.
Manford revealed that his five children are Ariana Grande fans and he could have taken them to the concert if he'd known about it. During the 40-minute video he said: "They want your life to change. For 20 people tonight there's an empty bed in each of their houses... god... Unfortunately hatred is winning – it won't win though, but at the moment it is."