Ed Sheeran Hilariously Reads The Weather On Radio 1
"Don't go outside with your slippers on."
Ever wondered what it would be like to hear Ed Sheeran reading out the weather?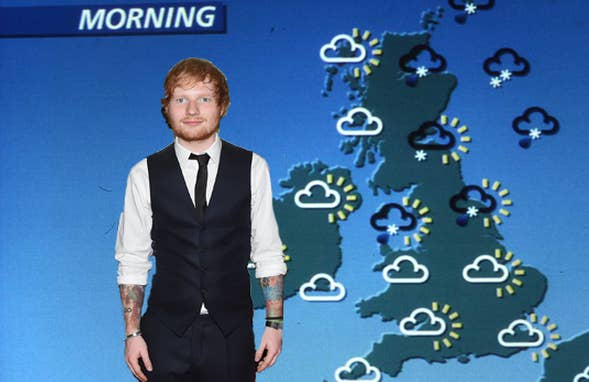 Well now you can thanks to Radio 1 and it's all pretty hilarious.
The singer co-presented Nick Grimshaw's breakfast show on Tuesday morning, when his BFF Taylor Swift also appeared as a guest.
But one of the greatest moments came when Ed was asked to read out the weather by Newsbeat's Tina Daheley. The presenter introduced Sheeran before he made up his own weather report, telling the listeners:
The weather outside is brisk. If you walk out you will get very, very pink cheeks very quickly.

You will need some lip balm because your lips will dry and... that will happen. Also there is a chance that you will step in a puddle today so please do not wear slippers outside.
Which is pretty perfect in our opinion. Tina then gave her own (proper) version of the weather, leading to Ed joking that she was picking on him for his own efforts. <3