Get Your Grill On This Summer With This Barbecue Beer Can Chicken
Beer + chicken = a match made in heaven.
Barbecue Beer Can Chicken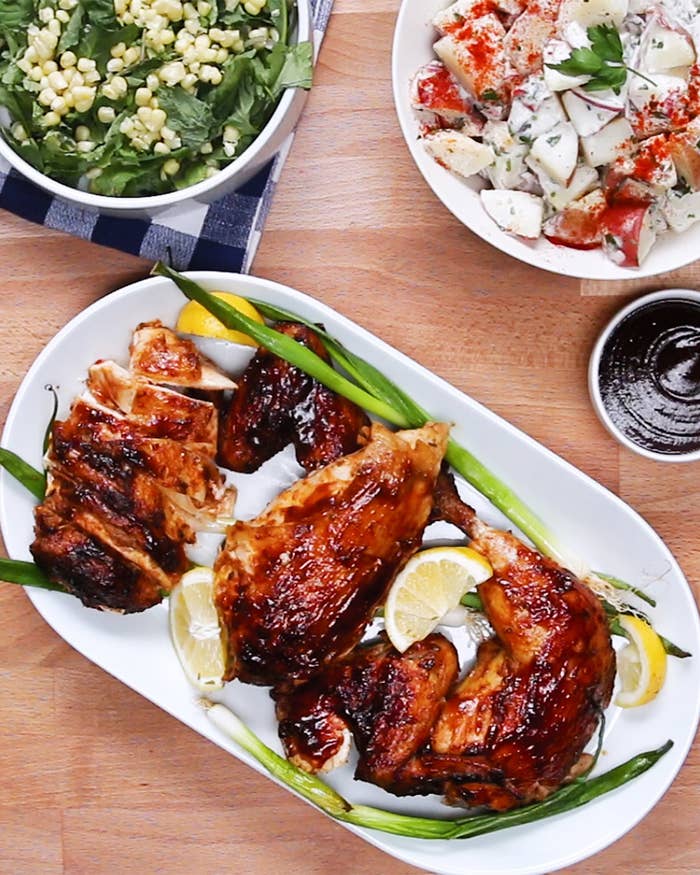 INGREDIENTS
Spice Rub
⅓ cup brown sugar
2 teaspoons smoked paprika
2 teaspoons onion powder
2 teaspoons garlic powder
1 teaspoons mustard powder
1 teaspoons pepper
2 teaspoons dried tarragon
2 teaspoons salt
Chicken
1 5 pound whole chicken, gizzards removed
1 can of beer
½ cup barbeque sauce
PREPARATION
1. In a bowl, add the brown sugar, onion powder, garlic powder, mustard powder, pepper, tarragon, and salt, and stir to combine.
2. Use half of the spice to season the entire chicken. Cover with plastic wrap and marinate in the refrigerator for at least 2 hours, or up to overnight.
3. Remove the chicken from the fridge and season with the remaining spice rub.
4. Pour out half a can of beer.
5. Put the beer can in the chicken cavity and stand it upright.
6. Grill the chicken over indirect heat for 30-40 min at 350°F (190°C).
7. Baste the chicken with BBQ sauce and cook for another 10-15 minutes, until internal temperature reaches 165°F (75°C).
8. Remove chicken from the grill and allow to rest for 15-minutes before carving.
9. Enjoy!