Cinnamon Sugar Pretzel Bites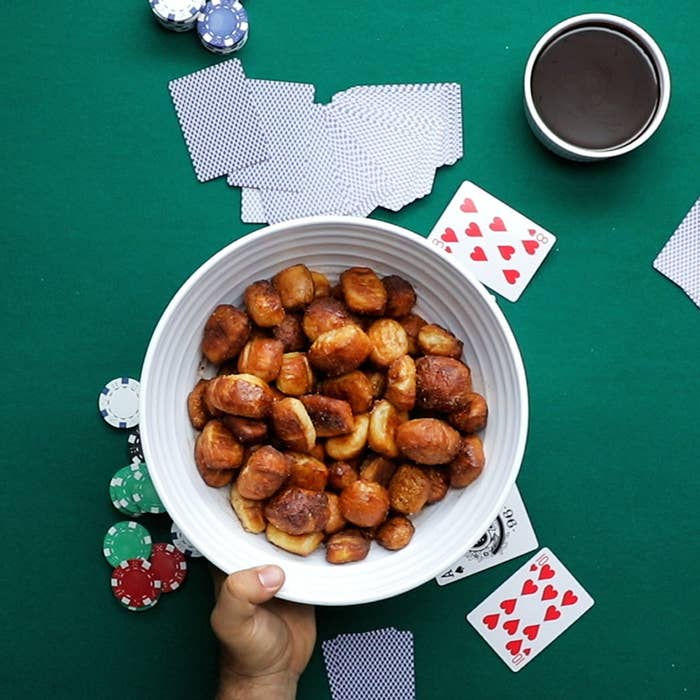 INGREDIENTS
Makes 3-4 dozen small bites
1 pound pizza dough
½ cup baking soda
⅓ cup sugar
1½ tablespoon cinnamon
1 teaspoon water
2 eggs
3 tablespoons melted butter
2 cups milk chocolate chips
¼ heavy cream
PREPARATION
1. Preheat oven to 425°F/225°C.
2. Shape dough into ropes and cut into ½-inch pieces. Set aside.
3. Add 3 quarts of water to a large sauce pan, bring to a boil, slowly add dough pieces (5-6 at a time). Carefully simmer (not heavy boil) in baking soda water for about 20-30 seconds, transfer to a baking sheet.
4. Beat egg with water and lightly brush each piece with egg mixture, bake 15-18 minutes or until golden brown.
5. While bites bake, melt butter and set aside.
6. Combine sugar and cinnamon, set aside.
7. Combine chocolate chips and heavy cream, microwave on HIGH in 30 second intervals and stir until glossy and creamy. Set aside.
8. Toss bites in butter, then cinnamon sugar. Serve with chocolate dip.
Enjoy!